Health & Wellness
Sports Physiology and Anatomy for Teens
This 8-week course is designed to give you an in-depth understanding of the human body and its systems, as well as how they relate to physical activity and sports #academic
Meets 1x per week
Over 8 weeks
50 minutes per class
Class Experience
Sports Physiology and Anatomy for Teens is an eight-week course that aims to provide a basic understanding of human anatomy and physiology as it relates to sports and exercise. The course is designed for teenagers who are interested in sports and want to improve their performance. 

This course on sports physiology and anatomy for teens will be presented in Canva and recorded for students. Throughout the course, students will receive lesson recaps, optional videos to watch, quizzes, and...
1. Understand the different branches of sports physiology, including anatomy and exercise physiology.
2. Identify skeletal muscle anatomy, types of muscles, muscle contractions, and the sliding filament theory.
3. Explain how ATP is generated and how to use multiple energy systems in sports or activity.
4. Describe muscle strength and endurance, including muscle fiber types and the importance of nutrition for training.
5. Use anatomical terminology in sports and exercise contexts.
6. Calculate energy expenditure during exercise.
7. Understand athlete types and the sports nutrition pyramid.
8. Recognize the physiological effects of aging on lung volumes, muscle development, and skeletal changes.
9. Apply knowledge gained to optimize personal performance through proper nutrition, training, and rest
Hi there! Happy Kids Nutrition Academy is built by a team of dietitians who all have Bachelor's degrees in Nutrition and Dietetics from a top university. During our time at school, we took courses in anatomy and physiology that helps us with a strong foundation of how the body works when participating in sports. For the food to be utilized, this happens in the body and our body is a biological system. To learn about food and its nourishing effects one has to know the functions and structures of the human body. So Physiology, the study of the functions of the human body, and Anatomy, the study of the human body are some of the basic science subjects we had to learn to understand the role of food in health and disease. 
Weekly homework and handouts will be assigned for this class. 
50 minutes per week in class, and an estimated 1 - 2 hours per week outside of class.
Please be advised that while we will discuss different nutritional principles and training techniques, we will not be providing personalized medical advice to any student. This sports physiology and anatomy course is not designed to offer medical nutrition therapy or any medical advice.

Our goal is to provide your learner with a foundation of knowledge and skills to help them improve their athletic abilities and reduce their risk of injuries. We do not endorse or support any extreme diets, weight loss products or supplements, or performance-enhancing drugs/medications.

We ask that you please provide your learner with adequate resources, such as a healthcare professional, dietician, or personal trainer if they require personalized advice.

Throughout the course, your child will have access to lesson recaps, quizzes, and activities, and all materials will be available on Google Drive. We will also use Canva to create easy-to-understand visual presentations to help your learner absorb the information.

We hope your learner enjoys the course, and please do not hesitate to reach out to our team if you have any concerns or questions.
Offered by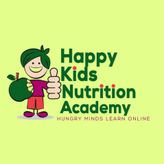 About Us
👦🏻👧🏻 Does your child have poor eating habits? 😫 Are you tired of fighting with your child about healthy eating? 🍎 Are you looking to help improve your child's health? 🤔 Are you confused with all the conflicting information on the internet about what...