English
Vocabulary Building with Roots and Affixes, Latin & Greek II
In this 10-hour course, part of a multi-course series, Dr. Karen Wieland teaches upper-elementary learners to identify, understand, & apply knowledge of 75 high-utility Latin & Greek roots and affixes, which signal core meanings of thousands of English words.
  There are no upcoming classes.
Meets 1x per week
Over 10 weeks
60 minutes per class
There are no open spots for this class.
You can request another time or scroll down to find more classes like this.
Class Experience
In this 10-hour course, part of a multi-course series, I (Dr.  Karen Wieland) will help learners to identify, understand, and apply knowledge of about 75 high-utility Latin and Greek roots, which signal the core meanings of thousands of English words. 

Across our 10 one-hour sessions, students will learn about the complicated history of the English language and how that history affects the English lexicon. Then we will spend the the bulk of the term working with high-utility Greek and Latin...
LEARNING GOALS

1. Learners will understand the history of the English language and how that history has affected the English lexicon.
2. Learners will discuss the size of the English lexicon and understand roughly what percentage of that lexicon can be traced back to which older languages.
3. Learners will understand the terms root (base, stem), affix, prefix, and suffix.
4. Learners will understand why Greek elements are called Combining Roots.
5. Learners will brainstorm about, research, and share back English derivatives of roughly 35 Greek Combining Roots.
6. Learners will brainstorm about, research, and share back English derivatives of roughly 40 Latin Combining Roots.
7. Learners will learn how to construct dictionary-like definitions of Greek and Latin derived words, based on these words' morphemic and etymological elements.
8. Learners will work co-operatively in small groups.
9. Learners will create shared notes-packets in the Google Slides app.
10. Learners will share-back their findings in written and oral format.
11. Learners will develop lifelong curiosity about word origins and meanings.
12. Learners will apply their knowledge of studied Greek and Latin word elements to their recognition and spelling of words.
TEACHER EXPERTISE: I am a dedicated and creative literacy specialist and language buff with 20+ years experience working with students of all ages. I have been teaching on the Outschool platform for five years. In addition to this Vocabulary Building with Roots and Affixes course series, I also teach a nine-course Introduction to Latin series using the Latin for Children curricula (Classical Academic Press), Primer A, B, and C. 

I hold permanent certification from New York State in Reading (grades K-12). I am also a certified Wilson Reading System dyslexia practitioner. I have extensive experience with Orton-Gow methods for literacy re/mediation; the foundation for that work was the introductory training I received through the Gow Teacher Training Institute. I taught Orton-Gow (Reconstructive Language) at the Gow School and the Gow School Summer Program for several years. During the decade I spent as a teacher educator and university reading center director, I helped to prepare several hundred reading teachers and literacy specialists in NY and PA. 

I completed my undergraduate degree at The Catholic University of America School of Music. My doctoral and master's degrees were earned at the University at Buffalo School of Education, under the advisement of Dr. Michael W. Kibby, a nationally known literacy diagnostician and scholar.  I have presented my research at several national and international conferences, including Literacy Research Association, International Reading Association, and International Dyslexia Association.
HOMEWORK: Each week, learners will be asked to select a word element from the Google Slides document to research. By brainstorming and using provided pre-screened weblinks, learners will cultivate lists of English words derived from the target word element and write dictionary-like definitions for those words. Then during the next class, learners will share back their findings so the class can discuss and build on them together.
Class handouts (think-sheets, notes, learning activities) will be provided by the instructor. Please download the Google Slides app to your device(s) before class begins.

ASSESSMENT: Formal assessment is not conducted during this class. Likewise, none of the assignments are graded. Instead, I make a written record of my insights during each session. I communicate these observations with students and parents every few weeks or more frequently, as needed. 
1 hour per week in class, and an estimated 1 - 2 hours per week outside of class.
I use the Google Slides app during my sessions as a shared space to present new content to students, prompt their thinking, and capture this thinking in writing. The Google Slides app allows multiple users to read and write simultaneously on slides. 
The links to these files are sent to the students via the Zoom chat feature and posted on the classroom page. Students are not required to create Google accounts and they can write in shared files anonymously. However, if they want those files to be saved long-term in their Google Drives or in their parents' Google Drives, they will need to request file access from the instructor.

The Quizlet app is used occasionally in class and between classes to study root and affixes meanings and derived vocabulary and to practice spelling. The instructor has a professional subscription and makes study sets. Links to those study sets are provided to students. During class, students sometimes play QuizletLive using game links shared during class. Students are not required to create Quizlet accounts and they can play Quizlet games under pseudonyms if they choose.
During class, I often guide students as they research the etymologies of words. The main sources we use for etymological research are the Oxford English Dictionary, Etymology Online, Merriam-Webster Unabridged Dictionary. I also provide students with pre-screen links to resources they can use to compile lists of words derived from specific Greek and Latin word elements.
Teacher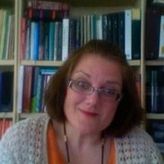 About Me
Hello! 

My name is Dr. Karen Wieland. I am a NYS-certified teacher (Reading K-12) and a former high-school teacher and college professor with 25+ years of teaching experience. I currently run a thriving independent practice as a dyslexia/literacy...