Class Experience
Week 1: Core Values & Challenges
Discussion: 
*How neurodivergence is showing up in your life
* Identify area(s) you want to work on and the challenges of doing so

Identifying Core Values
*Discussion, activity and further reflection
*Homework: Keep track of what you do this week that reflects your core values

Week 2: Navigating Your Nervous System
*Discuss the 3 primary states we move between (fight-or-flight, shut down mode and the Optimal Zone) 
* Discuss Neurodivergence and the Nervous...
This class is taught in English.
* Find out how the nervous system and key parts of the brain work, and how things differ in the neurodivergent mind
* Learn how to pay attention to signals from your body so that you can make adjustments to avoid/minimize prolonged stress and overwhelm
* Get trained on how to shift more easily when you get stuck
* Practice techniques to improve attention, focus, self-awareness, impulse control and the ability to manage stress
*Learn some brain hacks to cultivate more positive experiences and support when you need it
* Get familiar with strategies to work through fear to achieve your goals
* Practice writing step-by-step action plans for typical stressful scenarios you are likely to face
I am a neurodivergent teacher with ASD and am a Certified Cognitive Coach through IBCCES (The International Board of Credentialing and Continuing Education Standards). Cognitive Coaches are trained in cognitive strategies and techniques to calm brain cortical systems using the SEAL model (Social-Emotional-Academic Learning) for ASD, ADHD, dyslexia and anxiety.  

Additionally, I have a MA from Stony Brook University and a diploma in Cognitive Behavioral Techniques from Holbeck College. I have been teaching all ages for 20+ years and have also worked one-on-one with high school students as a SPED paraeducator.
Although I first started off as a music teacher, I have gained additional experience as a classroom substitute and leave replacement teacher for grades K-12. 

So how do teaching music and doing Cognitive Coaching relate to each other? Well, imagine this scenario. Your piano student arrives at their lesson. They tell you they practiced for hours and it went really well. They sit down to play and start hitting some wrong notes. Every time they do, their hands fly up in the air and they make sounds of frustration and then start berating themselves. The student's distress is mounting. What do you do? 

Over the years, I have had many neurodivergent students who have studied music with me. Early on I recognized that when a student was highly or anxious or overwhelmed, what they really needed was strategies to get calm. They need training on how to respond rather than react. My music training did not teach me how to coach students in this way, although some of my lived experience with ASD did.  This became a key focus area for me as an educator, and I continued sharpening my skills by taking coursework in things like mindfulness and CBT, and trainings in ASD and neurodiversity. Then the pandemic hit.

My passion for coaching neurodivergent teens intensified during Covid-19, when the need for this sort of training 
 become especially apparent. Previously some students had been more able to camouflage their anxiety and overwhelm, but during the pandemic the level of need became more obvious.  Realizing that I wanted to do more to support my tribe, I decided to become a Certified Cognitive Coach. So in the past year I have begun teaching these skills outside of music lessons as a stand alone course. My experiences with implementing the SEAL model in this manner has demonstrated that acquiring skills such as self-awareness, responsible decision-making and self-management are essential to learning and moving forward in any subject area, and it has been highly rewarding to expand this training to a wider group of students. 

Most of the homework for this course will be observing and tracking our behaviors and responses, as well as mapping out new incremental steps to respond to various situations. There will be some reflection and goal setting also. 
A 30+ page PDF Workbook will be provided. Additional paper may be needed.
An informal assessment will be made at the end of the course.
55 minutes per class, and an estimated 0 - 1 hours per week outside of class.
While there will NOT be direct conversation regarding personal feelings and difficult emotions, students will be asked to identify some areas that are general stressors for them and can lead to overwhelm/anxiety/shutdown.  Examples of general stressors include things like taking tests, socializing, meeting deadlines, getting interrupted, etc.

Students will be informed that this class is not the place to address more personal stressors/experiences.

They will then be learning about what is happening in their nervous system and brain that leads to those states and will learn about cognitive strategies they can use to work through those stressors.

Because each student has their own unique wiring, they will be spending time getting to know the patterns of their own unique nervous system, which means they will be tracking things like how often and for how long they may be getting stuck in a fight/flight or shutdown state. The point here is to customize shifting strategies for each student, not to engage in sorting through the difficult emotions as you might do in a therapeutic setting. 

Students will NOT be talking about the specific details of things that are upsetting to them, but they will need to be aware of areas that are challenging for them.


I created the curriculum for this course drawing on the SEAL model (Social-Emotional-Academic Learning) principles of Self-Awareness, Responsible Decision-Making and Self-Management. 
Students will not need to refer to additional books, articles or outside websites. 

Primary source material in putting the packet together is as follows:

"Anxiety Relief for Teens: Essential CBT Skills and Self-Care Practices to Overcome Anxiety" (Regine Galanti, PhD)
https://casel.org/fundamentals-of-sel/
"Divergent Mind: Thriving in a World that Wasn't Designed for You" (Jenara Nerengerg, Founder of the Neurodiversity Project)
https://library.belenetwork.org/wp-content/uploads/2023/02/BELE-Using-Student-Experience-Data-2.pdf
Queerly Autistic: The Ultimate Guide for LGBTQIA+ Teens on the Spectrum (Erin Ekins)
https://safesupportivelearning.ed.gov/voices-field/how-can-schools-successfully-build-social-and-emotional-competencies-high-school
"The Mindfulness-Based Emotional Balance Workbook" (Margaret Cullen, MA, MFT & Gonzalo Brito Pons, PhD)
"The Willpower Instinct" (Kelly McGonigal, PhD)
"Visual Thinking" (Temple Grandin, PhD)

NOTE: The mindfulness exercises in the course are secular and are incorporated as brain exercises that train attention/focus and strengthen executive functioning skills.


Teacher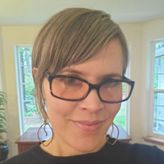 About Me
Hello! I'm Arika Rapson, M.A., a Cognitive Coach and educator.

I teach classes about neurodivergence and nervous system/emotional regulation.

In my early days as a music teacher, I worked with a number of talented and gifted students (many of...