Science & Nature
Create a Water Science Artwork With Open Ended Art | Play-Based Kindergarten & Preschool
Inspired by our book-club story, we will use free talk and open-ended (process) art with our friends to discover the science of how earth, oil and other materials influence water's journey from the mountains to the sea. Taught in English.
Meets once
40 minute class
There are no open spots for this class, but you can request another time or scroll down to find more classes like this.
Class Experience
✅ ESL/ EALD learners welcome.
✅ Neurodivergent learners welcome.
✅ Solo learners welcome (class will not be cancelled due to "low enrollments").
✅ Request a different class time. 
✅ Transfers welcome where possible, prior to first class. 
___________________________________
Class Description
Water goes up and down, but it also moves across, over, under and within our planet - providing life and habitat for all people, animals, and plants. During its journey it interacts with soil, rock, and...
The intended learning outcomes for this class are aligned with the Australian and UK early years curricula. They are also consistent with the preschool/ early years curricula for NZ, China, Korea and most European countries. This class utilises the Michigan Essential Literacy Practices Framework, and the Mathematics Learning Trajectories. 

______________________________
Intended Learning Outcomes
1. I can explore, infer, predict, and hypothesise to develop my understanding of relationships between the environment, land, people, plants, and animals. 
2. I can manipulate resources and materials to investigate, experiment, problem solve and explore ideas and theories using imagination, creativity, and play.
3. I can manipulate objects and experiment with cause-and-effect, trial-and-error and motion to understand patterns, and then use these patterns to make predictions and generalisations about aspects of the natural world. 

______________________________
Critical Thinking Question(s)
1. Where does water come from? 
2. What makes water go in a particular direction? 

______________________________
Science Content and Concepts
~ Oil and water repel each other.
~ Water evaporates upward.
~ Gravity is a force that "pulls" water in a downward direction.
~ Some materials allow water to pass through them. Other materials stop water from moving.
______________________________
Mathematics Content and Concepts
~ Composing numbers.
~ Adding/ subtracting.
~ Fractions.
~ Disembedding shapes.
~ 3D shapes.
~ Composing 3D shapes.
~ Spatial visualisation and imagery.
~ Measurement (length).
~ Measurement (area).
~ Measurement (volume).
~ Classification and data analysis.

______________________________
Vocabulary and Speech
This class will provide a setting for children to develop and practice their vocabulary and speech relating to the content, concepts, and activities we are exploring. The words we will be using will include nouns, verbs, adjectives, adverbs, prepositions, conjunctions and interjections. 

​Vocabulary (or knowledge of words) includes understanding their structure (morphology), use (grammar) and meanings (semantics). It also includes understanding how one word links to other words (word/semantic relationships). Oral and aural vocabulary skills (or, for non-speaking children, visual vocabulary skills) are absolutely crucial to later development of literacy decoding and reading comprehension and fluency. 

Because this is such an important skill gained in early childhood, I use a strong evidence-based and developmentally appropriate approach to vocabulary and speech development. This includes: 

𝗘𝘅𝗽𝗹𝗶𝗰𝗶𝘁 𝗩𝗼𝗰𝗮𝗯𝘂𝗹𝗮𝗿𝘆 𝗗𝗶𝘀𝗰𝘂𝘀𝘀𝗶𝗼𝗻
Explicit vocabulary discussion means that, in this class we not only use words, but we may also sometimes talk about them. We might discuss, for example:
~ what does this word mean?
~ what words would communicate what we want? 
~ what other words can we use for this?

While these discussions are explicit, they are not a discrete part of our classes or delivered as a "lesson". Instead, we weave these into our organic discussions while we play, create and tell stories. I do not choose or have a "list" of specific words that children "must" learn. My approach is to respond to children's interests by offering explicit vocabulary discussion that is purposeful, and which helps each child engage with their goals, interests and motivations. This means that children are developing their vocabulary (and self-awareness of it) in a meaningful, relevant and active way. 

𝗘𝘅𝘁𝗲𝗻𝘀𝗶𝘃𝗲 𝗖𝗼𝗻𝘃𝗲𝗿𝘀𝗮𝘁𝗶𝗼𝗻
While it may seem "efficient" to get children to memorise, or rote learn, words - this approach has been shown to have no real value in speech/ language development generally, including vocabulary development. Rather, evidence confirms that the critical requirement for strong vocabulary and speech development is sufficient opportunity for children to engage in meaningful, two-way conversations that are interesting to them. 

To provide this for your child, I maintain very small class sizes and a child-led approach to learning. This ensures that each child has many opportunities to "chat" and "talk" with me and other learners throughout this class about the things that have captured their interest or that they are discovering. I focus on finding opportunities within these conversations to not only introduce new vocabulary, but to also extend and stretch each child's confidence in using and understanding vocabulary in speech. 
 
I hold a Master of Teaching (Early Childhood) and have specialist skills in designing immersive education programs for very young children. 
There is no set homework for this class. However, children may wish to continue working on their project or creating additional artworks after completing this class. A handout of extension activities will also be provided for children who wish to undertake further observations, learning and (of course!) play with puddles.
For this class you will need: 

𝗣𝗿𝗼𝗷𝗲𝗰𝘁 𝗠𝗮𝘁𝗲𝗿𝗶𝗮𝗹𝘀

~ A good sized 𝗣𝗟𝗔𝗦𝗧𝗜𝗖 𝗧𝗥𝗔𝗬 with a good edge/ lip to hold water. A (clean/ un-used) pet litter tray or slightly bigger is an ideal size. These can be purchased from most supermarkets, general department, or hardware stores for around $4 - $8. If you want something bigger, an "under-bed storage tub" makes a great option - these are usually around $10 from a hardware or homeware store. Another option is a large, disposable barbeque baking dish - around $2 from the supermarket. 

~ Some sheets of 𝗪𝗔𝗧𝗘𝗥-𝗖𝗢𝗟𝗢𝗨𝗥 𝗣𝗔𝗣𝗘𝗥. If they are too big, please cut-to-size before class so it will fit in your art tray. If you can't get water colour paper, you can use some other sort of thick paper – such as butcher's paper or even newspaper. Absorbent/ kitchen towel will do in a pinch. ***Please note that ordinary printer/photocopier paper will not work for this activity!!**

~ 𝗪𝗛𝗜𝗧𝗘 𝗚𝗟𝗨𝗘 (school/ pva or Elmers). Please place this is a saucer, cup or dish so children can paint it on the paper with a brush. 

~ One or two 𝗣𝗔𝗜𝗡𝗧 𝗕𝗥𝗨𝗦𝗛𝗘𝗦. 

- At least one 𝗪𝗔𝗫 𝗢𝗥 𝗢𝗜𝗟 𝗣𝗔𝗦𝗧𝗘𝗟 𝗖𝗥𝗔𝗬𝗢𝗡 - white works well for showing the technique, but if you don't have white any colour is fine and your child is free to choose their own colours

- Some 𝗪𝗔𝗧𝗘𝗥 for pouring (I suggest a couple of old 2 litre soda/ soft-drink bottles filled with water) to have on hand.

- At least two different liquid water colours. You can make these by 𝗔𝗗𝗗𝗜𝗡𝗚 𝗙𝗢𝗢𝗗 𝗗𝗬𝗘 𝗧𝗢 𝗦𝗢𝗠𝗘 𝗖𝗨𝗣𝗦 𝗢𝗙 𝗪𝗔𝗧𝗘𝗥. 

- Some small 𝗨𝗧𝗘𝗡𝗦𝗜𝗟𝗦 for "dripping and dropping" (e.g., teaspoons, pipettes, turkey baster, a mini-water can, a small funnel). Don't rush out and buy things - if you only have teaspoons...this is fine! 

- 3 cups of '𝗘𝗔𝗥𝗧𝗛𝗬' 𝗠𝗔𝗧𝗘𝗥𝗜𝗔𝗟𝗦. Use what you have on hand. This can be sand, soil, pebbles or dirt from your garden, leaves, acorns, or seeds. If you don't have access to these you can substitute with things from around the home: glass beads, buttons, salt, popcorn kernels, rice grains or lentils, corn meal, etc. 

-  1/2 cup of 𝗢𝗜𝗟. Either baby or vegetable oil are fine. 

Learners will not need to use any apps or websites beyond the standard Outschool tools.
I do not use tests or other standardised approaches to assessing children's progress. In this age group, testing it is not developmentally appropriate and in some cases may be psychologically and academically harmful. 

However, as a teacher, I do believe it is important for me to be accountable to both children and parents. I aim to deliver classes that are not just "busy work" or entertainment, but which actively contribute to each child's learning in meaningful and sustainable ways. 

To do this, I use continuous observation of children's activity and conversation. When I make these observations, I am specifically considering the child's development in relation to the learning outcomes of the class (see above). 

I then routinely provide feedback to children. This may consist of: 
~ positive affirmation (e.g. "I really liked the way you communicated your idea with that painting");
~ positive reflection (e.g. "I wonder how you came up with that idea?"); and/ or
~ positive stretching (e.g. "I wonder if you could show that idea in other ways?). 

This is a wholistic approach to assessment. The child's response to my feedback helps me understand of "how far" they have traveled in their learning, and then "what comes next" in their learning. 

I welcome questions and inquiries from parents about their child's learning progress. 

40 minutes per week in class, and an estimated 0 - 1 hours per week outside of class.
~ Children will need assistance to prepare and set-up prior to each session. This will typically take around 10 minutes.  

~  This class includes a strong focus on children's hands-on participation and agency. I suggest having a large tray, towel, or sheet to ensure easy clean-up following the class. Children should wear clothes that you are comfortable if they get messy or stained.  

This class is inspired by the book "How to Read Water" by Tristan Gooley.

The following text is directly used in the class, with permission from copyright holders:
~ When Water Lost Her Way (Circles Publishing), by Meg Humphreys. ISBN: 9780648228707.
Teacher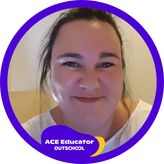 About Me
𝗛𝗲𝗹𝗹𝗼! 𝗠𝘆 𝗻𝗮𝗺𝗲 𝗶𝘀 𝗔𝗹𝗶𝗰𝗲.

I am a verified 𝗢𝘂𝘁𝘀𝗰𝗵𝗼𝗼𝗹 𝗔𝗖𝗘 𝗘𝗱𝘂𝗰𝗮𝘁𝗼𝗿 and I help families from all over the world, who are searching for meaningful alternatives to high-pressure and standardised teaching approaches. An increasing number of parents...