English
5th/6th Literature & Writing Comp.: English Language Arts (2nd Semester Year 2)
During this 16-week semester-long course, students will continue their study of the basics of literary analysis through novels, short stories, and poetry while building upon the writing methods of IEW's "Structure and Style" from year one.
  There are no upcoming classes.
Meets 2x per week
Over 16 weeks
50 minutes per class
There are no open spots for this class.
You can request another time or scroll down to find more classes like this.
Class Experience
Welcome to the second semester of year two!

Each week, twice a week, we will split the class into two parts. In the first half of each class, we will focus on the literary element that we are learning for that day. This may include a Socratic discussion, breakout rooms for teamwork, or even games to expand our knowledge of the reading. During the second half of each class, we will work on the day's writing work following IEW's "Structure and Style". Because this is the second year of...
This class is taught in English.
Writing Goals:
*IEW Unit 7 - Students will take what they've learned throughout the year and apply it to writing about topics that they already know about and enjoy. This unit also provides the foundation for strong essay writing including the use of an introduction and conclusion to prepare for Unit 8.
*IEW Unit 8 - Students will learn how the proper structure for formal essays focusing on the three-paragraph persuasive essay. 

Reading Goals:
*Create a love, or at least an appreciation, for reading literature.
*Students should be able to recognize, analyze, and understand the five basic elements of a story: conflict, plot, setting, character, and theme.
*Students will be able to present and communicate their ideas regarding the books they've read and share their opinions in a Socratic seminar.
As a lifelong learner, I too am always striving for growth. After years of using the IEW curriculum, I decided I wanted to share what I had learned with others and became a registered instructor with IEW. (Link for verification: https://iew.com/events-classes/instructors/find-accredited-instructor/330449) I have also been a tutor (teacher) for a local classical co-op, studied through literature seminars, and attended practicums to enhance my own reading and writing knowledge. 
I am also a certified TESOL/TEFL/EYL teacher, professional writer, beta reader, proofreader, editor, and homeschool mom. I have a love for the English language (I have a BA in English to prove it), the smell of new books, and transferring ideas from mind to paper. My goal is to promote a love of learning while offering a safe and fun environment. I truly have a passion for reading and writing and would love to share my knowledge and experience with your children.  
Because this is a semester-long course, students will have homework every week. This could include reading and/or writing practice. Please note that weekly assignments are listed within the weekly agenda, on the classroom page, and in the feedback to parents after each class. 

Worksheets, handouts, and links to outside programs (such as Kahoots or Quizlet) for homework will be posted on the classroom page.
Paper, writing utensils, and access at least one form of a writing application (Google Docs or MS Word).

All worksheets, handouts, short stories, and poems, and/or links for this semester will be sent via the classroom page as needed.

Now about the books... 

As a homeschooling mom myself, I understand the importance of finding books that won't break the bank. That's why I made it a priority to choose books that have multiple options or discounted versions (usually e-reader). Some books may even be downloaded for free online via Project Gutenberg (https://www.gutenberg.org/) or via the Internet Archive, a non-profit online library (https://archive.org/). Most of the books can be found at your local library. You can also reach out to your local librarian about setting up Libby or Overdrive to read free digital books on your e-reader.
Please make sure that you choose the version that is best for you and your child. With many versions and translations being made from the older works we will be covering there may be slight differences in the text but not in the overall theme or discussion. The goal isn't to create a library full of books that your child only reads once. Instead, it's more important that your child is able to ask questions, ponder new ideas, and form their own intelligent theories about the works that they read. With that said, if they do fall in love with a book be sure to get them a copy that they can read again and again.
In addition to the Outschool classroom, this class uses:
*Assessments will be given in the form of feedback, review games, and comprehension checks throughout the semester.
*Writing will be assessed throughout the course through submitted homework. 
*Reading comprehension will be assessed weekly based on the student's participation and comprehension of the week's literary analysis topics. There may also be homework assigned for our literature study (varies depending on the reading for the week).
1 hour 40 minutes per week in class, and an estimated 2 - 4 hours per week outside of class.
At this age, it is common for students to still need help and direction at home for writing. That's okay! In this class, I encourage parental guidance when students are working at home. Some students may struggle at the beginning with balancing the concepts of class and the physical act of writing. Please know that it is perfectly fine if your child wants to dictate to you as they learn. The goal at this age is to understand the concepts. Mastery comes with continuous practice and patience as each child moves at his/her own pace. If at any point during the class you feel that your child is falling behind or needs additional help, please feel free to reach out to me directly so we can work out a plan.

The books that we read in this course are analyzed critically using the five literary elements: conflict, plot, setting, character, and theme. Below are additional details regarding the books we will be reading in the second semester.

* The Book of Three - https://www.commonsensemedia.org/book-reviews/the-book-of-three
Review from Common Sense Media: Parents need to know that adolescents take to this swashbuckling adventure, the first in a series of well-crafted stories featuring teenage heroes.

* Esperanza Rising by Pam Muñoz Ryan - https://www.commonsensemedia.org/book-reviews/esperanza-rising
Review from Common Sense Media: "Parents need to know that Esperanza Rising is an award-winning work of historical fiction that chronicles the life of a Mexican migrant farmworker in the 1930s. In the book's beginning, Esperanza's wealthy father is killed by bandits in Mexico; then, a scheming uncle sets fire to her house and family ranch in order to pressure her widowed mother to marry him. Fleeing in California, Esperanza tries to adjust to the cramped, exhausting life of a farmworker. Thanks to a supportive family and network of friends, she keeps hope alive and begins to work for a new future. Readers will learn a number of Spanish words and about the lives of migrant farmworkers during the 1930s as characters deal with strikes, discrimination, harsh living conditions, and more."

During our Shakespeare unit we will be reading multiple plays:
Macbeth - While it is a tragedy, I feel that this one has fewer sensitive topics than the others such as Hamlet or Romeo and Juliet. However, I understand each family's level of comfort is different so I would like to offer some alternative readings of this story. Each one can be accessed via archive.org, which is a national library service that offers free lending online/digitally. These will be posted on the classroom page once we get to this unit.

Reading should be done regularly so that your child does not feel overwhelmed with having to read large amounts during one or two sittings. I will post the chapters to read in the classroom-based upon what I feel is a manageable amount for this age group. If your child struggles reading on his/her own or needs extra encouragement when reading, I suggest reading the books together or listening to an audiobook while following along.

This class uses Kahoot, Padlet, and Gimkit for gameplay as well as Google Suite tools such as Docs, Forms, and Slides. For gameplay, an account is not needed as learners will be given a code to play directly with the educator. Google Suite tools may require an email address, however, this information is not collected by the educator and meets Outschool's COPPA compliance requirements.
Booklist for 7th/8th Grade (2nd Semester)
Book 1: The Book of Three by Llyod Alexander
Book 2: Esperanza Rising by  Pam Muñoz Ryan
Teacher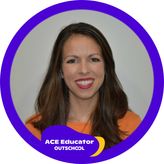 About Me
Hello!

My name is Melissa. I am an IEW Registered Instructor, a certified TESOL/TEFL/EYL teacher, professional writer, beta reader, proofreader, editor, and homeschool mom. I have a love for the English language (I have a BA in English to prove...