Science & Nature
Zoology of Pokémon: Testudinology! Turtles in Pokémon and Our World (13-18)
Let's meet the turtle friends of the Pokémon world AND check out their real-world counterparts! [animals, reptiles, wildlife]
Meets once
60 minute class
Class Experience
>>>PLEASE READ BEFORE ENROLLING:
1. The live portion of this class is an hour-long, fast-paced, lecture-based presentation, with limited Q&A breaks as time permits -- you know your learner(s) best, so please consider if the session length and format is a good fit for them.
2. Yes, I am a scientist and always teach from the perspective of evolutionary biology.<<<

In this class, we will meet all known turtle-like Pokémon from Gen 1 through Gen 8, and match them up to their real-life...
Turtle-like Pokémon survey; basic zoology of the order Testudines (Turtles)
I am a zoologist who enjoys sharing my love of the animal kingdom with lifelong learners of all ages. I've also been playing video games since the first gen of everything, not just Pokémon ;)

I also have nearly two decades experience as a home education advocate, including homeschooling my own children from preschool through high school. I am a big proponent of flexible learning, individualized education, and supporting fellow neurodiverse learners, so please don't hesitate to reach out to me with requests for accommodations or additional resources.  We all learn in our own way and time, but everyone should have the chance to learn about how cool animals are! 😎
Any supplementary lesson materials will be provided for free via the classroom, either as downloadable printables/files or links to online resources (web pages, videos, articles, etc.). 
In addition to the Outschool classroom, this class uses:
1 hour per week in class, and an estimated 0 - 1 hours per week outside of class.
All my zoology classes are open to discussing animal anatomy, including the reproductive system, and natural behaviors and bodily functions, including predation and mating.

Online resources: This class links to information on Bulbapedia (the official Pokemon wiki) and offers links to optional curated video content on YouTube and Pokemon TV, and may also direct learners with questions to additional information on pre-screened science-related pages (e.g., a research journal or zoological database). No online account signups are required.
Teacher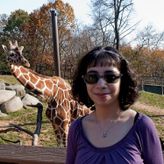 About Me
1) what kind of classes you teach
I offer introductory unit studies on various topics in zoology and natural history; a special series on animals in world art history (based on my current ongoing research project!); and, because it's extra fun,...