English
Dream Big Preschool (4-5)
This is an ongoing, weekly class, meeting 5 times a week, for preschool age children, teaching Early Childhood Education from September 2020 to May 2021
8 total reviews for this teacher
Completed by 18 learners
  There are no upcoming classes.
Meets 5x per week
Runs week after week
50 minutes per class
Cancel anytime
There are no open spots for this class.
You can request another time or scroll down to find more classes like this.
Class Experience
Teaching means making a difference in a child's life by giving them a well-balanced and loving environment, with a lot of opportunities for exploring according to their temperament.

It is giving your self to help them develop a secure sense of self, with a love for learning.  All children learn in different ways and pace. My job as a teacher is to recognize the different temperaments of each child and supply it with a diverse classroom. A classroom, that promotes a nurturing environment,...
Learners will be introduced to language and literacy, encouraged reading/story-time, basic math skills, colors, and fine motor skills. They will  learn to read, write, build their math and science skills, and become successful students.
I also incorporate Mindfulness skills into the curriculum where children will learn to deal with their feelings and gain an understanding of compassion and kind-fulness for each other and the world.
Every morning we will sing a good morning song, check the calendar and talk about the weather, the alphabet, and mindfulness practices.

Example:

                                                                                  September

Week One:

Monday
*Mindfulness: meditation bell, breathing exercise. feelings.*The Night Before Preschool by Natasha Wing
*Building tour: take the children on a tour around the classroom. Discuss the things you see and items that can help you remember where things are.
*Make name tags: allow children to make or decorate name tags that will be used in the room (attendance boards,).
*Write your name: practice name writing
*Going to school: add materials for children to use to prepare for school. Include name tags, glue, crayon boxes, chalk boards, clipboards, etc.


Tuesday

*Who is missing: have all children mute them selfs.  Raise name tag of child and have them share something about them selfs. *Calendar: introduce children to the calendar. Discuss the month, day of the week, numbers, etc. You could begin counting days of school as well.
*Use markers and crayons: allow children to use crayons and markers to draw. Discuss rules for using markers and crayons as the children color.
*Make Playdough: flour, cream of tarter, food coloring, oil, hot water, bowl, parents supervision.


Wednesday

*Llama Llama Misses Mama by Anna Dewdney
*Cut and glue: allow children to use scissors to cut paper and glue the pieces to construction paper to create a collage. Discuss the rules for using scissors and glue as children work.
*Music and movement


Thursday

*David Goes to School by David Shannon
*How many friends: count how many friends are in the class
*Decorate all about me bags: (brown or white paper bag) and allow them to decorate it as they choose. Asking parents to help children fill the bags with items that tell about them (pictures, favorite toys, etc.). The children then bring the bags back to class and share the items inside so that the children can get to know more about each other.
*What I want to learn: ask children to tell you what they hope to learn or do at school this year. Write down what they tell you and ask them to draw a picture of themselves at school.

Friday

*The Kissing Hand by Audrey Penn
*Share your all about me bag.



Week Two:

Monday
*Two Eyes, a Nose and a Mouth by Roberta Grobel Intrater
 Ask children to name body parts. Give hints if children cannot think of parts to name. Have them draw a person while we are naming body parts.
*My favorite things collage: Parents provide magazines and scissor, and encourage children to cut out pictures of their favorite things or things they like. Use the pictures to make a collage. Allow children to tell about their collages when finished.
*Write the letter of the week A
*Freeze tag
*Doctor's office: What do you see in a doctor's office. Include white coat, masks, thermometer, stethoscope, file folders, doctor forms, scale, gloves, bandages, gauze, etc.

Tuesday
*I Like Myself by Karen Beaumont
*Look in a mirror: provide mirrors for children to look in and study their faces. You could ask them questions about themselves or simply let them look.
*Self-portrait: provide paper and paints or markers and encourage
children to paint/draw self-portraits. You could include mirrors at the
table so that the children can look at themselves as they paint. Have the children write their names on their portraits. 
*All about me dictation: ask children questions that tell different things about themselves. Ask them to draw a picture of themselves (or you can use the self-portraits they create in art to go with the dictations). 
*Follow the leader

Wednesday
*My Two Hands/My Two Feet by Rick Walton
*Count body parts: name body parts and ask children to count how many they have. You could also count how many there are in the whole class. Create a chart or graph to record results.
*Hand or footprint art: allow children to create artwork using only their handprints or, if brave enough, footprints

Thursday
*The Best Part of Me by Wendy Ewald
*Fingerprints: use ink or paints and have each child make fingerprints and handprints. Provide magnifying glasses for children to use while looking at the fingerprints. Discuss how all fingerprints are different and unique to each person.
*Toilet paper tube people: provide a toilet paper tube for each child. Lay out a variety of collage materials (wiggle eyes, construction paper, pompoms, yarn, etc.) and encourage children to make people using the tube as the trunk of the body.
*The Best Part of Me dictation: after reading the book, create your own class Best Part of Me book. Ask each child to tell you what their favorite part is and why. 

Friday
*I Ain't Gonna Paint No More by Karen Beaumont
*Height chart: measure each child in the class and create a chart to display everyone's height. Check their height each quarter of the year so they can see how much they've grown.
*Free art: choose a medium and allow children to create anything they choose. Have them tell you about what they created and write what they tell you. Display the art along with its dictation in the classroom. 

**Since this week is largely about body parts, you may want to have a discussion at some point about what body parts are appropriate or inappropriate to discuss during activities. 

Week Three:

Monday
*That Tickles: The Disney Book of Senses by Cindy West
*Feely bags: bring a bag that children cannot see through. Place an item in the bag without children seeing what it is. Describe what you are feeling and see the child can guess what it is simply by description. When the child guesses correctly, take the item out so that everyone can see what it is. Repeat as many times as desired.
*Texture collage: provide a variety of materials with different textures and allow children to create collages. Items could include sandpaper, felt, bubble wrap, corrugated cardboard, corduroy, etc. 
*Write the letter of the week: B
*Discuss Book read.

Tuesday
*David Smells by David Shannon
*Smell jars: use small plastic containers and add items for children to smell. You could include cinnamon (spice or stick), vanilla extract, mint extract, soap, shampoo, coffee, zest or juice from lemons, limes, oranges, etc. Liquids can be put on a cotton ball and then place the cotton ball in the container. If you worry about spices being spilled, you could coat the bottom of the container with glue and then put the spice in the glue (depending on the glue you use, this could change the smell of the item). You could also use containers with holes in the lids and glue the lids on so that children don't actually have access to whatever is inside the container. Make cards with pictures of the items and see if the children can match them. 
*Playdough: you could also add scented items to the playdough (herbs, lavender, flowers, cinnamon, extracts, etc. would work well in homemade playdough).

Wednesday
*Two Eyes, a Nose and a Mouth by Roberta Grobel Intrater
*Eye color graph: create a class graph showing how many children have each color of eyes. Allow children to look at their friends eyes and name the colors or allow each child to look in a mirror and discover the color of their own eyes.

Thursday
* Listen to the sound of the bell, can you hear the different sounds?
Sound jars: gather containers that children cannot see through. Place different items in the containers. Shake the containers and try to guess what is inside. You could provide pictures of each item you placed in the container so the children have items to choose from. Or you could show them the items before you place them in the containers.
Have children bring an instrument to class so we can dance or sing while playing them.
*Lace bells on pipe cleaners: provide bells and pipe cleaners and encourage children to lace. You could allow each child to make a bracelet with their bells and pipe cleaners and keep them for use during music time.

Friday

*My favorite (taste and graph): choose a food to taste test. Try different types of candy, milk, cereal, fruit, ice cream, juice, etc. Choose something that has variety. Allow children to taste each item and vote for their favorite. Create a graph to show the results. 

There will be no fourth week in September since I will be moving from Colorado to Oregon.


Weekly themes:

September
*Welcome to our Class! 
*All About Me
*My 5 Senses

October
*Apples
*Fire Safety 
*Trees and Leaves 
*Pumpkins *Halloween

November 
*Foods We Eat 
*My Family 
*Thanksgving
*Birds

December 
*Night 
*Holidays
*New Year's Eve

January
*Snow and winter (2 weeks) 
*Pets
*Bears

February
*My Feelings 
*Valentine's Day 
*Dental Health
*Transportation

March
*In the Forest
*On the Pond
*St. Patrick's Day
*Spring (2 weeks, 2nd week in April)

April
*Eggs and Bunnies 
*Bugs (2 weeks)

May
*Bubbles 
*Community Helpers
*In the Garden (2 weeks)
In order for parents to prepare their children to enjoy a successful learning experience I have posted a list of items needed for the month of September. A lot of the items bought at the beginning of the semester will be reused. I will update the list with every new month, according to the lesson plan.
 1. Empty name tag: circa 3x9 inches of poster-board. Glue, crayons, calk-board and chalk, paint, markers, construction paper, paint 
     brushes.
 2. Flour, cream of tarter, food coloring, vegetable oil, warm water, bowel, plastic bag for storing, parent supervision.
 3. Scissors, glue, construction paper.
 4. Brown or white large paper-bag, art supplies (stickers, paint, etc.).
 5. Filled paper-bag from last class.
 6. Paper, glue, scissor, magazines.
 7. Mirror, paper, crayons and markers.
 8. Paper and paint.
 9. Ink ad, paper, toilet paper roll, collage materials (wiggle eyes, construction paper, pompoms, yarn, etc.).
10. Art supplies for free art.
11. Texture collage: variety of materials with different texture (sand-paper, felt, bubble wrap, card-board, corduroy, etc.).
12. Smell jars: plastic containers with cottenballs soaked in different aromas. ( lemon, coffee, cinamon or other extracts).
13. Art supplies for free art.
14. Instruments from home, lace bells, pipe cleaners.
15. Foods to taste: candy, milk,cereal, fruit, cheese, crackers, etc.



4 hours 10 minutes per week in class, and an estimated 0 - 1 hours per week outside of class.
Teacher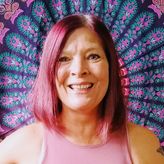 About Me
My name is Miss Shelagh.

     I teach beginning Mindfulness in Early Childhood Development through play. We will work on projects together, sing, dance, read stories, and go on Magic Carpet rides exploring the world. The children will have fun...