Science & Nature
Space Nerds Unite Chat Group
From Space enthusiasts to those just dipping their toe in, all are welcome to post photos, videos, drawings, paintings, space facts, ask questions, and more, all while connecting to other Space Nerds in this virtual chat group.
Unlimited access to chat group
Renews on the 1st of the month
Cancel anytime
What can learners do in this group?

Space & Tech Learning Emporium with Kristina RI.
If you got a free ticket to the Moon, would you go?
Space Nerds Unite Chat Group is a community of learners that come together on Outschool to share what they're learning, ask questions, participate in challenges, and get feedback on their projects
Sample learner reactions
How does a "Group" work?
Access anytime
Access to an online community, anytime — Share and create with like-minded peers from any device
Verified learners
A space for verified learners — All participants are verified by Outschool via video before joining
Educator-led
Educator-led activities, events, and discussions — Outschool educator moderates content and facilitates engaging activities
Group Experience
Space Nerds Unite Chat Group is asynchronous, we will not have any live meetings.
Does your child enjoy looking at the stars, reading books about rockets, the Planets, the Moon, or the Sun? Do they get excited when they hear about Black Holes, Exoplanets, or the Universe? Do they crave to know more, explore deeper, and learn all they can? Then enroll them in this group! 
The goal of this group is to make connections with other Space enthusiasts, as well as those just getting into the topic of...
Students will gain communication skills, as well as confidence and leadership as they share their knowledge about Space.
I have always had a love of space, from the moment my grandpa, an amateur astronomer, let me look through the 10-foot telescope he built all by himself, to watching shuttles & satellites lift into the sky, and watching some fall back to the earth. I have spotted some of the largest dust storms to hit Mars, and have enjoyed looking at the various craters on our Moon and seeing the rings around Saturn, all from my own backyard in Missouri & while using other telescopes my grandpa and I built together. I have never ceased my exploration and search, looking to the skies to watch for eclipses, comets, and so much more! My love of all things Space has only increased with time, and I feel it is the next great wave of the future! 
As a teacher with three different degrees, including a Master's Degree in Teaching, I have taken several science courses, including those dealing with Astronomy. I also have over 30 years of experience working with children of various ages, teaching a variety of topics, including Astronomy, Arts & Crafts, Music, Business, Computers and more! I love to share my knowledge with the next generation as I hope to instill the awe-inspiring beauty the Unknown Universe holds, as well as encourage students to dream and believe! I hope to see you in our Space Nerds Unite Chat Group!

Welcome to our Space Nerds Unite Chat Group! We want all of our learners to feel comfortable, connected, and safe. That's why we have 3 rules we ask you to follow: Be Kind, Be Safe, and Be Respectful.

Be Kind - Help all learners feel welcome and included.
Learners from all over the world, with different backgrounds, races, ethnicities, abilities, gender identities, religions and body types, participate in our Group. Always be nice and make others, especially new learners, know that they belong and are welcome. Teasing, name calling, or bullying anybody in our community? Nope. Not happening here

Be Safe - Keep your personal information private and never ask other learners for theirs.
Personal things are personal. We want to keep you safe on Outschool, but we also want YOU to understand how to be safe when you're meeting other learners or teachers. Keep your full name, home address, gaming or social media name, email, and school name private.

Be Respectful - Treat others how you want to be treated.
Keep language clean and information you share safe. If you wouldn't say it or share with your grandma, don't do it here. Swear words, racy videos, and violent images are not allowed. Treat Outschool like a public place, and when in doubt, keep things covered.
View and create posts any time, at your own pace..
Group Leader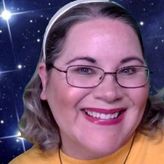 About Me
Hello and welcome to the Space & Tech Learning Emporium wtih Teacher Kristina RI.!
I have been a teacher for over 13 years, and love working with learners of all ages! In my free time, I love spending time with my family, playing a variety of...