Arts
Wounded Princess SFX Makeup Challenge Series
Bring out both beauty & beast. Students create their own SFX (special effects) makeup looks using a combination of beauty and horror makeup tactics based on a hero or villain character each week. We then share results and techniques.
  There are no upcoming classes.
How does an "Ongoing" course work?
Meets on a weekly schedule, join any week, no need to catch up on previous material
Live video chats, recorded and monitored for safety and quality
Discussions via classroom forum and private messages with the teacher
Automatic payment every Sunday, cancel any time
Great for clubs and for practicing skills How Outschool Works
There are no open spots for this class.
You can request another time or scroll down to find more classes like this.
Class Experience
In this class we explore familiar stories and characters, along with the images and expectations these stories can create in society. It creates a complex love/hate relationship... so much more than the happy ever after many dream about as children. 

In this class, young makeup artists will have a chance to confront these images straight in the face... literally. We will choose a hero or villain theme for every week. After looking at some inspiration designs, the students will be encouraged...
Topics will be developed while considering the following Social Emotional Standards:

1. Self-Awareness 
The ability to recognize one's own emotions, thoughts, and values and how they influence behavior and to assess one's strengths and limitations.
1A Individual demonstrates an understanding of one's emotions. 
1B Individual identifies when help is needed and who can provide it. 
1C Individual demonstrates awareness of their own personal rights and responsibilities. 
1D Individual demonstrates knowledge of their own personal strengths, cultural and linguistic assets, and aspirations. 
1E Individual seeks to understand and identify their own prejudices and biases.

2. Self-Management 
The ability to regulate one's emotions, thoughts, and behaviors in different situations and to set and work toward personal and academic goals.
2A Individual demonstrates the skills to manage one's emotions, thoughts, impulses and stress in constructive ways. 
2B Individual manages materials, space, time and responsibilities effectively. 
2C Individual demonstrates skills to develop, evaluate, modify and achieve goals. 
2D Individual demonstrates a resilient attitude and growth mindset, even in the face of adversity and challenges.

3. Social Awareness 
The ability to take the perspective of others and empathize with them, including those from diverse backgrounds and cultures, and to understand norms for behavior.
3A Individual reads social cues and responds appropriately. 
3B Individual seeks to understand and demonstrates respect for individuals, including those with diverse backgrounds, cultures, abilities, languages, and identities. 
3C Individual demonstrates empathy for other people's emotions and perspectives. 
3D Individual recognizes and respects leadership capacity in oneself and others. 
3E Individual contributes productively to one's school, family, workplace, and community.
4. Relationship Skills 
The ability to communicate clearly, listen well, cooperate with others, resist inappropriate social pressures, and to seek and offer help when needed.
4A Individual uses communication and interpersonal skills to interact effectively with others, including those with diverse backgrounds, cultures, abilities, languages, and identities. 
4B Individual uses appropriate communication strategies and interpersonal skills to maintain relationships with others. 
4C Individual demonstrates the skills to respectfully engage in and resolve interpersonal conflicts in various contexts. 
4D Individual recognizes when others need help and demonstrates the ability to provide or seek assistance.

5. Responsible Decision Making 
The ability to make constructive choices about personal behavior and social interactions based on ethical standards, safety concerns, and social norms and to evaluate the consequences of actions and to consider the safety and well-being of others.
5A Individual applies problem-solving skills to engage responsibly in a variety of situations. 
5B Individual uses and adapts appropriate tools and strategies to solve problems. 
5C Individual evaluates impact of decisions on self, others and the given situation and adjusts behavior appropriately. 
5D Individual considers ethical, safety, and societal factors when making choices and decisions. 
5E Individual considers and responds appropriately to external influences (e.g. media, peers, authority figures) on decision-making.
For several years Dr. Gray worked with high-risk youth who were dealing with teen pregnancy, substance abuse, and significant health issues, among other challenges at an alternative high school. Dr. Gray also taught wellness in public school at the middle school level. She is trained in nonviolent communication, mindfulness, and comprehensive sexuality education at the elementary, middle school, and high school levels. She also runs an ongoing LGBTQA+ fandom group called Multi-verse Travelers, encouraging empowerment and discussing the challenges of various pop culture fandoms. She earned her PhD in theatre, taking many makeup classes along the way, and her makeup classes are some of her most beloved here on Outschool. This class is a beautiful blend of story, artistic expression, and social emotional learning.  
Students should have access to their own makeup because they will be doing their own while I do the demonstration. I tried to put together a comprehensive list (prices vary), but we will work with whatever you have:

1) Eyeshadow in as many shades as possible 
-- I'm currently a fan of the James Charles pallette, the Morphe Such a Gem Pallette, Urban Decay *especially for anyone who needs hypoallergenic makeup* Elemental and Electric palletes, 

2) Loose glitter in a variety of colors depending on the painting

3) Clear lip balm

4) Setting spray

5) Makeup wipes (I still love Neutrogena night-time cleansing wipes the best - they are the softest and most gentle)

6) at least one small eyeshadow brush about the size of a paintbrush, one powder or blush brush, and at least one very small, thin eyeliner brush (This link shows the different types: https://www.purewow.com/beauty/makeup-brush-guide). You can buy a whole brush set for $10-12 or you can buy them individually. 

7) Eyeliner - I prefer eyeliner fine-tip markers or liquid rather than pencils
8) If possible, water-based pancake face and body paint like Mehron's in a variety of colors (I got Basic, Brilliant, and Pastel)... but they are expensive, so if you were only going to get one, I'd suggest the Basic: https://www.amazon.com/Mehron-Makeup-Paradise-Paint-Palette/dp/B00C2U6JII/ref=sr_1_3?dchild=1&keywords=mehron%2Bface%2Band%2Bbody%2Bpaint%2Bset&qid=1589456495&s=beauty&sr=1-3&th=1

9) Primers - full face primer (like ELF spray primer - $5 at Target, or I'm currently using Hello Fab Coconut Skin Smoothie Priming Moisturizer ($18) and eye primer (tattoo junkee is still my favorite - $6.99)

10) Foundation in a shade to match your skin tone

11) A Mirror 

For the Gore:

Premade scarwax (kept cold) or the following ingredients:
Jar of Vaseline - about 3.75 oz or so - and it works best if it's kept cool - even in the fridge
All purpose flour - 3x as much as the vaseline
A bowl
plastic gloves 
Black liquid eyeliner
Red eyeshadow

For Bruises:
Eyeshadow palette with red, blue, purple, browns, yellow, green

Fake blood:
Either purchase legitimate stage fake blood from amazon (I recommend https://www.amazon.com/Mehron-Makeup-Stage-Blood-Venous/dp/B00JLRIZ4Q/ref=sr_1_13?keywords=fake+blood&qid=1584636009&sr=8-13&swrs=51BD1E2247BB3F0CC72DB88482D9D6EE)
OR
Something cheaper, not necessarily Kool-Aid brand... you can use red liquid drink mix drops (like https://smile.amazon.com/Kool-Aid-Liquid-Drink-Mix-Cherry/dp/B00B2YPZRG/ref=sr_1_3?keywords=koolaid%2Bliquid%2Bmix&qid=1584636484&sr=8-3&swrs=8DC88BE309F3656FB917FC4E95CA6FDD&th=1). The flavor and brand don't matter as long as they are red.

Liquid Latex can also take the gore makeup up one step further.  
45 minutes per week in class, and maybe some time outside of class.
On an emotional level, we will be talking about sensitive topics, but this is NOT group therapy. In addition to being a trained artist, Dr. Gray has more than fifteen years experience working with adolescents in sensitive social emotional subjects. The goal of this class is to break the limited views girls might have of these stories and to empower and uplift beyond the stereotypes. If an individual student is struggling and needs personal attention in a more therapeutic setting, I will contact the parent. 

On the physical side, kids with sensitive skin should be careful about makeup content, but we aren't putting anything on faces that isn't supposed to be there.  I wrote the following in response to a question about brands for makeup for sensitive skin:

Some of my favorite brands claim to be good for sensitive skin in general. Urban Decay is my go to brand, and it claims to be hypoallergenic. But that doesn't mean it would work for everyone (nothing does). And different colors are more abrasive than others. The Nude pallettes are generally softer and safer, but as you said, not the bright and fun colors. Reds, purples (because they contain reds), and metallics are going to be the most abrasive. Green used to be the worst color. I actually talk in my Wizard of Oz class about why it was so dangerous for them to choose green makeup for Margaret Hamilton. Burts Bees and MAC are also really good.  I found this article when I was looking for some more info to answer your question: 
http://www.besthypoallergenicmakeup.com/hypoallergenic-eye-makeup/.  For foundation and my makeup wipes, honestly,  Neutrogena actually does a really good job. It's inexpensive and drugstore brand, but it has worked better than a lot of the more expensive brands.
Teacher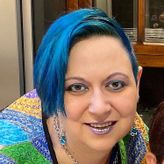 About Me
For over fifteen years, I have created and directed innovative programs that incorporate literature and pop culture into educational experiences through The Imaginorium, where I am Artistic & Education Director. Theatre, art, science, cosplay,...