Arts
Worldwide Art & Craft Club - Painting With Watercolor and Acrylic Paints to Music | Play Based Learning
Each week we will talk, get creative, build attention and executive function skills, develop new drawing techniques, and play with rhythm, musicality, feeling & emotion by painting open-ended art in response to violin, piano, clarinet, guitar, voice and more | This half-semester class is neurodiverse inclusive.
  There are no upcoming classes.
Meets 1x per week
Over 5 weeks
30 minutes per class
There are no open spots for this class.
You can request another time or scroll down to find more classes like this.
Class Experience
This class offers children an in-depth exploration of music and art. You can also take an introductory version of this class, as a one-time option, at the following link: https://outschool.com/classes/open-ended-art-craft-an-introduction-to-painting-to-music-Q30av9EC

___________________________________
Class Description

Each week, we will undertake a series of activities as we paint and create our own unique art, in response to music. This class is suitable for both beginner and uncertain...
The intended learning outcomes for this class are aligned with the Australian and UK early years curricula. They are also consistent with the preschool/ early years curricula for NZ, China, Korea and most European countries. This class utilises the Michigan Essential Literacy Practices Framework, and the Mathematics Learning Trajectories. 

______________________________
Intended Learning Outcomes
1. I can listen and respond to sounds in speech and music, and actively engage with and share the enjoyment of music through art and play. 
2. I can express my ideas and feelings, and show an increasing capacity to understand my emotions, using creative arts. 
3. I can listen to others' ideas and respect different ways of expressing those ideas.
4. I can respond through movement and art to music. 
5. I can make connections between experiences, concepts, processes, ideas and feelings.  
6. I can explore ideas and concepts using imagination, creativity and play.
7. I can draw on my experiences in constructing meaning, using symbols, materials, and language.

______________________________
Critical Thinking Question(s)
1. Can you 'see' music? 
2. Does music have a colour? 
3. What should music make you feel?  

______________________________
Science Content and Concepts
Unlike most of my other classes, we will not be exploring any science concepts directly in this group. However, given the nature of music and the ideas that it gives rise to, I expect that children will introduce science themes into our discussion from time-to-time, particularly with relation to themes of nature, plants and animals.  

______________________________
Mathematics Content and Concepts
~ Counting.
~ Comparing number.
~ Composing numbers.
~ Patterns, structure and algebraic thinking.
~ 2D shapes.
~ Composing 2D shapes.
~ 3D shapes.
~ Composing 3D shapes.
~ Spatial visualisation and imagery.
~ Spatial orientation. 
~ Measurement (length).
~ Measurement (area).
~ Measurement (angle and turn).

______________________________
Vocabulary and Speech
Throughout this class we will explore vocabulary and many parts of speech relating to the content, concepts, and activities we are exploring. These words will include nouns, verbs, adjectives, adverbs, prepositions, conjunctions and interjections. 

​Vocabulary (or knowledge of words) includes understanding their structure (morphology), use (grammar) and meanings (semantics). It also includes understanding how one word links to other words (word/semantic relationships). Oral and aural vocabulary skills (or, for non-speaking children, visual vocabulary skills) are absolutely crucial to later development of literacy decoding and reading comprehension and fluency. 

Because this is such an important skill gained in early childhood, I use a strong evidence-based and developmentally appropriate approach to vocabulary and speech development. This includes: 

𝗘𝘅𝗽𝗹𝗶𝗰𝗶𝘁 𝗩𝗼𝗰𝗮𝗯𝘂𝗹𝗮𝗿𝘆 𝗗𝗶𝘀𝗰𝘂𝘀𝘀𝗶𝗼𝗻
Explicit vocabulary discussion means that, in this class we not only use words, but we also sometimes talk about them. We might discuss, for example:
~ what does this word mean?
~ what words would communicate what we want? 
~ what other words can we use for this?

While these discussions are explicit, they are not a discrete part of our classes or delivered as a "lesson". Instead, we weave these into our organic discussions while we play, create and tell stories. I do not choose or have a "list" of specific words that children "must" learn. My approach is to respond to children's interests by offering explicit vocabulary discussion that is purposeful, and which helps each child engage with their goals, interests and motivations. This means that children are developing their vocabulary (and self-awareness of it) in a meaningful, relevant and active way. 

𝗘𝘅𝘁𝗲𝗻𝘀𝗶𝘃𝗲 𝗖𝗼𝗻𝘃𝗲𝗿𝘀𝗮𝘁𝗶𝗼𝗻
While it may seem "efficient" to get children to memorise, or rote learn, words - this approach has been shown to have no real value in speech/ language development generally, including vocabulary development. Rather, evidence confirms that the critical requirement for strong vocabulary and speech development is for children to have many meaningful, two-way conversations that are interesting to them. 

To provide this for your child, I maintain very small class sizes and a child-led approach to learning. This ensures that each child has many opportunities to "chat" and "talk" with me and other learners throughout each session about the things that have captured their interest and which they are discovering. I focus on finding opportunities within these conversations to not only introduce new vocabulary, but to also extend and stretch each child's confidence in using and understanding vocabulary in speech. 
I am both a trained nurse and Masters-qualified teacher, specialising in Therapeutic Play. I have over 30 years experience in working with young children, specialising in designing programs to improve children's developmental, educational/ learning and mental health/ well-being outcomes in both "typical" and complex circumstances. I have received numerous government and industry awards for my work in both teaching and therapeutic practice.

My Master's degrees have included extensive training in teaching through arts and play-based  experienced. My Masters in Teaching also included early childhood musicianship, singing and music appreciation education (0-8 years). I have also completed a range of professional development qualifications and trainings, particularly in rhythm, percussion and movement-to-music education for young children. I am a licenced practitioner in the Safe & Sound Music Intervention protocol. 

From 2009, for almost a decade, I was also lucky enough to work on many projects with Dr Jolanta Kalandyk-Gallagher, an internationally accomplished scholar and Head of the Early Childhood Department at the Australian School of Music (Australian National University). Dr Kalandyk-Gallagher was a groundbreaking researcher and educator, who specialised in Early Childhood Music Education/Pedagogy, Music Therapy, Music Psychology, Creative Arts Education, Health Sciences, Early Intervention, and Music Methodology and Curriculum Development. Her knowledge and practice skills in Early Childhood Music Education have deeply informed my work with young children since this time. 

My background includes working in universal/ public early childhood education settings, as well as in specialist areas including child protection, disability, mental health, family violence, trauma, and disaster/ conflict zones. I have postgraduate qualifications and training in a range of other educational and therapeutic interventions including trauma-informed practices, art therapy, and Circle of Security. Although this class is not a therapy intervention, I bring my extensive understanding of child well-being to ensure my classroom practices are sensitive, inclusive and responsive to the needs of children. 
There is no homework required as part of this class. However, children may like to continue exploring music and art outside our designated class time. A PDF will be provided after each class, with some (optional) play-based, nature-inspired and art activities to extend in-class learning at home. 
~ Paper for artwork (I recommend 5 sheets of paper per session)
~ Something to paint with (your child's choice of acrylic paints, watercolours or other paints)
~ A selection of brushes (in weeks 4 and 5 I also recommend having some simple sponges on hand for painting)
~ A cup or two of water - for rinsing/ cleaning paint brushes. 

Please note: 
~  Paints work better than pencils/ crayons for this class. This is because paint is more responsive to the child's expression - for example, young children find it easier to vary the way paint is applied to create thickness, size, movement, shape, etc. in "real time".
~ If you use watercolour paints, watercolour paper is preferable. However, depending on where you live, this can be expensive, so you do not need to feel pressured to purchase for this class.   
~ If you have headphones, you may like to experiment to see if using them improves your child's enjoyment of the music in this class. 
I do not use tests or other standardised approaches to assessing children's progress. In this age group, testing it is not developmentally appropriate and in some cases may be psychologically and academically harmful. 

However, as a teacher, I do believe it is important for me to be accountable to both children and parents. I aim to deliver classes that are not just "busy work" or entertainment, but which actively contribute to each child's learning in meaningful and sustainable ways. 

To do this, I use continuous observation of children's activity and conversation. When I make these observations, I am specifically considering the child's development in relation to the learning outcomes of the class (see above). 

I then routinely provide feedback to children. This may consist of: 
~ positive affirmation (e.g. "I really liked the way you communicated your idea with that painting");
~ positive reflection (e.g. "I wonder how you came up with that idea?"); and/ or
~ positive stretching (e.g. "I wonder if you could show that idea in other ways?). 

This is a wholistic approach to assessment. The child's response to my feedback helps me understand of "how far" they have traveled in their learning, and then "what comes next" in their learning. 

I welcome questions and inquiries from parents about their child's learning progress.    
30 minutes per week in class, and no time outside of class.
- The song "Waltzing Matilda" used in this class, contains the lyric: "And his ghost may be heard, as you pass by that billabong". 
MUSIC SOURCES AND LICENCING
~ Most musical scores used in this class are in the public domain. 
~ I hold two current APRA-AMCOS licences which authorise my use of music in commercial education settings, and which cover the use of all musical pieces in this class not in the public domain. 

TEACHING APPROACH
This class is informed by the following approaches to music-based education in early childhood:
~ Play-based learning, with a focus on Play Profiles (Sara-Lea Chazan).
~ Imaginative Pedagogy (Kieran Egan)      

Although this class does not teach instrumental music, it draws from the Early Childhood music education approaches of: 
~ Kodály Method of Music Education (particularly the principles of movement and repertoire in music education, and the use of rhythm syllables). 
~ The Dalcroze Method of Music Education (particularly the principles of developing cognitive and body-based responses and reactions to music, with a focus on the child's reactions in time, space, and force)
Teacher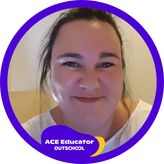 About Me
𝗛𝗲𝗹𝗹𝗼! 𝗠𝘆 𝗻𝗮𝗺𝗲 𝗶𝘀 𝗔𝗹𝗶𝗰𝗲.

I am a verified 𝗢𝘂𝘁𝘀𝗰𝗵𝗼𝗼𝗹 𝗔𝗖𝗘 𝗘𝗱𝘂𝗰𝗮𝘁𝗼𝗿 and I help families from all over the world, who are searching for meaningful alternatives to high-pressure and standardised teaching approaches. An increasing number of parents...