Social Studies
US History for Homeschoolers With Aunt Sam: Part 2 Yukon Gold Rush to Moon Walk
Join Aunt Sam for a basic look at US History, as we examine the lives of historical figures and events
Meets 1x per week
Over 10 weeks
55 minutes per class
Class Experience
Let's join Aunt Sam for a Look at US History through stories of Individuals. This class follows my History Class:  US Revolution to Civil War.   Who are these historical people and events? What are facts? What is fiction? In this multi-day class, we'll take a look at the many contributions to history these individuals and events have made.  In this class, we will discuss the role that certain sources have played in the stories of these individuals and events. We will use documents/resources...
Students will gain a basic understanding of: 
•	History and Geography
•	Timeline of Basic events from United States History
•	How the past has affected our lives
•	What can we learn from these lives and events, then better our own lives and community
Also, students will improve and practice listening, attention and focus skills
They will have opportunities to:
•	Retell some story facts and events
•	Discuss different events 
•	Answer basic comprehension questions 
•	Present ideas from the topics discussed
History is fascinating to me! I love researching how people lived and how their lives have affected our lives. I have traveled across the US and around the world, enabling me to interact with many people and cultures firsthand. I have learned about how they live and, in many cases, lived with them. I have studied and lived in different parts of the US, Israel, Egypt, England and Paraguay. I have a broad firsthand experience of different cultures and their effect on the world.
I have taught these historical topics to my own children in our homeschool and in a variety of formats including public school, homeschool co-ops and community classes.  
Specific Teacher expertise:
•	Homeschooled my 9 children for 25 years
•	Substitute Teaching in Central Valley School District for the past 5 years teaching mostly Elementary School with occasional Middle School experiences;
Subjects taught: 
•	History classes 
•	Math classes 
•	ELA classes 
•	Science classes 
•	Music classes  
•	Taught classes at Spokane Valley Learning Academy, a K-8 Partnership Program in Central Valley School District in Spokane for over 15 years 
Subjects taught:
•	History/Civics Classes (dealing with US History and Government) 
•	Spanish Classes (beginning level)
•	Science Classes (dealing with the weather) 
•	Theater Classes (Introduction and theatrical presentations)
 I have a bachelor's degree in Theater. I love adding role-plays, and a little "drama" to each lesson.  The projects/worksheets are fun, interesting, and informative! Welcome to the class!

Simple weekly assignments and worksheets will be provided in the classroom. 
Opportunities to work on these worksheets and assignments will be given in class.
Discuss and share what is learned with family. 
Share Worksheets and Map Work
Optional presentations will be given in class. 
Kahoot quiz
55 minutes per week in class, and maybe some time outside of class.
A Kahoot quiz will be used during the last class as a review. I encourage the students to either use a different device with Kahoot.it downloaded on it or I encourage the students to split their screens with Kahoot.it in the new window.  The questions will be displayed in the classroom via screen sharing and then the students answer on the other device/window.
All resources referenced to are available from the Local Library or online, if pre-reading is desirable, BUT not necessary.  
Resources: 
These sites are used throughout the course to gain overviews and actual documents for individuals' lives:
•     The Gilder Lehrman Institute of American History https://www.gilderlehrman.org/about/about
•     National Endowment for the Humanities  https://www.neh.gov/
•     Learning for Justice https://www.learningforjustice.org/
•     National Geographic https://www.nationalgeographic.org/society/education-resources/
•     Kids Discover https://online.kidsdiscover.com/home
Used on the weeks that we cover these topics:    
•     The Declaration of Independence, The Constitution of the United States, 
Used as reference:
•     American Battlefields Trust https://www.battlefields.org/
Used as reference Week 8:
•     National Women's History Museum https://www.womenshistory.org/

The final class includes a KAHOOT quiz.
Teacher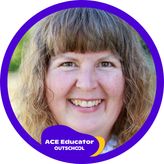 About Me
Children and Homeschooling are my passions! As a Homeschool Mom of 9 children, I am dedicated to adapting curriculum and activities to each class and each child's needs. I have a B.A. Degree in Theater, so I add a dramatic flair to each class.  As...