Arts
Polymer Clay Art Club 2: Sculpt Your Own Dragon Figures! (Intermediate)
In this weekly polymer clay art club, students will sculpt various themed dragon sculptures using polymer clay. Some clay experience is recommended. Other clays may be used, but the techniques I teach are best with oven bake polymer clay.
Meets 1x per week
Runs week after week
60 minutes per class
Cancel anytime
Class Experience
**Dragon Weekly Themes**

(Week of 9/17): Free Choice! - Make any dragon from your imagination, or follow along with what I make.
(Week of 9/24): Dragon in a Beverage / Teacup  
(Week of 9/30): Sweets / Dessert Themed Dragon 
(Week of 10/1): Fruit Themed Dragon 
(Week of 10/8): Meal/Food Themed Dragon 
(Week of 10/15): Profession Dragon (What job would your dragon have?)  
(Week of 10/22): Book Stack Dragon 
(Week of 10/29): Celebration Dragon
(Week of 11/5): Fluff Tail Dragon
(Week of...
Students will learn several different polymer clay techniques, including: making an armature, blending colors together, using fingers to create detail, and using sculpting tools.

Students will improve their understanding of art as a means of self-expression. They will learn how to practice positive self-talk, and they will learn how to utilize constructive criticism.
I have been working with polymer clay for many years. I have a Facebook page to showcase my art, and I have sold pieces at various events throughout the years. I also taught elementary school for over four years, and currently teach art to homeschool students in my community. I have used polymer clay with my students in my own classroom, and they love it!
Students will be starting their sculptures during class, but will likely finish after class. After class they will also bake their sculpture according to their clay package directions. Students are also encouraged to post pictures of their creations in the classroom discussion on Outschool.
  1 file available upon enrollment

Polymer Clay Art Supplies
Clay
- Polymer Clay in a variety of colors. (IMPORTANT - These sculptures are intended to be cured and hardened. It is not recommended that Learners use Plastalina (Modeling Clay) or Play Dough. Model Magic or Air Dry Clay may be used, but these types of clays behave very differently and do not hold details as well.) **See Artist Recommendations below for more info on polymer clay brands**

Sculpting tools: 
- a ball sculpting tool or a small paint brush with a rounded end 
- a sculpting knife or a straight-edged butter knife (sharper knives are best, but be sure your learner knows knife safety) 
- an acrylic roller or larger paint brush 
- a clay smoothing tool or silicone nail art brush
- a needle tool or toothpick
- other desired tools

Other materials:
- parchment paper and/or cardstock/index card to bake on.
- a smooth, clean, non-porous surface to work on. I use a ceramic tile from the home improvement store. You can also use a piece of parchment paper wrapped around a piece of carboard and taped down so that it stays. I do not recommend working on aluminum foil as it gets wrinkled easily.

Artist Recommendations:
I recommend using Sculpey III, Sculpey Premo, Fimo, Kato, or Cernit brand polymer clay as they are easier to find. Of these, the Sculpey III brand is the least strong but soft to work with. If you are looking for sculptures to be stronger, Sculpey Premo and Fimo Professional hold up better after baking but they are less soft. Fimo and Cernit both have varieties that are softer as well, but the same applies. Kato can be more firm sometimes, and bakes at a lower temperature so it is best not to mix with other brands. These brands all come in 2 oz. bars available at stores like Michael's or JoAnn's, or online at Sculpey or the Polymer Clay Superstore. I have also recently tested the "Crafter's" brand by Hobby Lobby. The Crafter's Collection Craft version is similar to Sculpey III or Craftsmart. The Crafter's Collection Advanced is extremely similar to Fimo Professional. I would choose the Advanced over the Craft Collection.

Please allow time for shipping if you choose to purchase supplies online. Clay bars are typically $2 - $4 per 2 oz. per bar. You can also buy multi packs that can sometimes be cheaper. The clay will not dry out if exposed to air, so it will last a while and can be used for other projects!

**My favorite clay for softness and durability right now is Cosclay, but it is more of an investment. They come in larger, 8oz - 16oz boxes. This clay is soft to work with, but also very durable. You can find it at www.Cosclay.com or on Amazon.

The variety packs that are off branded on Amazon are sometimes okay, but they often have very soft clay that is a little tough to work with. Some kids like it that soft, but others may get frustrated with the texture as it is difficult to use to make details.

If you have any other questions about tools, materials, or colors then please send me a message.
Learners will not need to use any apps or websites beyond the standard Outschool tools.
Student progress will be assessed informally throughout the classes. Students will get feedback on their sculptures during class as well as after class if needed.
1 hour per week in class, and an estimated 0 - 1 hours per week outside of class.
Parental supervision or guidance may be needed for inexperienced learners. Polymer clay should be used on a non-porous surface (a metal sheet pan or piece of cardboard covered with parchment paper, or a piece of marble, or just parchment paper laid out). Learners should avoid touching their mouth when working with polymer clay.

Parental supervision or guidance is recommended when learners are using sharp cutting tools. We will be cutting the clay at various times in class, and that will require a clay cutting tool or knife. A plastic knife with a straight edge will also work.

Parents may need to help their learner cure the sculpture by baking it in the oven after class. Place the sculpture on parchment paper or an index card on a baking sheet. If you are using Premo, bake at 275 degrees. Time will vary depending on thickness. If you use another brand, check your packaging for baking temperature and time. Let it cool completely before handling.
Teacher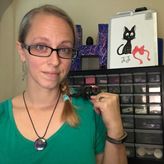 About Me
I was an elementary school teacher for over four years, and I am also certified in Special Education. I enjoy teaching every subject, including art and music! I want students to have fun while they are learning. When students have fun and make a...