English
No-Rush Phonics - Speech, Sound Blends & Segments | Preschool & Kindergarten
In this small (tutoring-style) group we play games and sing songs to help Sweet-Pea (the puppet) practice her speech and sound discrimination, so she can more easily learn her (English) ABCs, have conversations and make friends! | #academic| Neurodiverse, Autism, ADHD, Dyslexia, Gifted Inclusive.
185 total reviews for this teacher
Completed by 12 learners
Preschool-Kindergarten US Grade Level
Meets 1x per week
Runs week after week
20 minutes per class
Cancel anytime
Class Experience
𝗪𝗲𝗹𝗰𝗼𝗺𝗲 𝘁𝗼 𝘁𝗵𝗶𝘀 𝗰𝗹𝗮𝘀𝘀 𝘄𝗶𝘁𝗵 𝗔𝗹𝗶𝗰𝗲 𝗖𝗮𝗺𝗽𝗯𝗲𝗹𝗹, 𝗳𝗿𝗼𝗺 '𝗜𝗻 𝗧𝗵𝗲 𝗥𝗲𝗮𝗹 𝗪𝗼𝗻𝗱𝗲𝗿𝗹𝗮𝗻𝗱'!

For the remainder of 2023, 'In The Real Wonderland' will not be offering this group class on Outschool, and other group classes will be offered only on a limited/ occasional basis. However, one-on-one, individually tailored play-based learning sessions will continue to be offered by 'In The Real Wonderland' on Outschool for the remainder of 2023. Please see my main profile page for these options....
The intended learning outcomes for this class are aligned with the Australian and UK early years curricula. They are also consistent with the preschool/ early years curricula for NZ, China, Korea and most European countries. This class utilises the Michigan Essential Literacy Practices Framework, and the Mathematics Learning Trajectories. 

______________________________
Intended Learning Outcomes

1) I can segment a spoken sentence into separate spoken words.
2) I can orally blend and segment words, initially words with one and two syllables, to words with an increasing number of syllables. 
3) I can consistently say the first phoneme of a spoken word and say other words that start with that phoneme.
4) I can listen and indicate words that end the with the same phoneme.

______________________________
Vocabulary and Speech
Throughout the 10 different sessions in this class we will explore vocabulary and many parts of speech relating to the content, concepts, and activities we are exploring. These words will include nouns, verbs, adjectives, adverbs, prepositions, conjunctions and interjections. 

​Vocabulary (or knowledge of words) includes understanding their structure (morphology), use (grammar) and meanings (semantics). It also includes understanding how one word links to other words (word/semantic relationships). Oral and aural vocabularly skills (or, for non-speaking children, visual vocabularly skills) are absolutely crucial to later development of literacy decoding and reading comprehension and fluency. 

Because this is such an important skill gained in early childhood, I use a strong evidence-based and developmentally appropriate approach to vocabulary and speech development. This includes: 

𝗘𝘅𝗽𝗹𝗶𝗰𝗶𝘁 𝗩𝗼𝗰𝗮𝗯𝘂𝗹𝗮𝗿𝘆 𝗗𝗶𝘀𝗰𝘂𝘀𝘀𝗶𝗼𝗻
Explicit vocabulary discussion means that, in this class we not only use words, but we also sometimes talk about them. We might discuss, for example:
~ what does this word mean?
~ what words would communicate what we want? 
~ what other words can we use for this?

While these discussions are explicit, they are not a discrete part of our classes or delivered as a "lesson". Instead, we weave these into our organic discussions while we play, create and tell stories. I do not choose or have a "list" of specific words that children "must" learn. My approach is to respond to children's interests by offering explicit vocabulary discussion that is purposeful, and which helps each child engage with their goals, interests and motivations. This means that children are developing their vocabulary (and self-awareness of it) in a meaningful, relevant and active way. 

𝗘𝘅𝘁𝗲𝗻𝘀𝗶𝘃𝗲 𝗖𝗼𝗻𝘃𝗲𝗿𝘀𝗮𝘁𝗶𝗼𝗻
While it may seem "efficient" to get children to memorise, or rote learn, words - this approach has been shown to have no real value in speech/ language development generally, including vocabulary development. Rather, evidence confirms that the critical requirement for strong vocabulary and speech development is for children to have many meaningful, two-way conversations that are interesting to them. 

To provide this for your child, I maintain very small class sizes and a child-led approach to learning. This ensures that each child has many opportunities to "chat" and "talk" with me and other learners throughout each session about the things that have captured their interest and which they are discovering. I focus on finding opportunities within these conversations to not only introduce new vocabulary, but to also extend and stretch each child's confidence in using and understanding vocabulary in speech. 
I hold a Bachelors degree in Nursing, and am also a qualified, registered Teacher with a Masters Degree in Early Childhood Education. I am currently completing a Masters Degree in Play Therapy. 

My 30 years experience includes working with children from trauma, disability, non-English speaking, marginalised, medically fragile, and gifted/ talented backgrounds. 

Throughout my career, I have gained a range of specialised skills and certifications. In literacy development these include certifications/ licensing the Michigan Essential Literacy Practices, Multi-sensory literacy teaching (including Orton Gillingham), MiniLit/ MacqLit, and Hanen Speech (Teacher Talk).

All materials used in my classes are 100% original and authored by me. Where I use books, I have obtained written permission from the publisher/ copyright holder. My classes are individualised to each child, and activities are flexible and open-ended. I do not use "purchased lessons" or photocopied worksheets. 
There is no prescribed homework for this class. However, a pdf will be provided to families after attending their first class with suggested home activities for consolidating children's skills. 
No supplies are needed to participate in this class. However, children are welcome to bring special objects, toys, souvenirs, or mementos to each class, relating to the weekly theme, and we will incorporate these into the conversation activities so that learning is meaningful, relevant and interesting for children.

Learners will not need to use any apps or websites beyond the standard Outschool tools.
I do not use tests or other standardised approaches to assessing children's progress. In this age group, testing it is not developmentally appropriate and in some cases may be psychologically and academically harmful. 

However, as a teacher, I do believe it is important for me to be accountable to both children and parents. I aim to deliver classes that are not just "busy work" or entertainment, but which actively contribute to each child's learning in meaningful and sustainable ways. 

To do this, I use continuous observation of children's activity and conversation. When I make these observations, I am specifically considering the child's development in relation to the learning outcomes of the class (see above). 

I then routinely provide feedback to children. This may consist of: 
~ positive affirmation (e.g. "I really liked the way you communicated that idea");
~ positive reflection (e.g. "I wonder how you could...?"); and/ or
~ positive stretching (e.g. "I wonder if you could...?). 

This is a wholistic approach to assessment. The child's response to my feedback helps me understand of "how far" they have traveled in their learning, and then "what comes next" in their learning. 

I welcome questions and inquiries from parents about their child's learning progress.    
20 minutes per week in class, and an estimated 0 - 1 hours per week outside of class.
This class is informed by the following approaches to phonics learning: 
~ Hanen "It Takes Two" and "Teacher Talk" (International)
~ Principles and Practices of High-Quality Phonics program (UK)
~ MacqLit (Aus)
~ The Michigan Essential Literacy Practices (Pre-K, K - 3) (US)
~ The Orton-Gillingham Phonics approach (International)





Teacher
Alice Campbell
Play-Based Learning For All Children - In The Real Wonderland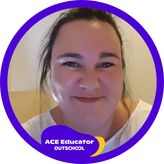 About Me
Hello! My name is Alice. 

Through my independent teaching practice, 𝗜𝗻 𝘁𝗵𝗲 𝗥𝗲𝗮𝗹 𝗪𝗼𝗻𝗱𝗲𝗿𝗹𝗮𝗻𝗱, I help families from all over the world, who are searching for meaningful alternatives to high-pressure and standardised approaches to education, teaching...