Arts
Metamorphmagic Fantasy Special Effects Makeup
With makeup you can change your face, just like a magical metamorphosis. Learn a few simple fantasy makeup techniques in this one-time makeup class using inexpensive makeup available anywhere.
Meets once
55 minute class
Class Experience
We are magical beings living muggle lives, and makeup can help bring the transformation from within. Did you know you can make dragon scales on your face using eyeshadow? And rainbows on your eyes? How can you make almost any color lipstick shade? I can show you how in this simple one-time class.  And you don't need to buy fancy stage makeup either. Most of the supplies are easily and inexpensively available. 

In this one-time class, I will show a demonstration while your child practices the...
The teacher has a PhD in theatre, having taken several stage makeup courses as part of her studies, and she runs fantasy day camps as part of her small business The Imaginorium (www.imaginethekey.com). 
Students should have access to their own makeup because they will be doing their own while I do the demonstration. I tried to put together a comprehensive list, but we will work with whatever you have:

Eyeshadow in a variety of bright shades - 
Including but not limited to
Red, orange, yellow, green, blue, violet
(For example, Nyx Brights Ultimate Shadow palette is available on the Ulta website for $13)

Eyeshadow primer (Tattoo Junkee's eyeshadow primer is $6.99 and is awesome)

Shimmery colors and glitters give more to play with. I personally love Urban Decay for their rich pigment, but they are a bit more expensive, and you can get just as good an effect with really inexpensive products like Wet n Wild or Elf.  
 (More expensive example - UD Elements Eyeshadow Palette Full Size (Free Single Eyeshadow Included) https://www.amazon.com/dp/B07MLKNB5H/ref=cm_sw_r_cp_api_i_rOrxEbX267J2Z. 
Less expensive - 15 Colors Glitter Eyeshadow Palette Shimmer Ultra Pigmented Makeup Eye Shadow Powder Long Lasting Waterproof https://www.amazon.com/dp/B078K6GTPW/ref=cm_sw_r_cp_api_i_MQrxEbPZCAZD8)

Brushes - at least one small eyeshadow brush about the size of a paintbrush, one powder or blush brush, and at least one very small, thin eyeliner brush (This link shows the different types: https://www.purewow.com/beauty/makeup-brush-guide). You can buy a whole brush set for $10-12 or you can buy them individually. 

Lips: Simple lip balm, like Burts Bees, chapstick, etc (brand does not matter), with no pigment.

White face paint, any kind

***Finally (important for the dragon scales): It sounds weird, but fishnet pantyhose or a mesh wig-cap (Wig Caps,MORGLES 6pcs Mesh Wig Caps Mesh Net Liner Weaving Cap Wig Caps for Women (Brown,Beige,Black) https://www.amazon.com/dp/B07ZFCJF94/ref=cm_sw_r_cp_api_i_YGrxEbQ6S3CYH) ($3.99)

Setting spray  and loose glitter - iridescent (optional)

A stand mirror. 

Makeup wipes are also very helpful. (my favorites are Neutrogena Makeup Remover Night Calming Cleansing Wipes, $10 for a twin pack). If you don't have makeup wipes, you should have access to some sort of makeup remover and a paper towel or cotton-swabs so you can make corrections.

55 minutes per week in class, and maybe some time outside of class.
Kids with sensitive skin should be careful about makeup content, but we aren't putting anything on faces that isn't supposed to be there.  I wrote the following in response to a question about brands for makeup for sensitive skin:
Some of my favorite brands claim to be good for sensitive skin in general. Urban Decay is my go to brand, and it claims to be hypoallergenic. But that doesn't mean it would work for everyone (nothing does). And different colors are more abrasive than others. The Nude pallettes are generally softer and safer, but as you said, not the bright and fun colors. Reds, purples (because they contain reds), and metallics are going to be the most abrasive. Green used to be the worst color. I actually talk in my Wizard of Oz class about why it was so dangerous for them to choose green makeup for Margaret Hamilton. Burts Bees and MAC are also really good.  I found this article when I was looking for some more info to answer your question: http://www.besthypoallergenicmakeup.com/hypoallergenic-eye-makeup/.  For foundation and my makeup wipes, honestly,  Neutrogena actually does a really good job. It's inexpensive and drugstore brand, but it has worked better than a lot of the more expensive brands.
Teacher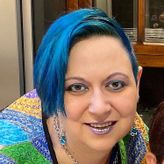 About Me
I am taking a short break. I will be returning to teaching on Outschool in December.

For over fifteen years, I have created and directed innovative programs that incorporate literature and pop culture into educational experiences through The...