Math
Math Tutoring One-on-One! High School, Algebra, Geometry,Pre-Calculus 10, 60 min
***Per request***These one-to-one online tutoring sessions are designed to help and support students with their homework math problems or catch up with their schoolwork material.
Class Experience
These individual tutoring sessions are designed to support learners with completing and mastering their math problems.
We all learn differently, and the instructional approach needs to be altered for each individual student's learning style. That's exactly the reason why one-to-one is often the best call for parents who want effective classes for their children.

 Your student will bring homework/school work problems ranging from number theory, properties of operations, algebra, linear...
Students will improve their understanding of all concepts assigned in their homework, and will get additional practice which will make them more confident in solving math problems.
My complete education and working experience reside on working with students to achieve their excellence in math. I have the expertise and fluency over math tasks, but knowing math for yourself and knowing how to teach math and educate others are totally two different things. I can explain math problems, I can relate those problems to everyday life, to other school subjects like chemistry and physics, and finally, I can offer validation and understanding of students' feelings of anxiety or fear of math. 

These grades could be the most challenging ones since many students enter their teenage period; are rethinking their past interest and are starting with new ones. This is the period, in which we (adults, parents, teachers) should provide the maximum support and encourage them to pursue their academic career paths. I have seen so many elementary A-students, just getting 'lost' in their puberty years, and then, as we all know because math is the most scaffolded subject that exists, that 'lost' period is almost irreversible.

Provide your student with great support today!
Students will need:
- paper,
- pencil, 
- eraser, 
- highlighter (crayon),
- calculator.
If graphing is part of the assignment students will most probably need a graph paper.
Ruler, protractor and compass will be needed if student is working on specific topics like: construction, estimating and measuring angles and so on.
1 hour per class, and maybe some time outside of class.
Teacher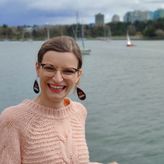 About Me
Hello, my dear students, parents, or guardians!! 
** If there is no class offered on my calendar, please feel free to reach out to me and I will open a section for you. 
*I will be on a summer break from June 1st to August 1st. 

I'm a passionate...