World Languages
Learn Spanish With Muzzy the Monster & a Native Teacher Join the Fun Adventures!
Learn Spanish through fun and interactive cartoon adventures with Muzzy the Monster and our native Spanish teacher! Immersive and engaging classes. Students will learn Spanish grammar, vocabulary, and pronunciation.
Pre-Kindergarten-2nd US Grade Level
Meets 2x per week
Runs week after week
25 minutes per class
Cancel anytime
Class Experience
Our Spanish language class is designed to be engaging and interactive for students of all ages and skill levels. Using the popular animated series, Muzzy the Monster, helps make the learning process more enjoyable and effective. Our curriculum is taught by a native Spanish-speaking teacher who is highly skilled and trained to effectively engage students in the learning process.

This class is learner-led. This means we will study one topic or the other based on the students enrolled, their...
This class is taught in Spanish.
Throughout the course, students will develop proficiency in Spanish language skills, including listening, speaking, reading, and writing. The curriculum is designed to help students learn Spanish grammar, vocabulary, and pronunciation, while also being exposed to the cultural aspects of the language. By the end of the course, students will be able to engage in basic conversations in Spanish, write simple texts, and read and comprehend Spanish language materials.

The course is structured to provide a strong foundation in Spanish language skills, with an emphasis on practical, real-world applications. Students will be taught through a combination of lectures, games, slides, video clips, discussion, and interactive exercises. The use of cartoons helps to make the learning experience more enjoyable and interactive, keeping students motivated and engaged in the learning process.

Our native Spanish-speaking teacher is trained to effectively engage students in the learning process and provide a supportive and fun learning environment that helps students feel comfortable and confident when speaking Spanish. The teacher will use a variety of teaching techniques and materials to help students understand and master the Spanish language, including grammar drills, vocabulary exercises, and conversational practice.

Overall, the course is designed to provide a comprehensive and engaging Spanish language learning experience that will help students develop their proficiency and confidence in the language. Our combination of quality instruction and engaging content is sure to help students make great progress in their Spanish language skills.
Our values reflect our commitment to providing the highest quality education to our students. Our highly qualified and experienced teachers are all native Spanish speakers who have been carefully background checked. 

They specialize in teaching Spanish to children and are committed to making the learning experience fun and effective. 

Meet our team: 
Susana Lezcano (Founder & Curriculum Creator)
María Sosa (Teacher María)
Evelyn Torres (Teacher Evelyn)
Breanna Maldonado (Teacher Breanna)
Erika Daughtry (Teacher Erika)
Naomi Hernandez (Teacher Naomi)
Sara Jiménez (Teacher Sara)
Melody Aguilar (Teacher Melody)
Viviana Albán (Profesora Viviana)
Jaime Potes (Teacher Jaime)
Levi McHnery (Teacher Levi)
Olivia de Diego (Profesora Olivia)
Yazmin Llandrón (Teacher Yazmin)
Yovaly Irizarry (Teacher Yovaly)

And our wonderful Administrator, Andrea C. Maestre.

Our classes are in high demand so we are currently hiring new teachers. Don't hesitate to ask the qualifications of your child's instructor. 

 We offer unlimited support before, during, and after each class and are available across two time zones to accommodate learners around the globe. 

"¡Hola estudiantes! My name is Susana Lezcano, and I'm a Spanish teacher and author from Madrid, Spain. From a very young age, I fell in love with the beauty of the Spanish language, and my passion for it has only grown stronger with time. When I moved to America at 17, I discovered that many Americans shared my love for the language, and I knew that teaching Spanish was my calling.

Over the years, I have developed a curriculum that caters to all ages and levels of proficiency in Spanish. After teaching on Outschool for just one year, I was fully booked, teaching eight hours a day! It was then that I realized that I needed a team of awesome Spanish teachers who share my passion for teaching and love for the language.

And so, Spanish the Fun Way Academy was born - a place where we teach Spanish in a fun and engaging way, helping students of all ages to learn and appreciate this beautiful language. We are committed to providing the highest quality education to our students and aim to inspire them to embrace and love Spanish as much as we do.

Join us today and experience the joy of speaking Spanish with Spanish the Fun Way!"

The amount of homework assigned will depend on the level of the class and the needs of the students. 
50 minutes per week in class, and maybe some time outside of class.
Offered by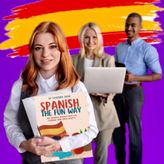 About Us
♥ Welcome to Spanish the Fun Way, where learning Spanish is an enjoyable and engaging experience for kids! ♥ Our classes are perfect for preschool, elementary, middle, and high school learners. We offer after-school classes for homeschooling...