Arts
Hands-On Art History: Lives and Styles of the World's Most Famous Artists
Each week in this ongoing class, students will learn fascinating facts about a spotlighted artist and then make a unique creation inspired by that artist's most iconic style.
Meets 1x per week
Runs week after week
55 minutes per class
Cancel anytime
There are no open spots for this class, but you can request another time or scroll down to find more classes like this.
Class Experience
I'm so glad you are checking out this class...it is loads of fun! 

This highly interactive, ongoing class (which runs in 15 week cycles) will have learners beaming with pride at their ability to pick out a Picasso, spot a Matisse cutout, and identify Van Gogh's impasto brushstrokes like an art history pro! 

Each week, we will spotlight an artist. We will spend the first part of class understanding what made the spotlight artist tick, from his artistic beginnings, to his/her physical...
This class supports beginning art, history, art history, and art appreciation, among other disciplines. Throughout the course, students will learn to identify the artist behind the work (even younger elementary students will be excited to identify Seurat's pointillism, Matisse's cutouts and Van Gogh's impasto brushstrokes) and remember key facts about their lives that are fun to share and helpful to know. Students will also learn how to implement these famous artists' styles in their artwork inside and outside of class.  
There is no homework for this class, but past students have enjoyed doing some pre-research into the artists that will be spotlighted. Such pre-research is totally unnecessary to enjoy the class, however! 
All classes will require art paper (sturdy, multimedia art paper is best but copy paper will also work), a pencil, an eraser, and a black marker/Sharpie. The projects for each week are listed below, along with any additional supplies needed:

May 24th: Henri Matisse / Cutouts (colored paper, scissors, glue stick)
May 31st: Vincent van Gogh / Starry Night Scrape Painting (paints in various colors to make a night landscape, paintbrush, fork)
June 7th: Georges Seurat / Pointillism Flower with Paints (paints in various colors for a flower, utensils with small points to apply paints, e.g., q-tips, toothpicks, pencil with intact eraser, fine paintbrush, etc.)*
June 14th: Monet / Impressionistic Bridge Over a Pond of Water Lillies (Watercolor & Oil Pastel Resist) (watercolor paper, watercolors, watercolor brushes, oil pastels)
June 21st: Paul Cezanne / Still Life Oranges (paints of various colors including orange, red, brown, white, black, and blue)
June 28th: Picasso / Cubist Self-Portrait (any coloring supplies your learner desires, e.g., oil pastels, crayons, colored pencils, markers, etc.)
July 5th: Wassily Kandinsky / Abstract Composition Resist Painting (watercolor paper, watercolors, watercolor brushes, crayons)
July 12th: Paul Klee / Castle and Sun (oil pastels or crayons) 
July 19th: Gustav Klimt / Woman with Patterns (gold metallic marker or crayon, magazine cutout**)
July 26th: Paul Gauguin / Brightly Colored Palm Tree(s) (oil pastels)
August 2nd: Edward Hopper / Lonely Lighthouse Watercolor & Oil Pastel  (watercolor paper, watercolors, watercolor brushes, oil pastels)
August 9th: Frieda Kahlo / Inspired Version of "The Frame"  (thick multimedia paper or white card stock that will accept oil pastels, oil pastels)*** 
August 16th: Leonardo da Vinci / Mona Lisa Sketch  (any coloring supplies your learner desires, e.g., oil pastels, crayons, colored pencils, markers, etc.)
August 23rd: Georgia O'Keeffe / Blended Oil Pastel Macro-Flowers (oil pastels)
August 30th: Jackson Pollock / Abstract Expressionism Splatter Painting (paints in various colors, various interesting tools to flick, drip, or splatter paint, e.g., stiff paintbrushes, sticks, whisk, basting brush, etc., extra large paper if desired) 

*Ideally, learners will have access to application tools of various sizes so that they can experiment with larger and smaller dots of paint. Q-tips and toothpicks would work well together, for example. 
**For this project, learners will need a picture - printed or cutout from a magazine - of a woman's face and neck. I will post examples on the class page as this lesson approaches.
***Today, students will be sketching and decorating a frame in Frida Kahlo's classic flora-filled style, inside of which they display either a self-portrait done outside of class or a printed photo of themselves. It would be helpful to pre-cut your student's paper into a frame by cutting out center to whatever size suits the portrait or photo he or she will display. 
55 minutes per week in class, and maybe some time outside of class.
Each week, we will view multiple original works by the spotlight artist. Where it is enlightening, we will also read direct quotes by those artists about their lives, philosophy and/or works. Lastly, we will reference some excellent biographical books, including "Artists: Inspiring Stories of Their Lives and Works" by Susie Hodge. 
Teacher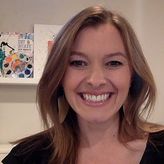 About Me
Hi there! I'm a lifelong learner, teacher, and homeschooling mom and I'm thrilled you're checking out my art and art history offerings. I have always loved to learn, and teaching what I've enjoyed learning has always come naturally to me....I even...