Science & Nature
Gnomeology: Gnome Science, Math, Literacy, Art & Imagination | Waldorf Inspired Interest-Led Learning
Discover science, maths, literacy & engineering secrets of nature's gnomes. Create a miniature world for our gnome friends, with play, open-ended art, hands-on experiments, story-telling, conversation, & social skills in this half-semester class | Neurodiverse Inclusive.
Once per week
over 5 weeks
How does a "Multi-Day" course work?
Meets multiple times at scheduled times
Live video chats, recorded and monitored for safety and quality
Discussions via classroom forum and private messages with the teacher
Great for engaging projects and interacting with diverse classmates from other states and countries How Outschool Works
Available Times
This teacher may live in a different time zone.
Available Times
This teacher may live in a different time zone.
There are no open spots for this class, but you can request another time or scroll down to find more classes like this.
Class Experience
 ➡⭐𝗗𝗲𝗰/ 𝗝𝗮𝗻 𝗰𝗹𝗮𝘀𝘀𝗲𝘀: I am on leave from 18 Dec - 8 Jan. Classes 𝘀𝘁𝗮𝗿𝘁𝗶𝗻𝗴 𝗯𝗲𝘁𝘄𝗲𝗲𝗻 𝟮𝟴 𝗡𝗼𝘃 𝗮𝗻𝗱 𝟭𝟴 𝗗𝗲𝗰 𝟮𝟬𝟮𝟮 will be 'paused' while I am on leave. They will resume again, the week starting 9 Jan 2023. Please check the timetable for the specific class dates when booking during this period.

___________________________________
Class Description

In this class (which draws from Steiner/ Waldorf, Montessori and Nature Education approaches), we will journey into the magical, mythological world of...
The intended learning outcomes for this class are aligned with the Australian and UK early years curricula. They are also consistent with the preschool/ early years curricula for NZ, China, Korea, and most European countries. This class utilises the Michigan Essential Literacy Practices Framework, and the Mathematics Learning Trajectories. 

______________________________
Intended Learning Outcomes

1. I can explore, infer, predict, and hypothesise in order to develop an increased understanding of the environment and my relationship to it. 
2. I can combine fine-motor, cognitive skills and thinking strategies to achieve increasingly complex patterns of activity to create, communicate, solve-problems and adapt to new situations. 
3. I can manipulate objects and resources in order to investigate, take apart, assemble, invent, assemble, construct, and experiment with cause and effect.
4. I can make predictions and generalisations about different environments, and communicate these using language, gestures, numbers, and symbols.
5. I can use language, gestures or visual symbols to communicate and convey meaning about social and personal experiences; mathematical ideas and scientific concepts. 

______________________________
Critical Thinking Question(s)
1. Are gnomes real? How do we tell the difference between something that is real, and something that is not?
2. What do gnome stories teach us about our world?
3. What would it be like to be a gnome?

______________________________
Science Content and Concepts
~ Living things are adapted to a particular ecology.
~ Engineering involves designing something to solve a problem. 
~ The structure of something influences its function. 
~ Places on Earth have seasons, each of which influence the weather, plants and animals. The seasons are different depending on where you live. 
~ Light comes from a source, and travels through the air. 
~ An ecology is made up of many different plants and animals that all interact together. 

______________________________
Mathematics Content and Concepts
~ Counting.
~ Subitising.
~ Comparing number.
~ Composing numbers.
~ Patterns, structure and algebraic thinking.
~ 2D shapes.
~ Composing 2D shapes.
~ Disembedding shapes.
~ 3D shapes.
~ Composing 3D shapes.
~ Spatial visualisation and imagery.
~ Spatial orientation. 
~ Measurement (length).
~ Measurement (area).
~ Measurement (angle and turn).

______________________________
Vocabulary and Speech
This class will provide a setting for children to develop and practice their vocabulary and speech relating to the content, concepts, and activities we are exploring. The words we will be using will include nouns, verbs, adjectives, adverbs, prepositions, conjunctions and interjections. 

​Vocabulary (or knowledge of words) includes understanding their structure (morphology), use (grammar) and meanings (semantics). It also includes understanding how one word links to other words (word/semantic relationships). Oral and aural vocabulary skills (or, for non-speaking children, visual and gestural vocabulary skills) are absolutely crucial to later development of literacy decoding and reading comprehension and fluency. 

Because this is such an important skill gained in early childhood, I use a strong evidence-based and developmentally appropriate approach to vocabulary and speech development. This includes: 

𝗘𝘅𝗽𝗹𝗶𝗰𝗶𝘁 𝗩𝗼𝗰𝗮𝗯𝘂𝗹𝗮𝗿𝘆 𝗗𝗶𝘀𝗰𝘂𝘀𝘀𝗶𝗼𝗻
Explicit vocabulary discussion means that, in this class we not only use words, but we may also sometimes talk about them. We might discuss, for example:
~ what does this word mean?
~ what words would communicate what we want? 
~ what other words can we use for this?

While these discussions are explicit, they are not a discrete part of our classes or delivered as a "lesson". Instead, we weave these into our organic discussions while we play, create and tell stories. I do not choose or have a "list" of specific words that children "must" learn. My approach is to respond to children's interests by offering explicit vocabulary discussion that is purposeful, and which helps each child engage with their goals, interests and motivations. This means that children are developing their vocabulary (and self-awareness of it) in a meaningful, relevant and active way. 

𝗘𝘅𝘁𝗲𝗻𝘀𝗶𝘃𝗲 𝗖𝗼𝗻𝘃𝗲𝗿𝘀𝗮𝘁𝗶𝗼𝗻
While it may seem "efficient" to get children to memorise, or rote learn, words - this approach has been shown to have no real value in speech/ language development generally, including vocabulary development. Rather, evidence confirms that the critical requirement for strong vocabulary and speech development is sufficient opportunity for children to engage in meaningful, two-way conversations that are interesting to them. 

To provide this for your child, I maintain very small class sizes and a child-led approach to learning. This ensures that each child has many opportunities to "chat" and "talk" with me and other learners throughout this class about the things that have captured their interest or that they are discovering. I focus on finding opportunities within these conversations to not only introduce new vocabulary, but to also extend and stretch each child's confidence in using and understanding vocabulary in speech. 
I am both a trained nurse and credentialed teacher, and a Play Therapist. I have over 30 years experience in working with young children, specialising in designing programs to improve children's developmental, educational/ learning and mental health/ well-being outcomes in both "typical" and complex circumstances. I have received numerous government and industry awards for my work in both teaching and therapeutic practice. 
There is no assigned homework in this class. 

In some cases, depending on the pace that each child prefers working at, they may not finish their project in the allocated class time. In this case they can continue working on their projects after class. 

Following each session, I will also provide a handout with suggestions for (optional) activities, play and art to extend children's off-screen learning and interests between sessions.  

Prior to each session, children will need assistance to prepare and set-up. In weeks 1 and 5, there will be some additional preparation requiring adult assistance. This will typically take 5 - 10 minutes for most sessions.  
  2 files available upon enrollment

If you are unable to find anything on this list, please contact me as I can usually recommend a substitute. 

𝗠𝗮𝘁𝗲𝗿𝗶𝗮𝗹𝘀 - 𝗪𝗲𝗲𝗸 𝟭
~ 3 or 4 clean cardboard tubes rolls (such as kitchen towel or paper rolls) pre-cut into lengths of about 10 - 15cm. 
~ Some colourful scraps of fabric. 
~ White/ pvc/ Elmer's/ school glue: please place in a shallow dish with a paint brush for younger learners. 
~ A ball of wool or yarn 
~ Something to use as a 'nose' - e.g. a pompom, a button, a bead
~ Any other lovely things your child wants to decorate their gnomes with (buttons, ribbons, sequins, etc.). 
~ Child-safe scissors. 
~ Some of your favourite textas/ markers/ crayons or colour pencils.

In addition, parents will need to help children create 4 - 5 "hat" cut-outs (using plain paper) prior to our first class (takes about 5 minutes). Instructions and a simple template for this will be provided on enrollment. 


𝗠𝗮𝘁𝗲𝗿𝗶𝗮𝗹𝘀 - 𝗪𝗲𝗲𝗸𝘀 𝟮 - 𝟱
𝗔 𝗹𝗶𝘀𝘁 𝘄𝗶𝗹𝗹 𝗯𝗲 𝗽𝗿𝗼𝘃𝗶𝗱𝗲𝗱 𝗮𝘁 𝘁𝗵𝗲 𝗲𝗻𝗱 𝗼𝗳 𝗲𝗮𝗰𝗵 𝗰𝗹𝗮𝘀𝘀, 𝗼𝘂𝘁𝗹𝗶𝗻𝗶𝗻𝗴 𝘁𝗵𝗲 𝗺𝗮𝘁𝗲𝗿𝗶𝗮𝗹𝘀 𝗿𝗲𝗾𝘂𝗶𝗿𝗲𝗱 𝗳𝗼𝗿 𝘁𝗵𝗲 𝗳𝗼𝗹𝗹𝗼𝘄𝗶𝗻𝗴 𝘄𝗲𝗲𝗸. 𝗧𝗵𝗶𝘀 𝘄𝗶𝗹𝗹 𝗲𝗻𝘀𝘂𝗿𝗲 𝘆𝗼𝘂 𝗰𝗮𝗻 𝗸𝗲𝗲𝗽 𝘁𝗿𝗮𝗰𝗸 𝗼𝗳 𝘄𝗵𝗮𝘁 𝘆𝗼𝘂 𝘄𝗶𝗹𝗹 𝗻𝗲𝗲𝗱 𝗳𝗼𝗿 𝗲𝗮𝗰𝗵 𝘄𝗲𝗲𝗸.
~ A packet of craft sticks.
~ A sheet of *wax* paper (this is not the same as baking paper! For this class we need wax paper, sometimes called "grease proof paper", and is available in most supermarkets). 
~ 1 or 2 milk cartons - washed and dried (2 litre or larger plastic cartons are ideal - but we can also use the 1 litre "paper" cartons if that's what you have on hand).  
~ White/ pvc/ Elmer's/ school glue
~ A good supply of acrylic paints (we will use paints in several of the sessions). I recommend having white + at least 4 different colours. These are available cheaply from most $2 shops or department stores. 
~ 3 - 4 paint brushes of different thickness.  
~ Some dishes for mixing paints in. 
~ A collection of small "hand-sized" rocks or pebbles (unvarnished)
~ 1 - 2 balls of colourful yarn/ wool ("rainbow wool" is ideal, and is cheaply available in most $2 and department stores).  
~ Fabric and wool/ yarn scraps, different colours. You can also have different textures if you have these on hand (e.g. cotton, felt, furry, etc.). If you don't have fabric scraps, you can usually pick up some old pillow cases and sewing off cuts from the thrift store. 
~ An old pot or container, around 5 - 10 cm deep. This can be filled with soil or sand after class. 
~ A collection of twigs collected from nature - small and larger (up to about 40cm in length).
~ Some beautiful leaves or flower petals collected from nature. 
~ Any other interesting things from nature that you would like to bring (acorns, pine cones, bits of bark, etc). Please be sure that you are not removing any critters' homes when you collect your treasures!
~ Some LED tealight candles (usually available for $2 - $3 at most $2 or department stores). 

OPTIONAL 
~ Art varnish (spray can)

Note about materials: Some families love to use "natural" materials for this class - such as real wool, felted squares, cotton, etc. You are very welcome to source these materials if you like. However, in this class I encourage all families to use materials that are available to them locally at the "$2 store", or that they can source from re-using/ recycling whatever is on hand. Acrylics and more synthetic materials will work just as well for our weekly projects, and can often be more environmentally friendly when they come from recycled or more local sources. 


I do not use tests or other standardised approaches to assessing children's progress. In this age group, testing it is not developmentally appropriate and in some cases may be psychologically and academically harmful. 

However, as a teacher, I do believe it is important for me to be accountable to both children and parents. I aim to deliver classes that are not just "busy work" or entertainment, but which actively contribute to each child's learning in meaningful and sustainable ways. 

To do this, I use continuous observation of children's activity and conversation. When I make these observations, I am specifically considering the child's development in relation to the learning outcomes of the class (see above). 

I then routinely provide feedback to children. This may consist of: 
~ positive affirmation (e.g. "I really liked the way you communicated your idea with that painting");
~ positive reflection (e.g. "I wonder how you came up with that idea?"); and/ or
~ positive stretching (e.g. "I wonder if you could show that idea in other ways?). 

This is a wholistic approach to assessment. The child's response to my feedback helps me understand of "how far" they have traveled in their learning, and then "what comes next" in their learning. 

I welcome questions and inquiries from parents about their child's learning progress. 
40 minutes per week in class, and no time outside of class.
~ Children will need assistance to prepare and set-up prior to each session. This will typically take 5 - 10 minutes.  

~ Some of the materials needed in this class will need to be collected from nature in your local park, streets or neighbourhood. Many families like to do this by doing a treasure hunt on a "nature walk" prior to the class.  

~ This class includes a strong focus on children's hands-on participation and agency. Please be aware that some activities are "messy", and I suggest having a large tray, towel or sheet to ensure easy clean-up following the class. Children should wear clothes that you are comfortable if they get messy or stained.  

~ Although I am a qualified nurse and play therapist, I do not provide any nursing or medical care, or therapy in this class. The purpose of this class is outlined in the class description and objectives in the learning outcomes. 

This class is inspired by the book "Gnomes" (Wil Huygen). We will share some selected (age-appropriate) art work from this book during the class (used with permission), as well as traditional gnome folk and fairy tales. 

Teaching approaches in this class are drawn from:
~ Waldorf and Montessori teaching philosophies
~ Play-based learning, with a focus on Play Profiles (Sara-Lea Chazan).
~ Imaginative Pedagogy (Kieran Egan)
~ Eight-Ways Pedagogy (Tyson Yunkaporta)
Teacher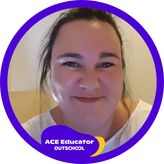 About Me
𝗛𝗲𝗹𝗹𝗼! 𝗠𝘆 𝗻𝗮𝗺𝗲 𝗶𝘀 𝗔𝗹𝗶𝗰𝗲.

I am a verified 𝗢𝘂𝘁𝘀𝗰𝗵𝗼𝗼𝗹 𝗔𝗖𝗘 𝗘𝗱𝘂𝗰𝗮𝘁𝗼𝗿 and I help families from all over the world, who are searching for meaningful alternatives to high-pressure and standardised teaching approaches. An increasing number of parents...