Arts
Flowers, Leaves and Sweet Honey Bees: Explore Math Using Ephemeral Nature Art | Play Based and Child Led Learning
In this open-ended art class we create unique art and stories using objects found in nature. In our art, we will play, explore maths concepts, and inspire conversation and language skills | Combine with my other one-time classes to create your own Holiday Camp | Neurodiverse Inclusive.
How does a "One-Time" class work?
Meets once at a scheduled time
Live video chat, recorded and monitored for safety and quality
Great for exploring new interests and different styles of teachers How Outschool Works
Available Times
This teacher may live in a different time zone.
Available Times
This teacher may live in a different time zone.
There are no open spots for this class, but you can request another time or scroll down to find more classes like this.
Class Experience
✅ 𝗜𝗺𝗽𝗼𝗿𝘁𝗮𝗻𝘁 --> Please check the supplies list! 𝗧𝗵𝗶𝘀 𝗶𝘀 𝗮 𝗵𝗮𝗻𝗱𝘀-𝗼𝗻 𝗰𝗹𝗮𝘀𝘀 - children will need to bring materials to participate in the class. 
_________________________________
Class Description
Do you collect little rocks, bits of bark, or other special things in your pockets? Let's put them to use, and let our imaginations run wild! 

In this class, we will explore the amazing colours, shapes, patterns, and textures of nature to create our own beautiful artworks. Are you going to create...
The intended learning outcomes for this class are aligned with the Australian and UK early years curricula. They are also consistent with the preschool/ early years curricula for NZ, China, Korea and most European countries. This class utilises the Michigan Essential Literacy Practices Framework, and the Mathematics Learning Trajectories. 
______________________________
Intended Learning Outcomes
1. I can use creative arts to convey my ideas and feelings and begin to use images and marks to make and convey meaning.
2. I am developing an understanding that symbols are a means of communication, and that they can represent ideas, thoughts, and concepts. 
3. I can use play to investigate and explore ideas about my relationships with other living things.

______________________________
Critical Thinking Question(s)
1. Where do ideas for art come from?
2. What makes beautiful art? 
3. What is special about where (or how) I live? 

______________________________
Science Content and Concepts
~ Nature is in a constant state of change. 
~ Living things have a life-cycle.

______________________________
Mathematics Content and Concepts
~ Counting.
~ Subitising.
~ Comparing number.
~ Adding/ subtracting.
~ Composing numbers.
~ Patterns, structure and algebraic thinking.
~ 2D shapes.
~ Composing 2D shapes.
~ Disembedding shapes.
~ 3D shapes.
~ Composing 3D shapes.
~ Spatial visualisation and imagery.
~ Spatial orientation. 
~ Measurement (length).
~ Measurement (area).
 ~ Measurement (volume).
~ Measurement (angle and turn).
~ Classification and data analysis. 

______________________________
Vocabulary and Speech
This class will provide a setting for children to develop and practice their vocabulary and speech relating to the content, concepts, and activities we are exploring. The words we will be using will include nouns, verbs, adjectives, adverbs, prepositions, conjunctions and interjections. 

​Vocabulary (or knowledge of words) includes understanding their structure (morphology), use (grammar) and meanings (semantics). It also includes understanding how one word links to other words (word/semantic relationships). Oral and aural vocabulary skills (or, for non-speaking children, visual vocabulary skills) are absolutely crucial to later development of literacy decoding and reading comprehension and fluency. 

Because this is such an important skill gained in early childhood, I use a strong evidence-based and developmentally appropriate approach to vocabulary and speech development. This includes: 

𝗘𝘅𝗽𝗹𝗶𝗰𝗶𝘁 𝗩𝗼𝗰𝗮𝗯𝘂𝗹𝗮𝗿𝘆 𝗗𝗶𝘀𝗰𝘂𝘀𝘀𝗶𝗼𝗻
Explicit vocabulary discussion means that, in this class we not only use words, but we may also sometimes talk about them. We might discuss, for example:
~ what does this word mean?
~ what words would communicate what we want? 
~ what other words can we use for this?

While these discussions are explicit, they are not a discrete part of our classes or delivered as a "lesson". Instead, we weave these into our organic discussions while we play, create and tell stories. I do not choose or have a "list" of specific words that children "must" learn. My approach is to respond to children's interests by offering explicit vocabulary discussion that is purposeful, and which helps each child engage with their goals, interests and motivations. This means that children are developing their vocabulary (and self-awareness of it) in a meaningful, relevant and active way. 

𝗘𝘅𝘁𝗲𝗻𝘀𝗶𝘃𝗲 𝗖𝗼𝗻𝘃𝗲𝗿𝘀𝗮𝘁𝗶𝗼𝗻
While it may seem "efficient" to get children to memorise, or rote learn, words - this approach has been shown to have no real value in speech/ language development generally, including vocabulary development. Rather, evidence confirms that the critical requirement for strong vocabulary and speech development is sufficient opportunity for children to engage in meaningful, two-way conversations that are interesting to them. 

To provide this for your child, I maintain very small class sizes and a child-led approach to learning. This ensures that each child has many opportunities to "chat" and "talk" with me and other learners throughout this class about the things that have captured their interest or that they are discovering. I focus on finding opportunities within these conversations to not only introduce new vocabulary, but to also extend and stretch each child's confidence in using and understanding vocabulary in speech. 
 
I hold a Master of Teaching (Early Childhood) and have specialist skills in designing immersive education programs for young children, birth to age 8. 
There is no homework in this class. However, children may wish to continue working on their projects after class. I will also provide a handout after each class with suggestions for (optional) activities, play and art to extend children's learning and interests between sessions.  

Children will need assistance from an adult to prepare and set-up prior to the session. Once you have the materials, this will typically take approximately 10 minutes.  

For this class you will need 

~  Some natural objects (see suggestions below).  
~ A surface for your child to create their art. This can be anything from an old pillowcase or towel (single colour is best), a tray filled with sand or a sheet of paper (black paper or butcher's paper are both nice to create on). Alternatively, your child might like to do this class outside, and create their art directly on the earth, snow, or sand. 
~ Not essential - but I do recommend having a camera on hand to take a photo of each creation your child makes. This will help them feel more confident about the temporary nature of their art, allowing them to "keep" it forever! 
~ Also not essential, but nice to have - a pair of child-friendly scissors
_______________________________________________
Info about nature objects: 
I encourage you to use objects found in your own local area. Please always check that no critters are using objects as homes, and only take what you need. Some examples are:
~ Leaves (green or autumn leaves). If you are in a winter climate, it is just as wonderful to use what you have available - e.g. pine needles)
~ Fallen sticks, twigs, bark, wood slices.
~ Sprigs of fresh or dried herbs - for an added sensory experience!
~ Seeds, acorns, pinecones, seed pods etc. 
~ Pebbles, little stones.
~ Flowers, petals, blossoms 
~ Shells, feathers

Learners will not need to use any apps or websites beyond the standard Outschool tools.
I do not use tests or other standardised approaches to assessing children's progress. In this age group, testing it is not developmentally appropriate and in some cases may be psychologically and academically harmful. 

However, as a teacher, I do believe it is important for me to be accountable to both children and parents. I aim to deliver classes that are not just "busy work" or entertainment, but which actively contribute to each child's learning in meaningful and sustainable ways. 

To do this, I use continuous observation of children's activity and conversation. When I make these observations, I am specifically considering the child's development in relation to the learning outcomes of the class (see above). 

I then routinely provide feedback to children. This may consist of: 
~ positive affirmation (e.g. "I really liked the way you communicated your idea with that painting");
~ positive reflection (e.g. "I wonder how you came up with that idea?"); and/ or
~ positive stretching (e.g. "I wonder if you could show that idea in other ways?). 

This is a wholistic approach to assessment. The child's response to my feedback helps me understand of "how far" they have traveled in their learning, and then "what comes next" in their learning. 

I welcome questions and inquiries from parents about their child's learning progress.    
40 minutes per week in class, and an estimated 0 - 1 hours per week outside of class.
~ Children will need assistance to prepare and set-up prior to each session. This includes collecting a range of materials to use for art-making. Typically, most families do this by going on a nature walk prior to the class session.

~ This class includes a strong focus on children's hands-on participation and agency. I suggest having a large tray, towel, or sheet to ensure easy clean-up following the class. Children should wear clothes that you are comfortable if they get messy or stained.  

The following text is used in this class, with full permission: 
~ Leaf Man (written and illustrated by Lois Ehlert, Harcourt Press, ISBN: 9780152053048)
Teacher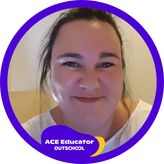 About Me
𝗛𝗲𝗹𝗹𝗼! 𝗠𝘆 𝗻𝗮𝗺𝗲 𝗶𝘀 𝗔𝗹𝗶𝗰𝗲.

I am a verified 𝗢𝘂𝘁𝘀𝗰𝗵𝗼𝗼𝗹 𝗔𝗖𝗘 𝗘𝗱𝘂𝗰𝗮𝘁𝗼𝗿 and I help families from all over the world, who are searching for meaningful alternatives to high-pressure and standardised teaching approaches. An increasing number of parents...