Social Studies
Behaviorism, Mental Make-Up, & Personality Studies: Psychology for Teens
In this semester & full curriculum homeschool or after school high school class we will study the mind, emotions, and behavior. It encompasses the biological influences, social pressures, neurodiversity, mental health, and environment factors that affect how people think, act, and feel. Worth a full year credit.
427 total reviews for this teacher
13 reviews for this class
Completed by 37 learners
Beginner, Intermediate Level
Meets 1x per week
Over 13 weeks
45 minutes per class
Class Experience
⚜️ WELCOME! 🤗

✨️ Are you brand new to Outschool? Is this your teen's first class? If so, use promo code DRKAIKA2020 at checkout after enrolling your teen to instantly save $20.00! 💵👍

😎 We're not in school, we're OUTschool & that's a big difference! My classes are designed for teens who are homeschooled and after-school teens too. This is an academic (or elective), full year credit, high school class. The class is a little advanced and it's also accelerated, but I am delighted to make...
This class is taught in English.
Define and explain basic psychological concepts.

1. Interpret research findings related to psychological concepts.

2. Apply psychological principles to personal growth and other aspects of everyday life.

3. Draw logical and objective conclusions about behavior and mental processes from empirical evidence.

4. Describe the advantages and limitations of various research strategies.

5. Design, conduct or evaluate psychological research.

6. Evaluate how psychological science can be used to counter unsubstantiated statements, opinions, or beliefs.

7. Key Themes: Provide examples of psychology's integrative themes.

8. Psychological science relies on empirical evidence and adapts as new data develop.

9. Psychology explains general principles that govern behavior while recognizing individual differences.

10. Psychological, biological, social, and cultural factors influence mental processes and behavior.

11. Applying psychological principles can change our lives and communities in positive ways.

12. Ethical principles guide psychology research and practice.

13. Psychologists strive to promote respect for human diversity in its many forms.
Psychology is in the discipline of Social Sciences. I have been teaching this class in high school and universities for many years. My degree is in Social Sciences where I excelled in five Psychology studies classes and became interested in its value. In this class, I give students an introduction to how the brain works, and the mind works as influencers of emotions.

How I teach:

I have taken several EDU college credits while obtaining my undergraduate degrees and have earned a graduate degree in education. These classes have taught me how to teach using education-based constructiveness, humanist, realism, and idealism theories as well as brain-based learning. As a high school teacher for many years, I am a guide, a coach, and a mentor. As a professional educator, I do the new approach of teaching as it has been thoroughly studied by scholars and based upon statistics and has been extremely successful for brick and mortar schools as well as virtual schools. This is also how we are taught to teach in my master's and doctoral programs in higher education. We do a "flipped classroom" model where students do assignments first, and then each student becomes the "teacher" in the live meeting by sharing what new things they have learned, things they found interesting, and things they feel are important for other students to know about. During this time other students can raise their hands to ask questions or make comments to ask the student who has shared their information, as well as ask me questions too. I also interject comments with important and additional information while students are sharing, so I am also actively participating. This is all known as the "open classroom" method where we're all in this together, as one big group with a common goal: learning and having fun while learning. We discuss what has been learned, analyzed, and concluded from the assignments together in the live meeting as a whole class. Finally, I give a brief introduction and guidance for the next week. As professional educators of academia, we no longer give long lectures of "teaching" in live meetings which is an older style of teaching. Students don't assimilate much information during long educator lectures, they prefer to interact with one another plus the educator. We educators are taught to be more like coaches, guides, and mentors to our students, individually and as a whole class. We sometimes help to facilitate meaningful discussion by asking particular questions of the class in live meetings while the students are sharing their new knowledge. I ask the right questions at the right time during the class discussion to make it a great teachable moment.

These academic courses are a bit advanced and accelerated and students will need to practice good time management skills and be very motivated to learn. I not only teach the material through homework such as the chapter questions, projects, and review quizzes but also through videos, instruction, and discussion in our live meeting, but I also teach students how to learn. Sometimes when I am asked a question, I will ask a student to do some internet research to find the answer. I help them to find answers using legitimate online resources. I sometimes do the same thing when students turn in their homework I may ask them a few more questions that aren't found in the textbook, but by doing light internet research. By teaching using these methods I have found it strengthens students' ability, and desire, to learn and how to learn as adults. They have control over their education- which is a great power if taught how to use this power correctly.
The homework listed below might seem tedious and overwhelming at first glance, but it truly isn't. Please read this next section very carefully and if you have any questions about it please don't hesitate to ask me by sending me a private message here through Outschool. I am delighted to make accommodations as needed or wanted for each individual teen's needs and abilities!

The homework due dates are scheduled to be flexible for all students. Each week students are asked to do as much as they are able to do, but not all of the homework is expected to be completed because students should not feel stressed or overwhelmed whatsoever in any of my classes and I understand that each student has different needs and different abilities. Students are also not expected to fully read the chapter(s) assigned each week. By skimming and scanning through the textbook to answer assignment questions, project questions, and the review quiz they will pick up the bulk of the material and we will be sharing and discussing each student's new knowledge, what they found interesting, and what they find to be important to discuss in our weekly live meeting while I add additional points. Students are able to choose a different combo of work each week:

Combo 1: Chapter Introduction Videos, Two Assignments, and a Current Event.

Combo 2: Chapter Introduction Videos, One Assignment, the Chapter Project, and a Current Event.

Combo 3: All of the posted work for the week.

The Chapter Introduction Videos are due on the 4th day of the week, all weekly Assignments are due by the 5th day of the week, and the weekly Chapter Project is due by the 7th day. This allows students to do the work on their own time and on their schedule. If a student can't complete all of the work and starts to feel stressed, overwhelmed, or frustrated at all, that's okay, I understand and I'm very flexible to each student's needs and abilities and we can certainly make any changes needed if they send me a private message. Students will need to be self-motivated to learn and practice time management skills.

Weekly Assignment Homework: 
Each week students will read/scan over and review the two chapters assigned. They are not expected to fully read both chapters. Along the way, I will have two short assignments which are questions about each chapter posted to the classroom on Tuesday and students will need to review their textbook, contemplate the question asked, and give their answers by Saturday. Sometimes they may be asked to create a chart or graph or write a short essay that will require students to save a word document as a .doc, .docx. or .pdf file as links to Google Docs and other online word programs are not allowed. At other times students may be asked to create a slideshow or virtual poster using Adobe or Canva to add variety, creativeness, and self-expression in their responses to the assignment questions, and these will be attached as files. Slideshows are saved as a .MP4 files and photo collages are saved as .jpg files. In the live meeting when I give instruction, we will review the assignments and have a meaningful and guided discussion about them along with a question and answer session. Students are not expected to do all of the assignments; however, the more they do, the more they learn.

Part of my philosophy of teaching is to help students how to learn. In many of the assignments, students may be asked to answer a few extra questions based on their original answers which will require them to do their own research on the internet and share their findings.

Weekly Project Homework: Submitted privately to the teacher
The projects will be posted on Tuesday and due by Monday night. The small to medium weekly projects should be done after the weekly assignments. The projects can be done by writing a proper essay or creating a slideshow video project along with meaningful photos or clip art. Assignments require a student to go a little more in-depth with the most important aspect of the chapter, sometimes adding additional information from relevant sources via internet research. Students will receive meaningful feedback from me and they will need to respond to it. In the live meeting, we will review and discuss the project and what has been learned from it. 

Weekly Current Events:
Students will be asked to research a particular topic assigned by me each week using the internet and their oral report along with a simple 2 to 3 slideshow to share via screen-share on Zoom will be due by the following week in the live class. The event can be anywhere in the world. It is important that the news resources they use are as unbiased as possible. NPR is the most unbiased and up-to-date source to use; however, other sources such as their online, local newspaper, ABC News, CBS News, PBS, NBC News, local news stations and newspapers, The Washington Post, and other primary, unbiased sources are also allowable.

Students need to read the article they chose carefully, double-check that it's within the assigned topic, and answer these simple questions in an oral report at the following live meeting: "Where, When, Who, What, Why, and How" along with their slideshow of relevant images.

Current events help to keep students informed of new developments in our world and are an important part of any Social Sciences class. It also helps students learn how to do research and learn for themselves as adults.

We also play a Kahoot game in just about every live meeting and it's just for a fun review!

I am ALWAYS available and ready to help every single student in the live meetings and every single day of every week through private messaging!

The amount of work a student puts into the class dictates the amount that they will learn from the class (smile). This class is condensed and slightly accelerated per the homework schedule listed above. The due dates are set to help students keep on track. With that being said, I am flexible with the due dates and the amount of work posted weekly for each individual student's abilities and needs. This is known as differentiated instruction and assessment. After all, we're not in school, we're OUTschool. If this applies to your student I ask that you reach out to me via private direct message after trying the schedule out for the first week. We can then have a productive conversation about what will work best for your student for their maximum retention of the material, have fun, and not feel stressed or overloaded with work. I want all students to enjoy the learning process without feeling overloaded so I will make specific changes for your student if needed. I do not expect all students to do all of the weekly assignments. The number of them I post is to add variety and choices for students to pick from.

Students will need to have good time management skills as well as be self-motivated to learn the material even though I am always here to answer questions, give guidance, give additional help via private messages, and request private one-on-one live video meetings. The class is a little advanced and somewhat accelerated. Most of the class is self-study on a teen's own time, so learning to make a schedule and practicing time management is crucial.
Students will need the following BEFORE class:

1.) A free PDF of the textbook is available for all students. It will be posted to the Outschool classroom, along with important announcements and further information, 1 day prior to the first live meeting. If you wish to search online and order a hard copy of the textbook here is the information so that you may order yours: "Understanding Psychology" by Richard A. Kasschau ISBN: 978-0-07-874517-1 by Glenco/McGraw-Hill.

2.) Students will need to have and know how to use a word document program. You can find free word document programs to download online by doing a search. Open Office, Libre, and Ultra Office are a few examples. Students will sometimes be submitting short essays or answers on a document in some questions, projects, or quizzes, and attach them as a file. Documents will need to end in a .doc, .docx, or .pdf format. Parents may need to help students learn how to save a word document in these formats. Links to Google slides, docs, or any other online work document programs are not allowed. 

3.) Teens will need to create a free Adobe Express and Canva account to make virtual posters (.jpg), and online slideshows (.mp4), download them to their computer, and then upload them to the classroom as an attachment. Parents may need to assist their students in creating an account for Adobe Spark and/or Canva and review the different ways to create slideshows, presentations, and photo collages. This is a creative way for students to give their answers on homework and allows for their self-expression instead of just typing out answers. You can make an Adobe Spark account very easily by using this link: https://spark.adobe.com/. Students may also use Canva too. Here is the link for a free Canva account: https://www.canva.com/. Parents may also need to assist their learners in creating their Canvas Classroom account.

4. We also play a Kahoot game in almost every live meeting and it's just for a fun review! Students will open a separate web browser on their laptop, iPad, or mobile phone, search "kahoot.it" and play the fun quiz all together during the live meeting.

5. Parents may need to help their teen create a free Canvas account. The information and access code for my Canvas classroom where all of our assignments and work is done will be posted to the Outschool classroom the day before our first live meeting. Please see more about Canvas in the "Parental Guidance" section of this class listing.

It is important that the student become familiar with these materials before class begins, please. 

NOTE: I will be posting a very important announcement with information your teen will need the day before our first live meeting in our Outschool classroom. Your teen will need to read this and complete the items listed in the post in order to prepare for the first live meeting. This includes downloading the PDF of the textbook, creating their Canvas account, the rules for my class, Adobe Express, Adobe Creative Cloud, Canva information, and so much more. Parents will receive a letter from me the same day via private message too.
In addition to the Outschool classroom, this class uses:
I give one full year of homeschool credit and an overall grade for this class with a certificate of completion if requested via private message by the parent towards the end of the class. Depending upon your homeschool laws or charter school requirements you can use this class as a year-long credit since the class is accelerated. We don't necessarily have to think of high school in terms of a full year, long semesters, or even by time at all. A lot of time is wasted in this manner. Try to think of it in terms of grade levels and credits only instead. After all, high school credit is awarded by the amount of work and knowledge gained and not by weeks, months, or years. By doing this we can accelerate a teen learner. Keep in mind that you still must follow your state's home education laws since the parent is legally the teacher in the eyes of the Department of Education, but don't forget all of the freedom and flexibility you have too. You can copy, paste, & print out the weekly schedule in the Class Description AND in the Learning Goals sections to show what your teen has learned. The overall grade is based on the following:

1. Amount of participation in the once-weekly live video meetings (or watching the recording).
2. Amount of participation in the weekly assignment combos and their reply to my comments on their answers.
3. Amount of participation and thoroughness of their work and research on the weekly project (if assigned) and their reply to my comments on their project.

The certificate of completion will have the student's first name, "Outschool", name of the course, the end date of the course, my full name and title as the OS teacher, one credit, and a final letter grade between A and D-. I do not fail any students because regardless of how involved or not involved they are in the class I know they have learned something from it. 

A = Excellent
B = Great
C = Satisfactory
D = Needs Improvement
45 minutes per week in class, and an estimated 4+ hours per week outside of class.
Note about the tuition:

This is a bit confusing for my classes. Your tuition not only pays for the weekly live video meetings but also includes the weekly assignments, projects, and quizzes done in the classroom by your student. Additionally, it includes my weekly lesson planning, grading of homework, research, participating in the weekly assignments, projects, and quizzes by adding feedback, more content, guidance, and deeper questions for students' submitted work, and responding to both student and parent private messages within 36 hours, giving private guidance and help for students, plus private, one on one, live video meetings if requested by a student or parent. I am personally in the classroom working to help students and answering private messages 7 days a week throughout the entire duration of the class. Basically, the weekly "$17 per Class per Learner" listed below the total tuition on the class listing is really "$17 per Week per Learner" in my class. Outschool also takes 30% of the total tuition for their expenses.

Special Note about the Outschool Classroom and the Canvas Classroom:

The live video meetings, private messages between your student and me as well as private messages between you and me are all done on the Outschool platform. I also post weekly announcements in the Outschool classroom. The assignments, projects, and reviews are done on my Canvas Classroom platform. Canvas Classroom is much easier to navigate and is less confusing to use than the Outschool classroom for my particular courses. Students are able to create their own discussion threads rather than having one long thread that the Outschool classroom has. They also have more options and features that Outschool does not provide at this time. My Canvas Classroom is locked down for privacy, trust, and safety against bad actors on the internet. Your student will create a very easy and simple Canvas Classroom account using a secret passcode that is given to them two days prior to the first live meeting in the Outschool classroom. They will then create a quick and simple Canvas Classroom student account and send a request to join this particular class using the passcode and the same exact name that is listed on their Outschool account. I then double-check to be sure that their request to join the Canvas Classroom is the same as their Outschool information and manually approve their request to join. After a student is enrolled in the Canvas Classroom you can then send me a private message asking for the parent access code to Canvas if you wish. I will give you the link to make your quick and easy parent profile and you will receive a unique passcode to join that aligns with your student. Please note that Outschool Support and Outschool Trust & Safety departments have complete and total access to my entire Canvas Classroom platform in "teacher mode" so that they can see everything that I see and investigate any issues, concerns, or problems that may occur.

FROM: Outschool...
While our open community is our greatest source of strength, it also brings challenges. It is important to us that Outschool is a safe space for our users. Our members should treat each other without bias or prejudice across all pillars of diversity including, but not limited to, race, ethnicity, nationality, sexual orientation, religion, and gender identity. Down below are Outschool's Parent and Learner guidelines that we ask our members to observe. Outschool members who do not meet these guidelines will be removed from the site.

PARENT CODE OF CONDUCT:

1. Learners should only attend class under their own enrollment, as themselves. It violates Outschool policy for a learner to use their sibling's or another learner's enrollment to attend class. Learns may only join a live meeting by using the green button in their class on their Outschool Learner Account. Educators are forbidden from sending links and passwords to Zoom live meetings.

2. Ask questions of teachers to clarify any missing details about classes, important information about your learner, and fill out your learner's profile such as age, gender preference, and any notes that the educator may need to know about your learner so they may help your learner throughout the class.

3. Make sure your learner shows up for their class; many classes depend on group conversation, and the absence of a single student can have a big impact. If a learner must miss a live meeting please have them notify their educator via a private message under the Teacher tab in their learner account as soon as possible, or you may notify the educator under the Message tab on your parent account.

4. Provide constructive feedback and reviews about your class experience, for the benefit of the teacher and other parents. The same goes for private messages.

5. Engage in civil conversation, and speak and act with respect for different opinions. Check for private messages from your learner's educators and respond promptly. All communication must take place and stay on Outschool.

6. Help keep Outschool a safe space for learners, families, and teachers from all backgrounds, beliefs, and locations. To that end, we encourage you to watch our Trust and Safety Code of Conduct video with your learner. Learners may not share personal information such as email addresses, mailing addresses, phone numbers, gamer tags, social media, etc.

LEARNER CODE OF CONDUCT:

1. Join the class on time and be ready to learn. Have all of the tools, textbooks, handouts, notes, or anything else the educator has asked of you ready to go before class starts.

2. Be kind: Help all learners feel welcome and included. Give positive feedback to your fellow classmates.

3. Be safe: Keep your personal information private and never ask other learners for theirs (e.g., email address, mailing address, phone number, gamer tags, etc.). All communication must take place and stay on Outschool.

4. Be respectful: Treat others how you want to be treated. Dress in a manner appropriate for class; please be fully clothed with both a top and bottoms on and sit upright for the class. Treat the teacher and your classmates with respect. 

5. Engage & Participate: Contribute to a class environment in a way that is safe and welcoming for learners and teachers from all backgrounds, beliefs, and locations. Take responsibility for making each class a great learning experience for yourself and your classmates: participate, stay on topic, and avoid distractions. Check for private messages from your educator and respond back promptly.

OUTSCHOOL CODE OF CONDUCT:

1. We welcome members from all backgrounds, beliefs, and locations and are committed to creating a safe space for our users across all pillars of diversity.

2. We will listen to feedback from parents, teachers, and learners, and make changes accordingly. Send an email to support@outschool at any time!

3. We will create and enforce policies to create a high-quality, trusted, and safe community for learning. This may include removing content or users from the platform.

4. We will respond promptly to questions and issues that arise.

TEACHER CODE OF CONDUCT:

1. Offer classes only where you have the appropriate background or expertise.

2. Teach classes professionally: 

3. Be prepared, begin on time, and treat all learners with respect.  

4. Do not teach while impaired and do not model any behavior that a student age 18 or younger is restricted from doing.  

5. Respond promptly to parent questions and requests.

6. Communicate with parents and learners in a professional manner, both in messages and in-class.

7. Keep all communications on our platform; never provide personal contact information to parents or learners for "off-platform" communications, or in-person meetings (prohibited unless an Outschool-sponsored event). 

8. Adhere to our class content policy by only offering secular, objective, age-appropriate classes

9. Create a safe and welcoming space for learners and families from all backgrounds, beliefs, and locations.
All sources are independently scholarly peer-reviewed, based on truth and facts, highly researched by the teacher for truthful evidence, and are unbiased. This especially includes the textbook. 
Teacher
Dr. Kai Kafferly, PhD
🇺🇸
Lives in the United States
Energetic, fun, & engaging high school teen educator in social sciences, humanities & many more different, interesting, enriching, & fun classes for teens! I truly set learning free in epic ways!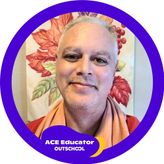 About Me
👋 Howdy, Aloha, Bonjour, Namaste, Oi, Kon'nichiwa, Hola, Bonsaw, Salve, Shalom, & G'Day, & Hello There,

✨️ Are you brand new to Outschool? Is this your teen's first class? If so, use promo code DRKAIKA2020 at checkout after enrolling your teen...