English
A Semester of Middle School English Language Arts ELA- Focus on Research Essays
Join us as in this ongoing 6th, 7th, and 8th grade curriculum ELA class as we learn about a different topic each week, focusing on nonfiction texts, planning and writing a research paper, and gathering sources, all with a weekly game! #Academic
Flexible schedule
Over 10 weeks
No live meetings
Class Experience
In this English Language Arts (ELA) class, learners will not have any live meetings and can join after the class starts. I have a schedule listed below, but all assignments are optional and can be completed at any point during the course.  The schedule is described below. This class, combined with my other class "A Semester of Middle School English Language Arts ELA- Focus on Fiction," is an entire year's worth of curriculum.  The topics have been split into two different classes to allow for...
Our ultimate goal is to create an approximately 500 word, polished research paper. 

Specific learning goals encompass the topics on the schedule outlined above. Students will learn about a different ELA topic each week and be able to apply their knowledge, as evidenced by game performance and assignment completion. 

Daily English Language Arts Skills Practiced in this class include but are not limited to:
Learners will make text-to-text, text-to-self, and text-to-world connections. 
Learners will learn about literary elements and work on public speaking skills with learners who share the same interests.
-Expression and comprehension
- The interconnected nature of listening, speaking, reading, writing, and thinking
- Developing and sustaining foundational language skills
-Inquiry
-Critical thinking and analysis
-Literacy
-Building connections to themselves and their prior knowledge
-Creating relationships among ideas
I received a bachelor's degree in maritime studies from Texas A&M with minors in anthropology and English. I also have a master's degree in professional education from the University of Texas. I am certified to teach grades  7-12 (middle and high school level) English/Language Arts in the state of Texas. 
Each week, learners will have an assignment they should expect to spend one to two hours a week on, including watching the mini-lesson and instructional videos. 
All necessary materials will be provided, including worksheets and reading passages. Videos will be embedded in the classroom for viewing. Optional materials your learners may want include but are not limited to: writing utensils, paper, and printed assignments. 
Unless requested by the learner's grownup, a letter grade will not be provided. Assessment will be a continuous, informal process in which I review gameplay results and submitted assignments then provide feedback and opportunities for extra practice, if necessary. Certificates of completion for the class are provided at the end of the ten weeks. 
No live meetings, and an estimated 1 - 2 hours per week outside of class.
As always, parental guidance is advised. We will use the third party sources Gimkit, Kahoot, and Google Docs. Learners will not need an account to access the sites. I also request that if a Google Doc is posted in the classroom, learners only access it through that link. This ensures anonymity outside of the classroom is maintained in accordance with Outschool policies. 
Teacher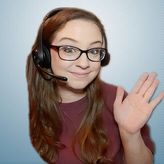 About Me
Howdy! I am Ms. Chelsea!

I love reading and writing. There is an escape in books that cannot be found anywhere else. I am a traveler. I have visited Hogwarts, Narnia, Neverland, The Hundred Acre Wood, and many other places, without leaving my...