Science & Nature
Wild and Unstructured Summer Camp Extraordinaire Pods Edition
In this 7 week pod class learners will enjoy an immersive summer experience. This will include experiments, building of relationships and fun challenges for the kids. #academic
Meets 3x per week
Over 7 weeks
60 minutes per class
Class Experience
Hello! Welcome to our summer camp extraordinaire!  In this 7 week summer camp learners will connect with their friends while doing fun projects and experiments!  This class is structured for learners of all different abilities.  This class will cover a different topic each week.  Fun activities will be done each class period.  This class meets 3 hours per week for an immersive experience.
Here is a breakdown of the weeks of our summer camp pod.

Week 1-Space
Galaxy in a jar
Rockets
Asteroid...
This class is taught in English.
Students will Socialize and have fun.
Here is a link to a document with all of Wild and Unstructured Learning's teachers. They are listed alphabetically in the document.

https://docs.google.com/document/d/1zItA4QLkRR6dfhOEMzBjrWW_Zssk9Yz5B90Nstuli0c/edit?usp=sharing
Week 1-
Clean glass jar with a lid
Tempera paint (at least 2 colors)
Cotton balls 3 bags
Fine Glitter
Water

2 liter soda bottle that is both empty and rinced
decorations for rocket – ideas may include construction paper, paint, sharpies, pipe cleaners, googly eyes, circle stickers, bingo markers, etc
buiding toys to build the launch pad such as Lego bricks, tinker toys, blocks, Duplo, etc)
1-2 cups vinegar
paper towel
1-2 Tablespoons Baking Soda
wine cork or similar to quickly cover the opening of soda bottle

Large pieces of chalk in white, grey, black, tan
Butter knife
Cutting board
Black, orange and red construction paper
Scissors
White glue
White, silver and gold/yellow/red acrylic paint
Brushes

Week 2-
Paper
Scissors
Jar
String

String
Beads
Scissors

Canvas paper
Paint
Brushes
Water

Week 3-
Empty Can
A Light
Rubber Band
Black Piece of Plastic
Scissors

coffee filter
2 clear plastic cups
packet of Kool-Aid or any colored drink powder
paper towels
water
rubber band

12 ounces milk chocolate chips
12 ounces butterscotch chips (OR peanut butter chips)
12 ounces chow mein noodles
parchment or waxed paper
MICROWAVE

Week 4-
Paint
Nature items
Notebook
Pen

Week 5-
Hand shovel
Dirt
Seeds
rosemary oil
peppermint oil
water bottle- Sprayer

Week 6-
Access to internet

Week 7-
Plain Flour
Oil
Warm Water
Food colouring (optional - we left ours plain)
Mixing Bowl 
Cup
Spoon
Things from nature like seeds, small rocks,feathers etc

Bird seed
Peanut butter
Lard
Cookie cutters
string
cans
Anything we can use recycled!

Rocks
paint
brushes
googly eyes




3 hours per week in class, and maybe some time outside of class.
Students will be doing multiple crafts in this class.  Parental supervision is requested. Students will use scissors in class. Students are prohibited from sharing gaming handles in class. Students will be playing gimkit, blooket and Kahoot In class. They do not need accounts. They just need to have the pin we give them and access to the website. 
Offered by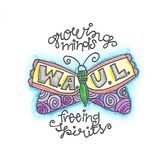 About Us
Wild and Unstructured Learning is a unique and innovative approach to online education offered by a company that values hands-on experiences and fosters an inclusive learning environment. This learning model breaks away from traditional structured...