Music
Voice Lessons for the Intermediate and Experienced Student
Unleash your singing potential in this ongoing subscription class! Learn essential skills, basic music reading, and how to captivate audiences in personalized one-on-one lessons. Boost your confidence and join me on this musical journey.
Class Experience


Tailored to the learner, our 45 -minute lessons encompass vocal warm-ups, music learning and practice, basic music reading, musicianship, and performance skills. This interactive class encourages questions and song suggestions. With demo recordings and piano accompaniment, you can practice outside class. Discover singing essentials like breathing, posture, and diction. Enhance musicianship with phrasing, note reading, and the language of music. Polish performance with interpretation and...
Learners will study the basics of singing, musicianship and performance. Singing skills include breathing, posture, and diction among others. Musicianship includes how to phrase a musical sentence, reading notes and the special language of music. Performance skills include song interpretation and how to introduce and present a song with confidence. Students can also be coached in the various Western European languages of singing, including Italian, French and German. 
I have been performing, singing and teaching for over 25 years. I believe in "cross training" the voice and working on a large variety of styles. I have performed and taught opera, musical theatre and pop, and I know that every piece of music has something special to say, we just have to find the way to show our audience. I love to see learners find their own path and special love for singing and I hope that they will develop a love for music that will last a lifetime. 
Learners will be expected to practice the lesson material 20 - 25 mins  approximately five times a week. There may be some small amount of written work on occasion. Expectations will be tailored to the individual student. 
I will supply music for the learner. If we select a song that I do not have the music for, it can be purchased and downloaded at Music Notes or Sheet Music Plus.  
45 minutes per class, and an estimated 1 - 2 hours per week outside of class.
Teacher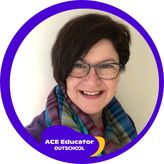 About Me
I teach voice lessons - musical theatre, contemporary and classical. I have a M. Mus and have been teaching for over 25 years.  In July of 2022, I completed all three levels of Somatic Voicework™  and I am excited to share these concepts with my...