Social Studies
US History Middle School Semester Class 6 of 6: The Civil War & Reconstruction
In this United States History year long course we will study American history from Ancient Times to the American Civil War and Reconstruction Era on Nearpod. This class covers unit 6: The Civil War and Reconstruction Era.
Meets 3x per week
Over 4 weeks
55 minutes per class
There are no open spots for this class, but you can request another time or scroll down to find more classes like this.
Class Experience
Did you know that...

Teenagers today spend an average of 8 hours consuming information on screens every day? Did you also know students can learn skills in a US History class to help them sift through all this information in a positive way? This class focuses on the following 6 skills:

✅Analyzing the origin of sources
✅Understanding and summarizing difficult reading passages
✅Challenging and recognizing bias
✅Determining if a source is trustworthy
✅Comparing multiple sources to verify...
This class focuses on the following 6 historical thinking skills
✅Analyze origin of a source
✅Understand and summarize difficult reading passages
✅Challenge and recognize bias
✅Determine if a source is trustworthy
✅Compare multiple sources to verify claims
✅Create logical arguments and support them with evidence 

Teaching your student how to effectively analyze sources and create logical arguments based on evidence is my #1 goal. Your student will leave this class...
✅ Equipped to handle the onslaught of information in our digital age
✅ Prepared for higher level courses
✅ Able to recognize credible information and sift through bias
✅ Confident in their ability to defend their beliefs  
✅ Able to advocate for themselves and convey their abilities
This year-long class will cover several sensitive topics including: the genocide of Indigenous Nations including the Aztec, Inca, Maya, and North American tribes from the Northeast Woodland, Southeast, Southwest, Plateau, California, and Northwest Coast regions by European colonizers, the immoral Atlantic Slave Trade and conditions that enslaved people experienced. 

I am a certified Social Studies teacher in both Utah and North Carolina. In my training and experience teaching in the classroom and virtually I have found that the best way to approach these sensitive topics is to address them explicitly and have an open conversation with my students. We discuss the mindset of historical societies, the moral implications of their actions, how it affects us to today, and why it can be difficult to talk about these subjects at times. 

I make it clear to my students that they are always welcome to meet with me individually if they are bothered by any of these discussions. I also ask them, and the parents to contact me if they are concerned with my class content or delivery. These topics can be difficult to navigate and I am always trying to improve!
This unit includes one project and six optional enrichment activities to enhance student learning. These assignments are not required, but I will provide feedback for students that complete them. Each class I provide a note template that students can fill out as we move through the lesson. Information from the notes will be included in a unit final that students have the option to take to assess their learning. There will be 1-2 reading assignments during the unit that I ask students to complete prior to class to facilitate a class discussion. 
  1 file available upon enrollment

I am a firm believer that students should be taught history from multiple perspectives. For that reason, we will read primarily from two history textbooks: 1) 'A Young People's History of the United States' by Howard Zinn which takes a more critical look at the United States leaders and decisions and 2) 'An Outline of US History' by the United States Department of state, which takes a more supportive look at the Unites States leaders and decisions. Students will need to purchase the book 'A Young People's History of the United States' by Howard Zinn (approximately $15). 'An Outline of US History' can be found online for free at https://archive.org/details/OutlineOfUSHistory/page/n65/mode/2up
We will have informal assessments in each class (such as class discussions, drawing a picture to display understanding, etc.) and one short quiz in each unit. At the end of each unit we will have a final multiple choice assessment that students will do on their own time. 
2 hours 45 minutes per week in class, and maybe some time outside of class.
Some sensitive topics that will be covered in this unit include: Slavery in the United States, abuse of African Americans, modern day slavery, battles of the Civil War, assassination of Abraham Lincoln.

Some of the sources that we study contain inaccurate content (for example: A Young People's History of the United States uses the term "Indians" instead of Indigenous Peoples). I will always point out these inaccuracies in class as part of our discussions. If you have concerns about a specific source, please contact me.

More information on programs used in class: 
- Nearpod is a resource that allows students to interact with the lesson through drawing pictures, surveys, matching games, and answering questions. I will provide a link to our lesson each day prior to class. Students do not need an account.
- I will provide resources for class on Google Classroom. Students will need to have a gmail account to access the resources. I will make announcements on Outschool. Google Classroom will just be used for distributing worksheets, homework, etc. 
https://americanhistory.si.edu/american-enterprise-exhibition/simulations 
https://amhistory.si.edu/american-enterprise/business-of-slavery/ 
'Give Me Liberty! An American History' Volume 1 by Eric Foner
'Voices of Freedom: A Documentary History' Volume 1 by Eric Foner
'A Young People's History of the United States' by Howard Zinn
'An Outline of US History' - https://archive.org/details/OutlineOfUSHistory/page/n65/mode/2up
'An Indigenous Peoples' History of the United States' by Roxanne Dunbar-Ortiz

Teacher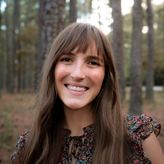 About Me
Hi friends. I'm happy you have found my page! I am a certified social studies secondary education teacher in Utah and North Carolina. I have experience teaching 8th, 9th, 11th, and 12th grade in multiple subjects (my favorite is world history). I...