English
The Great Gatsby Novel Study | High School Language Arts Curriculum 2A
In this 8-week quarter semester unit, students will dive into "The Great Gatsby" in a discussion-based class; students finish with a cohesive and analytic understanding the novel; includes additional reading, projects, essays, & grades
  There are no upcoming classes.
Meets 1x per week
Over 8 weeks
50 minutes per class
There are no open spots for this class.
You can request another time or scroll down to find more classes like this.
Class Experience
Please note: Due to the discussion-based nature of this course, there must be at least 3 learners enrolled in order to run it. Sections with fewer learners will be cancelled or asked to transfer.

🌟 General 🌟
In this 8-week quarter semester class, students will dive into the world of "The Great Gatsby"by F. Scott Fitzgerald. Throughout this high school language arts unit, we will explore timeless themes such as pursuit of the American dream, society and class, power and wealth, wealth and...
This class is taught in English.
Students will practice the following core ELA skills: (CCSS aligned)
- Analyze how an author's choices concerning how to structure a text, order events within it and manipulate time contribute to the overall meaning and tone of the text (RL.9-12.5)
- Cite strong and thorough textual evidence to support analysis of what the text says explicitly as well as inferences drawn from the text. (RL.9-12.1)
- Determine a theme or central idea of a text and analyze in detail its development over the course of the text, including how it emerges and is shaped and refined by specific details (RL.9-12.2)

- Analyze how complex characters (e.g., those with multiple or conflicting motivations) develop over the course of a text, interact with other characters, and advance the plot or develop the theme. (9-12.RL.3)

- Analyze how the author unfolds an analysis or series of ideas or events, including the order in which the points are made, how they are introduced and developed, and the connections that are drawn between them. (9-12.RI.3)

- Determine an author's point of view or purpose in a text and analyze how an author uses rhetoric to advance that point of view or purpose. (9-12.RI.6)

- Write arguments to support claims in an analysis of substantive topics or texts, using valid reasoning and relevant and sufficient evidence. a. Introduce precise. knowledgeable claim(s), establish the significance of the claim(s), distinguish the claim(s) from alternate or opposing claims, and create an organization that logically sequences claim(s), counterclaims, reasons, and evidence. b. Develop claim(s) and counterclaims fairly and thoroughly, supplying the most relevant evidence for each while pointing out the strengths and limitations of both in a manner that anticipates the audience's knowledge level, concerns, values, and possible biases. c. Use words, phrases, and clauses as well as varied syntax to link the major sections of the text, create cohesion, and clarify the relationships between claim(s) and reasons, between reasons and evidence. and between claim(s) and counterclaims. d. Establish and maintain a formal style and objective tone while attending to the norms and conventions of the discipline in which they are writing. e. Provide a concluding statement or section that follows from and supports the argument presented. (9-12.W.1)

- Initiate and participate effectively in a range of collaborative discussions (one-on-one. in groups, and teacher-led) with diverse partners on grades 11–12 topics, texts, and issues, building on others' ideas and expressing their own clearly and persuasively. a. Come to discussions prepared. having read and researched material under study; explicitly draw on that preparation by referring to evidence from texts and other research on the topic or issue to stimulate a thoughtful, well-reasoned exchange of ideas. b. Work with peers to promote civil, democratic discussions and decision-making. set clear goals and deadlines, and establish individual roles as needed. c. Propel conversations by posing and responding to questions that probe reasoning and evidence; ensure a hearing for a full range of positions on a topic or issue; clarify, verify, or challenge ideas and conclusions; and promote divergent and creative perspectives. d. Respond thoughtfully to diverse perspectives; synthesize comments, claims, and evidence made on all sides of an issue; resolve contradictions when possible; and determine what additional information or research is required to deepen the investigation or complete the task. (9-12.SL.2)
Students will read the novel and additional readings outside of class and write short responses to assigned questions. In the second half of the unit, students will complete a project and an essay, and will have to write outside of class time.
The project and the essay will be given letter grades and written feedback. 
50 minutes per week in class, and an estimated 1 - 2 hours per week outside of class.
Teacher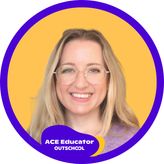 About Me
📣 Get $5 off your first class for all group classes: Coupon code CONNO9TIBC5
📣 Get $10 off your first class for 1:1 Essay & Creative Writing: Coupon code CONNON81SC10

Hi, welcome to my online community and classroom for teens and pre-teens!

My...