Science & Nature
Space Mission 3 FLEX: Dwarf Planets & Space Rocks (Ages 10-14)
In this 8-week, FLEX class, students are introduced to Dwarf Planets & Space Rocks, discovering how each is unique, where they come from, their mysteries, and importance to humans in this exciting, interactive & fun course. #academic
Flexible schedule
Over 8 weeks
No live meetings
Class Experience
***Get in on the Fall 2023 Discount with 35% off this Space Mission Course! I am on a mission to help families around the world give their children the opportunity to learn more about our fascinating Universe! Take advantage of this opportunity & enroll today!

As Space is becoming increasingly important in most countries around the world, especially given the amount of Space travel that has recently increased, it is more and more important for our children to know, at least basic knowledge...
Students will be able to define Dwarf Planets & tell how they are different than the Main Planets in our Solar System. Learners will also be able to identify all five Dwarf Planets located within our Solar System: Ceres, Pluto, Haumea, Makemake, and Eris, as well as describe some basic features for each of these, such as structure, surface, atmosphere, moons, and more. 
Students will also be able to identify Asteroids, Comets, Meteoroids, Meteors, and Meteorites, learn key terminology, identify how these rocks are different & unique form the other types of space rocks; as well as the importance of studying these rocks to unlock the mysteries of our past.
I have always had a love of space, from the moment my grandpa, an amateur astronomer, let me look through the 10-foot telescope he built all by himself, to watching shuttles & satellites lift into the sky, and watching some fall back to the earth. I have spotted some of the largest dust storms to hit Mars, and have enjoyed looking at the various craters on our Moon and seeing the rings around Saturn, all from my own backyard in Missouri & while using other telescopes my grandpa built. I have never ceased my exploration and search, looking to the skies to watch for eclipses, comets, and so much more! My love of all things Space has only increased with time, and I feel it is the next great wave of the future! As a teacher with a Master's Degree in Teaching & over 30 years of experience working with children of various ages, and more than 5 years teaching students about Space, as well as other Science-related subject-matter, I love sharing my knowledge with the next generation. My hope is to instill the awe-inspiring beauty the Unknown Universe holds, as well as encourage students to dream and believe! I hope to see you in class as we take to the Cosmos during this Amazing Space Mission!
There is no homework for this course, however, teacher will add additional videos, flyers, color pages, notes, games, and more in the Outschool classroom for those students who truly want to explore & learn more. 
Any learning materials needed will be available for download in the Outschool classroom.
There is no formal assessment for this course, however, the teacher will utilize a variety of methods to determine that learning has occurred, including: interactive games & online class polls, as well as other fun, interactive activities.
No live meetings, and maybe some time outside of class.
As this is a FLEX class, parents will need to help students log on to Outschool and access the weekly videos, along with other materials teacher will post to our Outschool Classroom page. Videos & the learning materials associated with these will post on Mondays & Wednesdays of each week.
*A slide show with the Notes will also be available for each lesson/video.
Various website will be utilized by the teacher during the presentation of material, including those for game-based and visual learning. Teacher will have lessons and assignments, as well as videos and more available before and/or after each class in the classroom, which will be downloadable.
Youtube video links will also be posted in the Outschool classroom.
Teacher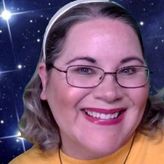 About Me
Hello and welcome to the Space & Tech Learning Emporium wtih Teacher Kristina RI.!
I have been a teacher for over 13 years, and love working with learners of all ages! In my free time, I love spending time with my family, playing a variety of...