English
Sentence Construction Week
**Please let me know a time that meets your schedule. This is a four-day course that focuses on developing sentence structure. Each session lasts for 50 minutes.
Meets 4x per week
Over 1 week
55 minutes per class
Class Experience
Learning sentence construction is the foundation of writing. Students will spend four days, 50 minutes each day, learning how to construct simple, compound, and complex sentences. They will also learn how to create new learning goals and master parts of speech and punctuation.

The course aims to help students construct well-formed sentences of any type to enhance their writing skills. The students will learn to format different types of sentences, diagram them, and use punctuation and...
The students will understand what a sentence is, what types of sentences there are, the components of each sentence, how to use them, and how sentences can be simple, compound, or complex. 
I am a licensed elementary school teacher in the state of Texas. I have a Masters in Curriculum and Ed.S in Educational Technology. I have lived and worked as a teacher in Virginia, Louisiana, Texas, Minnesota, and Colorado. In each state, I was a licensed/certified elementary/middle school teacher. In addition to working with the elementary and middle school teacher, I have worked for several years as a special education teacher and online ESL and private teacher. In public schools, I specialized as a teacher by working with students who had severe physical, mental, and cognitive issues. Also, I worked with students who had severe Autism and who were also diagnosed with High Functional Asperger's. Currently, I work online as an English Language teacher, writer, and teacher trainer. My two favorite historical figures are Abraham Lincoln and Malcolm X because each person never allowed failure to stop them from their eventual success as a person. My passion is to work with students in small groups and individuals who require scaffolding instruction to be successful. In addition, I love to teach a variety of courses and have a variety of interests that I want to share with my students. I love to teach project-based courses that incorporate reading, writing, math, and technology skills in relation to history and cultural awareness. 
I love learning! I am in graduate school and attend many workshops. I have completed my Educational Specialist degree in educational technology, my Master's in Curriculum and Instruction, Bachelor of Arts in Specials Education and Bachelor of Science in Elementary Education. I also have an Associate degree in Early Childhood and a TESOL in English as a Second Language. I attend many workshops and have received my certifications as a Language teacher (Phonics, English as a Second Language, Language-based Disabilities).
In addition to working for Outschool, I have a business "Michelle's Innovations" and provide services as an
•	an ESL teacher and am contracted with several Asian companies as either a small group or one on one teacher 
•	 training for other teachers via webinars and in-person workshops. 
•	adjunct professor for an online community college, Aimslee Institute
•	The Educator's Lair, a Teacher Pay Teacher's online education store
•	Customized lessons/tutoring for students who are homeschooled,   
•	Professional Learning for education professionals and proofreader for writers
As a public-school teacher, I received training in multi subjects, including science, writing, reading, math, and geography. As a result, I also taught children from PreK- 6th grade in the above subjects. My certifications have included these areas, as well as a resource, teaching, and ESL. My favorite subjects have always been science, reading, writing, and geography, so I have been fortunate in that I have been able to teach these subjects to students who are extremely interested in these areas.

My husband is a retired Navy person and we have lived in many different parts of the United States of America. In addition, my own family has lived in Europe where my dad worked as a teacher. I love to share and believe that we are a global community that needs to live together.

At the beginning of each week, the learner will need to download an assortment of papers for their interactive notebook. They will also need the following:  a college or wide ruled prial (not composition) notebook, glue, tape, scissors
The students will need to access their google drive each week. 
Informal assessment upon a review where the net steps of the lesson will be determined.
3 hours 40 minutes per week in class, and maybe some time outside of class.
The lesson is designed on a PowerPoint. The PowerPoint is screen shared during the lesson. Also, any YouTube videos are screen shared with the class. The learners do not need to have a subscription to any websites used in class. Each student will be given their own google link in order to ensure privacy.  During the interactive notebook activity, the student may need assistance; scissors, glue, and tape will be needed for this activity.  
The students will need to be able to access their google drive each week. 
I will give the students a share link, as a result, no one will need to have their own YouTube subscription or Google account.
Teacher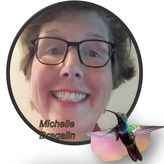 About Me
"Teaching is a process of learning from your students, colleagues, parents, and the community. This is a lifelong process where you learn and develop new strategies, new ideas, and new philosophies."
"Teaching comes from the heart!"

Outschool...