English
Prisoner B-3087 Novel of WWII and the Holocaust FLEX
Over 5 weeks, read the true story of teenage Yanek, the only survivor of his family. We follow him to not 1, but 10 moves as a Nazi prisoner during the Holocaust of WWII. Amidst his story of sadness and cruelty, we read of hope. #academic
401 total reviews for this teacher
New class
Flexible schedule
Over 5 weeks
No live meetings
There are no open spots for this class, but you can request another time or scroll down to find more classes like this.
Class Experience
Read the true story of Yanek, a young Polish teen living as he manages to survive Nazi Occupation and incarceration in numerous concentration camps.

Follow Yanek's life from 1938-1945.

Learners will read 3-4 chapters of the book before each week's lesson.  Because this class is student-paced, each week there will be two video lessons posted. 

Each week learners receive a lesson guide for the week. The lesson guide is a PDF that includes links to the lesson videos.    The first video will...
Students will be able to explain the Nazi Occupation of Poland during WWII.
Students will know the location of Poland and Germany on a world map.
Students will understand the historical events that allowed Nazi control of Poland. 
Students will be able to understand the progress of WWII in Poland from the beginning to the end and liberation.
Students will name the countries involved in World War II.
Students will understand how events and settings had an effect on the main character.
Students will discuss the struggles that the main character overcomes. 

Goals include Common Core Language Arts Reading skills for grades 6-8. 
Key Ideas and Details:
CCSS.ELA-LITERACY.RH.6-8.1
Cite specific textual evidence to support the analysis of primary and secondary sources.
CCSS.ELA-LITERACY.RH.6-8.2
Determine the central ideas or information of a primary or secondary source; provide an accurate summary of the source distinct from prior knowledge or opinions.
CCSS.ELA-LITERACY.RH.6-8.6
Identify aspects of a text that reveal an author's point of view or purpose (e.g., loaded language, inclusion or avoidance of particular facts).
CCSS.ELA-LITERACY.RL.8.2
Determine a theme or central idea of a text and analyze its development over the course of the text, including its relationship to the characters, setting, and plot; provide an objective summary of the text.
I have taught World History for over 15 years and I am nationally certified as a highly-qualified teacher of history for grades 6-9, in addition to grades 3-5. I have spent time with Jewish Holocaust survivors and taken students on tours of the Holocaust Museum in Washington, DC. I believe that by looking back at history we can reflect on the bad events, as well as strive to understand how people are able to survive the worst of the world. 
In addition, I was named Middle School Reading and Writing Teacher of the Year in two separate years for my district. 
Students are responsible for reading the assigned chapters before the next class. 
Students are provided with questions for each week's discussion.
Learners may keep a reflection log as they read the story. Teacher-created handouts are provided for use, or simply use sticky notes and a composition notebook.
Students will add to a map of the places that the character travels to during the story, to understand the physical locations. 
Copy of the book "Prisoner B-3087"
Notebook for book reflections. Class map provided before the first class for geography. 
In addition to the Outschool classroom, this class uses:
Informal teacher assessments, graded quiz reviews, and optional writing assignments can be graded or simply completed.
Learners may also post video comments about the story with any insights or questions they have each week. 
No live meetings, and an estimated 1 - 2 hours per week outside of class.
This book is about the Nazi occupation of Poland during World War II.  The main character in the story is a Jewish boy living in Poland. The story allows discussion of the atrocities of war and how hope and survival are possible during the worse of times. 
People dying of starvation and illness is a topic during the time in the ghetto and concentration camps. People are removed from their families and taken to prisons, concentration camps, and death camps.
 This story is one of hope, but it does deal with the horrors of the Holocaust. I will keep student conversations on topic about the story, I will not provide pictures of these events. 
 Survivors of the Holocaust want these stories to be told so that we can remember what happens when people do not stand up to dictators and injustice. One of the reasons I chose this book is to be able to talk about these issues within a story format. We will focus our discussions on how a person keeps hope in a world where they see mostly injustices around them. 

Learners will be provided a private link to review games on Kahoot! and Blooket. They will not need to register with these platforms to complete the games.
Lesson videos and responses will be posted directly into the classroom, but lengthier videos will be posted privately on YouTube.  Learners will be given a direct link to any private YouTube videos that I have created. 
Lessons are presented using Canva, but learners do not need to access the site. 
Weekly reading reflections and questions can be posted directly into a copy of a Google Doc, or responded to via a classroom video. 
Novel, "Prisoner B-3087"
US Holocaust Museum
Teacher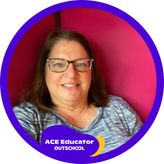 About Me
I believe that students need to see the personal side of the world. When students begin to see a unique story in a history or science lesson, they become engaged and learn. 

 I speak French and love to travel to countries where I can immerse...