English
Prairie Lotus: An "Elements of Critical Thinking" Literature Circle Book Club
Students will read the new novel "Prairie Lotus" by award-winning author Linda Sue Park and participate in a Literature Circle based book club discussion, rotating responsibilities and presenting their findings to the group.
361 total reviews for this teacher
New class
  There are no upcoming classes.
Meets 1x per week
Over 7 weeks
60 minutes per class
There are no open spots for this class.
You can request another time or scroll down to find more classes like this.
Class Experience
*Please note:  
Due to the student-led discussion format of this class, the smallest size that will work well is 4 students.  I will cancel the class if fewer than 4 students enroll.  Invite your friends!  That said, the class will not work well with more than 8 students.  I will keep a firm cap on the limit as well, in order for everyone to have the best possible educational experience.  

Q:  What Are Literature Circles?

A:  In literature circles, small groups of students gather together...
Students will rotate through each of the following roles during the course, completing 7 of the 9 potential roles.  Chapter and role assignments will be given the week prior to the first class meeting.

Discussion facilitator
This role involves developing a list of questions that the group might discuss about the section of the novel to be discussed for that meeting. Questions should be designed to promote lively conversation and insights about the book; they should be open questions. A person with this task asks these questions of the group to prompt discussion; overall, the job is to keep the group talking and on-task. Questions that a student might ask could be: "What was going through your mind when you read this passage?" or "How did the main character change as a result of this incident?"

Commentator
This role involves locating a few significant passages of text that are thought-provoking, funny, interesting, disturbing, or powerful. The quotations are copied down with properly cited page numbers. A student with this task can read the passages out loud him/herself or ask other group members to read as well. Commentary and discussion will be generated from these passages. and also draw a part of the scene that locates where the person took place

Illustrator
As the term implies, this job entails drawing, sketching, or painting a picture, portrait or scene relating to the appropriate section of the novel. Collages from magazines, images from the internet, and other media can also be used. The student with this role then shares the artwork with the group, explaining the passage(s) that relate to the art. Often students who do not like to write do very well with this role. The pictures usually generate interesting group conversations.

Connector or reflector
This role involves locating several significant passages in the novel and connecting these passages to real life. The connections might relate to school, friends or family, home, the community, or they might relate to movies, celebrities, the media etc. Students should also feel free to connect incidents or characters with other books that they have read. Of all the roles, this role is often the most personal in its focus.

Summarizer
This role involves preparing a brief summary of the reading that was assigned for that day's meeting. The summary should include the main ideas or events to remember, major characters, symbols or other significant highlights of the passage. Good summarizers are important to literature circles, as they can help their peers see the overall picture (DaLie, 2001). Also include important events and details.

Vocabulary enricher
Also called the Word Master or Word Wizard, this role is to record important words for that day's reading. Words that are unusual, unknown, or that stand out in some way are usually chosen by the student. Their page number and definition is also recorded. Often students do not see this role as particularly stimulating; however, it can be a role suited to students who are still developing confidence in English classes or textual analysis.

Travel tracer
This role involves recording where the major shifts in action or location take place in the novel for the reading section. Keeping track of shifts in place, time, and characters helps students keep track of important shifts in the novel. Artistic students also are drawn to this role, as artwork can be incorporated into this role as well. The student's role is to describe each setting in detail, using words or maps that illustrate the action.

Investigator
This role includes investigative work where background information needs to be found on any topic relating to the book. Historical, geographical, cultural, musical or other information that would help readers connect to the novel is often researched and shared with the group. The research is informal in nature, providing small bits of information in order that others can better understand the novel.

Figurative language finder
This role includes identification of various types of figurative language, including but not limited to simile, metaphor, personification, hyperbole, and idiom. This may lead to discussion about the author's craft - why the author chose to use those particular words or phrases, and whether or not they were effective. This in-context identification can be more relevant and memorable than isolated instruction by the teacher of these types of tools.
My name is Carie Beth Russell.  I live in the Midwest with my husband, two children, two cats and new puppy.  I love to read, cook, sing, craft, write, play and most especially TEACH!  

I am a former public elementary school general education teacher and gifted education specialist.  I have been "home" since my second child was born, but have remained active in the field of education by tutoring, teaching educational summer camps out of my home and teaching at a homeschool enrichment program. My two children attend public school and take courses on Outschool.  

My professional priorities center around student-led learning.  It's my strong conviction that supporting children as they learn, rather than dictating how and what they learn, is the way to encourage their inborn patterns of curiosity, wonder and problem-solving that will serve them well in all stages of being human.  

I love interacting with children and being an educator.  I imagine myself as Jane Goodall with her beloved Chimps: barefoot in the forest, sitting down among them, quietly observing with fixed fascination the innate intelligence that surrounds her.  I'm astounded by children every single day.  I consider it an honor and  privilege to meet your child and develop an educational relationship with him/her.  Thank you for taking one of my courses!
Homework will include weekly reading assignments (approximately 35 pages) as well as completion of student's "job" in order to present to the group at the live meeting. 
Students will need a copy of the book for the duration of the course.  
https://www.amazon.com/Prairie-Lotus-Linda-Sue-Park/dp/132878150X

Documents provided by teacher, to be printed by students
In addition to the Outschool classroom, this class uses:
Observational assessment available upon request.  
1 hour per week in class, and an estimated 1 - 2 hours per week outside of class.
Google Docs/Slides:  Google Docs is the way that your child will access their assignments.  These assignments may be: printed out and completed "pen to paper", completed digitally by typing in text boxes on an electronic form of the document, or by creating a google slides presentation.  The response format is up to you and your child and may change each week depending on what feels the most fun, creative and the best use of time.  

Common Sense Media:
https://www.commonsensemedia.org/book-reviews/prairie-lotus

Parents need to know that Linda Sue Park's Prairie Lotus is a beautifully written story that explores racism and violence against people of color in 1880s Dakota Territories. Hanna,14, and her White father left their home in Los Angeles, California, after riots there, in which more than a dozen Chinese men were lynched and Hanna's Asian mother (part Chinese and part Korean) died from smoke inhalation. Hanna and her father travel across the country by horse and wagon but can't find a place to settle until her dad meets a tolerant justice of the peace, who encourages them to come to La Forge in the Dakota Territories. There, Hanna experiences harassment -- and ultimately an attempted sexual assault by drunk men -- because of her race and heritage. She escapes the assault but sustains a bruise and a scratch and has nightmares and anxiety as a result.
https://www.amazon.com/Prairie-Lotus-Linda-Sue-Park/dp/132878150X
Teacher
Mrs. Russell, M.S. Ed.
🇺🇸
Lives in the United States
Former public general education teacher and gifted education specialist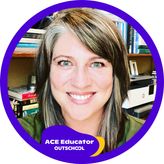 About Me
Hello and Welcome!

About me:
My name is Carie Beth Russell.  I am the mother of two teenagers, an elderly cat and a forever puppy.  I live in the Midwest region of the United States with my family.  

I am a former public elementary school...