Health & Wellness
Multiverse Travelers: LGBTQA+ Doctor Who Fandom Group
In this ongoing class, geeky LGBTQA+ youth and allies will gather to explore themes and topics in episodes of the new Doctor Who, confronting stereotypes, hopefully making new friends, and perhaps seeking new ways to change the world.
Meets 1x per week
Runs week after week
55 minutes per class
Cancel anytime
Class Experience
We are taking a summer break. We'll return in the fall...

In this ongoing class, geeky LGBTQA+ youth and allies will gather to explore themes and topics in episodes of the new Doctor Who, confronting stereotypes, hopefully making new friends, and perhaps seeking new ways to change the world. All of the classes are based firmly in social emotional learning standards. 

Each week's class is based on an episode of the new Doctor Who, with exercises, guided discussion, video clips, bits of...
Topics will be developed while considering the following Social Emotional Standards:

1. Self-Awareness 
The ability to recognize one's own emotions, thoughts, and values and how they influence behavior and to assess one's strengths and limitations.
1A Individual demonstrates an understanding of one's emotions. 
1B Individual identifies when help is needed and who can provide it. 
1C Individual demonstrates awareness of their own personal rights and responsibilities. 
1D Individual demonstrates knowledge of their own personal strengths, cultural and linguistic assets, and aspirations. 
1E Individual seeks to understand and identify their own prejudices and biases.

2. Self-Management 
The ability to regulate one's emotions, thoughts, and behaviors in different situations and to set and work toward personal and academic goals.
2A Individual demonstrates the skills to manage one's emotions, thoughts, impulses and stress in constructive ways. 
2B Individual manages materials, space, time and responsibilities effectively. 
2C Individual demonstrates skills to develop, evaluate, modify and achieve goals. 
2D Individual demonstrates a resilient attitude and growth mindset, even in the face of adversity and challenges.

3. Social Awareness 
The ability to take the perspective of others and empathize with them, including those from diverse backgrounds and cultures, and to understand norms for behavior.
3A Individual reads social cues and responds appropriately. 
3B Individual seeks to understand and demonstrates respect for individuals, including those with diverse backgrounds, cultures, abilities, languages, and identities. 
3C Individual demonstrates empathy for other people's emotions and perspectives. 
3D Individual recognizes and respects leadership capacity in oneself and others. 
3E Individual contributes productively to one's school, family, workplace, and community.
4. Relationship Skills 
The ability to communicate clearly, listen well, cooperate with others, resist inappropriate social pressures, and to seek and offer help when needed.
4A Individual uses communication and interpersonal skills to interact effectively with others, including those with diverse backgrounds, cultures, abilities, languages, and identities. 
4B Individual uses appropriate communication strategies and interpersonal skills to maintain relationships with others. 
4C Individual demonstrates the skills to respectfully engage in and resolve interpersonal conflicts in various contexts. 
4D Individual recognizes when others need help and demonstrates the ability to provide or seek assistance.

5. Responsible Decision Making 
The ability to make constructive choices about personal behavior and social interactions based on ethical standards, safety concerns, and social norms and to evaluate the consequences of actions and to consider the safety and well-being of others.
5A Individual applies problem-solving skills to engage responsibly in a variety of situations. 
5B Individual uses and adapts appropriate tools and strategies to solve problems. 
5C Individual evaluates impact of decisions on self, others and the given situation and adjusts behavior appropriately. 
5D Individual considers ethical, safety, and societal factors when making choices and decisions. 
5E Individual considers and responds appropriately to external influences (e.g. media, peers, authority figures) on decision-making.
As a wellness and sexuality educator, Jessica Gray has completed training in, coordinates, and facilitates elementary (beginning at K-1), junior high, high school, and adult comprehensive sexuality education programs. She created and directed Rainbow Wizards as an in-person wellness day camp and afterschool program for LGBTQA+ students in 2017. For several years Dr. Gray worked with high-risk youth who were dealing with teen pregnancy, substance abuse, and significant health issues, among other challenges at an alternative high school. Dr. Gray also taught wellness in public school at the middle school level. 
It is recommended that students watch the Doctor Who episode of the week, though it's totally ok if they've never watched any other Doctor Who episode. It's also ok if they haven't seen it (I'll give a full recap). You can buy most episodes individually for $1.99 on Amazon or a full season for $29 (I think). 
In addition to the Outschool classroom, this class uses:
55 minutes per week in class, and an estimated 1 - 2 hours per week outside of class.
LGBTQA+ students need support from their parents first and foremost. If they are in a dangerous situation where they need mental health or physical care, I will contact the parent immediately. However, a lot of students just want to talk to friends, and having an adult they are not related to that they can go to for advice is helpful. I'm glad to be able to be in that mentor role for young tweens and teens.

I will seek to teach this class using gender inclusive language, with the assumption that people of all genders (male, female, nonbinary) engage in relationships. We will always ask what pronouns a person uses and what name a person wants to be called.

This class will give examples of diverse sexual identity/relationship dynamics: heterosexual, homosexual, bisexual, asexual, demisexual. All are considered natural/normal. 

This is not a "sex education" course, though it will touch on some very sensitive topics including the prevention of date rape and other nonconsensual sexual situations. We will not be covering typical "sex education" topics like anatomy or reproduction. The instructor will send parents a list of suggested resources for teens for these topics if they want to find more information in the future. 

This is also NOT group therapy. Students will be given guidelines at the start about what will and will not be able to stay "confidential." Anything shared in the group relating to self-harm or others' harming them will immediately be shared with their parents so they may make whatever decisions they deem appropriate.
Teacher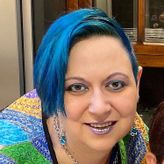 About Me
I am taking a short break. I will be returning to teaching on Outschool in December.

For over fifteen years, I have created and directed innovative programs that incorporate literature and pop culture into educational experiences through The...