English
IEW Medieval History-Based Writing (Flexible Schedule) Semester 1
Semester 1 of this course will cover Structure Units 1-5 of writing and integrate elements of Style. We will be using the IEW Medieval History-Based Writing for exciting & engaging source texts to develop writing skills and learn history!
Flexible schedule
Over 12 weeks
No live meetings
There are no open spots for this class, but you can request another time or scroll down to find more classes like this.
Class Experience
IEW is a comprehensive writing program that focuses on 9 STRUCTURAL models of writing as well as STYLISTIC techniques to enhance writing. Part 1 of this course focuses on Units 1-5. It is strongly recommended that learners plan to take Part 2 of this course second semester. 

Via a video lesson, (Please note there are no live classes)  I will introduce the new concepts present in each lesson. I will go through the source text provided in the workbook.  I will demonstrate new concepts by...
Throughout this course, our ultimate aim is to provide students with a solid foundation in writing that they can apply to any subject or topic. We aspire to equip them with writing skills that they can utilize throughout their lives, not just within an academic setting. By the end of this course, students will have gained proficiency in organizing and synthesizing information, and effectively communicating it from their unique perspective. These valuable skills can be adapted and applied to a wide range of subjects and scenarios.
I'm a dedicated educator with over a decade of experience teaching IEW. My passion is to make writing engaging and enjoyable for my students, and I strive to bring creativity and interactivity to every lesson.

As a parent of three children, I've had the opportunity to use the IEW program at home and have walked my own kids through the program. This personal experience has given me a unique perspective and deep understanding of the challenges that students and families may face in the writing process.

In my classes, I aim to create a supportive and dynamic learning environment that encourages students to take risks and develop their own unique voice as writers. I believe that with the right guidance and support, every student has the potential to become a skilled and confident writer.

Whether in the classroom or at home, I'm dedicated to making writing a positive and rewarding experience for all students, and I'm excited to share my knowledge and passion with you
There are exciting weekly writing assignment planned for each class! Completing these assignments is strongly encouraged, as it is a great opportunity to practice and develop your writing skills. I understand that every student is unique and has their own writing journey, so it's important to me that you feel comfortable working at your own pace. Homework time can vary based on the assignment and the individual, but we're confident that you'll find the tasks engaging and worthwhile! Students should schedule 1 - 4 hours for each assignment for optimal success. 

Each week students turn in 3 things. 
1. Keyword Outline (KWO) 
2. IEW Checklist 
3. Final Draft of their paper 

Please Note that students and/or parents  need to know how to upload attachments (PDF or Pictures) and how to use basic functions of Google Docs. All of these steps will be demonstrated in class for students 
Due to Copywrite laws, it is required that you purchase this text prior to the first day of class. This text will be used for Part 1 and Part 2 of this course

Please purchase the "Student" version of this text as it provides Vocabulary Cards we will be using in class
https://iew.com/shop/products/medieval-history-based-writing-lessons-student-book-only

Use of GOOGLE DOCS is required for submitting papers - this requires and account 
Kahoot - Does not require an account (Optional)


I welcome and encourage students to submit their papers for feedback in this class! To help students understand exactly what's expected in each paper, we'll be using the IEW checklist method. Following the checklist is highly recommended and will help students produce high-quality writing.

As the instructor, my role is to review each paper and provide positive, constructive feedback. I won't be assigning letter or percentage grades, as the focus of the class is on developing writing skills and improving structure and style. While basic spelling and punctuation are expected, don't worry about being perfect - the most important thing is to keep working on your writing and making progress.

To assess the writing process, I'll be reviewing students' Keyword Outlines and Checklists. And when it comes time to submit final drafts, I'll provide comments and feedback right in Google Docs to help students improve their writing even further. Remember, the goal is to develop your skills and become a better writer, and I'm here to support and guide you every step of the way.
No live meetings, and an estimated 2 - 4 hours per week outside of class.
We will stick to the topics listed in the required source text. It is advised that parents look through the material prior to class. All content has been writing for this designated age group. If you have concerns please reach out. 

Students or Parents need to be able to upload attachments (PDF or Pictures) and how to use basic functions of Google Docs. All of these steps will be demonstrated in class for students.

Several times a semester we will utilize Kahoot for Vocabulary Quizzes. An account or log in is not necessary to join. 

For simplicity's sake, It is my goal to keep as much interaction on the Oustschool classroom as possible! I will provide links to Kahoot  for vocabulary challenges which are optional but encouraged. 

Google Docs - Account required 
Kahoot - No account required 

Teacher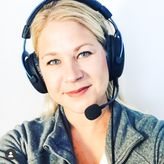 About Me
People, especially kids are my passion. My goal is to cultivate a love and lifestyle of learning in my students. I have a B.A. from the University of Washington with an emphasis in Early Childhood Education. For over 10 years I have been tutoring...