Social Studies
Homeschool High School Middle East Studies - Semester 1
In this course, learners will embark on a comprehensive exploration of the Middle East region, delving into its rich history, geography, and politics. We will start our journey by studying the ancient civilizations of Mesopotamia, which existed long before the emergence of Islam and Christianity. From there, we will traverse through time, examining the rise and influence of the Gunpowder Empires that shaped the Middle East. Through engaging discussions and immersive learning experiences, students will gain a profound understanding of the historical, cultural, and political dynamics that have shaped this fascinating region. #academic
Meets 1x per week
Over 10 weeks
50 minutes per class
There are no open spots for this class, but you can request another time or scroll down to find more classes like this.
Class Experience
In the first part of this Middle East series, learners will embark on a captivating exploration of the region's history, geography, and politics over the span of 2,000 years. This particular segment will focus on the era preceding the advent of Christianity or Islam, offering an interactive platform for in-depth discussions. Furthermore, learners will delve into the social, economic, and cultural transformations that unfolded during this fascinating time period.

Our journey begins with an...
This class is taught in English.
I hold a Bachelor of Arts degree in Political Science with a concentration in Comparative Politics, which encompassed a wide range of political and historical courses focused on past and present civilizations across the globe. Additionally, I possess a Master of Education degree in Secondary Social Sciences, specializing in history, political science, and related subjects. My certification from the state of Alabama qualifies me to teach social sciences to students in grades 7-12. With over five years of experience teaching world history and a 20+ year background in researching world history and its politics, I bring a comprehensive knowledge and expertise to the subject matter.
Optional analysis questions are available for learners, and feedback will be provided upon request. These analysis questions serve as valuable tools for further exploration and critical thinking, allowing students to delve deeper into the subject matter. By engaging with these questions, students can enhance their understanding, develop analytical skills, and gain insights into the complexities of the topics discussed. Feedback provided by the instructor will offer valuable guidance, clarification, and support in the student's learning journey.
The required materials for the class include:

Paper: Students will need paper for note-taking, completing assignments, and any written work.

Pen/Pencil: Students should have pens or pencils for writing and taking notes.

Printer: A printer is recommended for printing out resources provided by the teacher. This will allow students to have physical copies of documents, readings, or worksheets.

It is important to have access to a printer to ensure that all necessary materials can be easily accessed and utilized.
Learners have the opportunity to receive optional analysis questions, and upon their request, feedback will be provided. These analysis questions serve as an additional resource for students to further explore and critically engage with the course material. By tackling these questions, students can deepen their understanding, refine their analytical skills, and gain new insights into the subject matter. The instructor is available to offer valuable feedback, guidance, and support to students who choose to explore these optional analysis questions.
50 minutes per week in class, and an estimated 0 - 1 hours per week outside of class.
Throughout the course, there will be discussions and references to significant historical events such as invasions, slavery, genocide, war, and religion. It's important to note that the exploration of these topics will strictly focus on their historical context. The purpose is to gain a deeper understanding of past civilizations, societies, and the impact of these events on historical developments. The discussions will be conducted with sensitivity and objectivity, aiming to foster a respectful and inclusive learning environment.
Boum, Aomar  and Arthur Goldschmidt, Jr.   A Concise history of the Middle East, 11th ed. Boulder: Westview Press, 2015.
Khaldûn, Ibn Ibn.  The Muqaddimah: An Introduction to History - Abridged Edition.  Princeton: Princeton University Press, 2015. 
Lewis, Bernard.  The Middle East:  A Brief History of the Last 2000 Years.  New York: Scribner, 2003.

Writings and works of early and Medieval Muslim scholars such as: Ibn Hazm, Al-Biruni, and Ibn Taymiyyah.

Teacher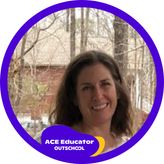 About Me
Hey y'all! I'm Janelle, your not-so-average History teacher. I believe in making learning hands-on and engaging for my middle school students. Why is hands-on learning important for middle schoolers, you ask? Well, the simple answer is that middle...