Science & Nature
Guts Gone Wrong: Mini Med FLEX Camp
Dig deep into the digestive (gastrointestinal) system to learn the anatomy, physiology, and diseases...and create a polymer clay model to keep! #academic
401 total reviews for this teacher
Completed by 25 learners
Flexible schedule
Over 6 weeks
No live meetings
Class Experience
**Since these are flex classes and people take vacations and holiday breaks at different times, just let me know if you need to complete the flex class on a different schedule and I'll add extra weeks.  I'll still post new lessons each week but will know that your learner will be needing extra time.**

This 6-week flex class provides a deep dive into the gastrointestinal system, how it works and what can go wrong.  We will also be creating a model of the GI system using polymer clay that you...
As a family physician with a decade in private practice, I love teaching young people about how their bodies work.  I believe that people who understand their bodies will take better care of them.  
* Learners will complete a portion of a polymer clay model of the gastrointestinal system during each class by following a step by step video
* Learners will post a photo of their polymer clay model or a video/photos of a demonstration in the classroom
* Learners will be asked to answer a prompt before and two prompts after the recorded lesson every week, which may be a getting-to-know-you questions or related to the material
* Learners are encouraged to comment on classmates' work as well
Learners will need polymer clay to create the model. I specifically chose polymer clay (such as Sculpey or Fimo) because it will stay pliable for the duration of the class and then you can bake it into a durable model your student can enjoy for years.  If your student uses just one color (see below), you can buy a package for about $3 at a local craft store.  Alternatively, you can buy a big starter set with 30 or more colors for about $25 on Amazon.

I mostly used peach/tan (only one package needed).  I also used very small amounts of red/brown (liver) and extremely small amounts of  pink (tongue), white (teeth), green (gallbladder), and yellow (pancreas).  I will reassure students that they only need one color and I'm using the other colors to make it easier for them to see what I'm doing. You know your student best and whether you'll have mostly unused blocks of polymer clay when you're done or whether they will be put to good use for other craft projects.  If you're going to get multiple colors, it's usually more cost effective to order a beginner set on Amazon instead of buying the colors individually.  Your student can also use a single color and then paint their model with acrylic paints.  I personally used acrylics to add some details after baking, just for fun!

I use my desk for modeling but for my own kids, I have plastic cafeteria trays in order to keep the clay off the dining room table where we typically do crafts.  In the grand scope of craft supplies, polymer clay isn't especially messy but it can wreck havoc on carpet and upholstery with the right conditions, so plan ahead for where the project will be.  Hair and dirt sticks to the clay easily until it's baked so you'll want to keep it covered between sessions so you don't end up with a furry model.  I personally cover it with a piece of waxed paper and keep it in my room, but modeling on a piece of parchment or waxed paper that can be lifted up and set in a container with a lid is also a great option.

Acrylic paint can be messy and typically doesn't wash out of things, so consider if you want the hassle before deciding to go that route.
No live meetings, and an estimated 0 - 1 hours per week outside of class.
I do use the words "poop," "toot," "fart," "burp," "belch," and "bottom" during this class. 

During the small intestine lesson, I discuss embryology and the development of the small intestine.  I refer to "the baby in the mom's tummy" and briefly describe a couple ways that intestinal development can go wrong "that can be fixed with surgery" and I do mention the possibility of an ostomy and what that is.  I do NOT say anything about more serious complications or death because I do not believe that is appropriate for this age group.  I also reiterate several times that this is very rare, so rare that I have never seen it even though I've been a doctor for a long time.  

During the large intestine lesson, I mention that polyps can become cancer if they aren't removed but I don't go into any detail about what that means.  I mention that Inflammatory Bowel Disease (IBD) can be "serious" and that people can need treatment for problems that it can cause including bloody diarrhea or cancer.  But I don't go into any detail about what that means.

Nothing in this class will be or is intended to be medical advice.  This is merely educational in nature and will be a surface-level overview.  Your student will not be coming out of this class knowing anything about how to diagnose or treat these conditions and we will not be discussing any personal medical questions/needs.  Students should come with general questions about the topic.
Teacher
Dr. Robin
🇺🇸
Lives in the United States
A Family Physician and Homeschool Mom Who Loves Teaching Kids About Their Bodies!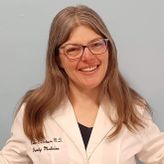 About Me
Hi!

I'm Dr. Robin!  I'm a family physician and I love teaching people about how their body works.  I believe that when people understand their body, they will take better care of it so I created Dr. Robin's School and also teach here on...