Life Skills
Get Your Comic Books & Manga PRINTED at a Professional Printer! PUBLISH to 1000s of Readers Worldwide! Ages 12+
Students get their comic & manga stories published in an actual, professionally printed, comic book magazine, to be read by 1000s of readers all over the world. They also get a box of their own comics to keep or give away to their friends.
Once per week
over 4 weeks
How does a "Multi-Day" course work?
Meets multiple times at scheduled times
Live video chats, recorded and monitored for safety and quality
Discussions via classroom forum and private messages with the teacher
Great for engaging projects and interacting with diverse classmates from other states and countries How Outschool Works
There are no open spots for this class, but you can request another time or scroll down to find more classes like this.
Class Experience
In this course, students learn how to make their own comic books. They also get them printed and published!
After class is over, every student will get a box of comic books with their comic stories in them. 
🎁 Here is a digital copy of a comic book printed from a previous class: https://www.raytoons.net/raytoons03.pdf

YOUNGER KIDS can take a similar class here:...
This class is taught in English.
By the end of the course, students will be able to:
  1. Students will learn to design a comic book through the whole process of...
      Drawing, lettering, inking on paper, and editing on the computer.
  2. Students will learn to establish a plot, point of view, setting, and conflict in their comic stories.
  3. Students will learn to brainstorm and writing their own script/storyboard through the process of story development 
      (Language skills are engaged).
     The process would involve reinforcing and improving of their literacy skills through the arts 
      by engaging in a fun, project-oriented, and creative process (Academic Reinforcement).
  4. Students will be able to draw out their own comic book panels and edit them on the computer.
  5. Students will be understand the "layout" process of setting up a comic book page for print. 
      (When doing layout students will learn things like Margins, Trim Lines, Full Bleeds, etc.)
I am a professional cartoonist, writer, and comic book publisher. I have published comic books, comic strips, children's books, and graphic novels throughout the world (visit www.dir.raytoons.net to see distribution). I print around 2000 to 4000 comic books per issue released. I use various printers in Canada, South Korea, and Hong Kong for my printing. You can see an example comic book printing receipt here: https://www.dropbox.com/s/2hd7p2bilotbo74/Jonathin%20Quackup%20%232%20Receipt.pdf?dl=0

My published comics include "Jonathin Quackup of the Planet", "Miced" and "Raytoons Cartoon Avenue". Here is a link to one of my past comic books: https://www.dropbox.com/s/yzv969dzbm89dcb/Jonathin%20Quackup%20Issue%2001.pdf?dl=0

I am also a credentialed teacher. I have taught cartooning classes for 20 years and Comic Book related class for over 10 years. I have taught these class for both adults and children in colleges, schools, and community centers. I have helped many children and adults get their comics created and published. Here is an example of a comic publishing class that I have taught at a college: https://www.cuesta.edu/communityprograms/community-education/writing_publishing/print-publish-comics.html
Optional: Students can work on their comics in between class times, as well as during class. If they want to have comics that more than a few panels in length (which is basically just a comic strip), they would need to work on it between class times. (See ITINERARY section above.)

I am available in between classes if any students have any questions and give feedback. They can either send me a private message on Outschool or post their question on the Outschool page. If they have comic panels that they would like me to look at, they can send me those as well.

While classes are normally 50-55 minutes, I am willing to stay on Zoom sometimes after class if a student needs help with their comics.
  2 files available upon enrollment

The materials required depends on what the learner would be doing.
Would they be doing their artwork on paper? Or on the computer?

𝙄𝙛 𝙩𝙝𝙚 𝙡𝙚𝙖𝙣𝙚𝙧 𝙞𝙨 𝙙𝙤𝙞𝙣𝙜 𝙩𝙝𝙚𝙞𝙧 𝙖𝙧𝙩𝙬𝙤𝙧𝙠 𝙤𝙣 𝙥𝙖𝙥𝙚𝙧...
𝗠𝗮𝘁𝗲𝗿𝗶𝗮𝗹𝘀 𝗡𝗲𝗲𝗱𝗲𝗱:
✓ Paper 📃
✓ Pencils and Erasers ✏️
✓ Fine Point & ultra-fine point permanent markers or 🖊️Sharpies 
✓ Computer, tablet, Chromebook, or laptop to edit their artwork on.
      📢 Please install Zoom on the same device as the art software being used. 
            That way the instructor will be able to see what the student is doing and be able to help the student,
            if he or she is having any difficulties.
✓ Scanner or Camera
      If you don't have a scanner, there are special apps for Smartphones and Tablets that can make your device act like a scanner.
      The one that I use and recommend is called 𝗖𝗮𝗺𝗦𝗰𝗮𝗻𝗻𝗲𝗿.
      Here is a video on YouTube about the program: https://youtu.be/qU0ODdGwWX8
✓ Photoshop (or Photopea) is recommended for the editing, coloring, and layout.
      If Photoshop isn't an option for you...
      A Photoshop alternative that I would recommend is called Photopea, which is a 𝗙𝗥𝗘𝗘 online-based app, and can be found here:
      https://www.photopea.com  
     If the student has a different program that they are already familiar with and wish to use for the class, feel free to check with me 
 
𝙄𝙛 𝙩𝙝𝙚 𝙡𝙚𝙖𝙧𝙣𝙚𝙧 𝙞𝙨 𝙙𝙤𝙞𝙣𝙜 𝙩𝙝𝙚𝙞𝙧 𝙖𝙧𝙩𝙬𝙤𝙧𝙠 𝙤𝙣 𝙖 𝙙𝙧𝙖𝙬𝙞𝙣𝙜/𝙜𝙧𝙖𝙥𝙝𝙞𝙘𝙨 𝙩𝙖𝙗𝙡𝙚𝙩 (𝙡𝙞𝙠𝙚 𝙖𝙣 𝙞𝙋𝙖𝙙)...
𝗠𝗮𝘁𝗲𝗿𝗶𝗮𝗹𝘀 𝗡𝗲𝗲𝗱𝗲𝗱:
✓ A device with a touch screen that the student can draw on. 
✓ A stylus to draw on the device. 
      If you are using an iPad, the stylus used for drawing is called the "Apple Pencil". 
      There are also cheap apple pencil clones that you can get. But they don't have all the features (like pressure sensitivity) 
      that the regular iPad Pencil has. Here is a link to one of the pencil clones: 
      https://www.amazon.com/Generaion-Rejection-Compatible-Generation-Sketching/dp/B08ZCMGLV8
✓ Art software to do the artwork on. 
      If the student has a program they are already familiar with, they can use that program. 
      If they don't have an art program to use, I would recommend 𝗔𝘂𝘁𝗼𝗱𝗲𝘀𝗸 𝗦𝗸𝗲𝘁𝗰𝗵𝗯𝗼𝗼𝗸, which has a lot of great drawing tools.
      Photoshop and Photopea would also work.
✓ 𝗣𝗵𝗼𝘁𝗼𝘀𝗵𝗼𝗽 or 𝗣𝗵𝗼𝘁𝗼𝗽𝗲𝗮 for doing layout.
      Students are required to do layout. I can do it for them. But I recommend that trying it out, to get an idea on what its like.

𝙊𝙥𝙩𝙞𝙤𝙣𝙖𝙡 𝙈𝙖𝙩𝙚𝙧𝙞𝙖𝙡𝙨:
✓ Comic Books (For examples and ideas on a comic story can be laid out.)         
✓ Printer with Printer Paper  
The teacher will provide verbal feedback in class.  If they need any assistance with their panels in between class times, the teacher will also provide short written feedback to students, 
50 minutes per week in class, and maybe some time outside of class.
Please be sure all comic stories are school appropriate for young audiences. I cannot allow any content with nudity, violence, profanity, or adult content into the classroom.

I have questions from parents, asking how much violence is acceptable.
I try to keep the comic book rated E-7, which is for everyone 7 and up (similar to a TV-Y7 film rating). A good example of action cartoon that is rating for 7-year-olds and older is "Batman the Animated series". The cartoon has guns, but no one is seen getting hit... In one episode Commissioner Gordon gets shot, but its offscreen and we find him later in the hospital recovering. Characters can get hurt, but its bruises and scratches with only drops of blood. And if a character dies, the character dies off screen. (Here is a sample video from the show: https://youtu.be/sT43MClzowM)

As the comic books will be published in actual comic book stores and other places, I also cannot allow comics with characters copyrighted by someone else. No Mickey Mouse, Avengers, Superman, Batman, etc. (Unless its a parody of those characters.)

I've also had questions from parents if their children keep the rights to their creations, and if they are allowed to sell the comic books that they receive. I don't keep any rights for the kids creations, except for the permission to use in the comic magazine (as stated in this listing). The type of rights that I have is basically that of a non-exclusive license agreement, where I have permission to use the student's comics in my magazine and that's it... The learners still have all the rights to whatever they want with their comics. (If parents are interested would like to get a copyright for their child's creation, let me know and I can assist them with that.)

Feel free to message me if you have any questions.
Teacher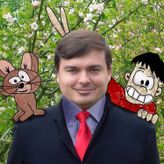 About Me
Hi, my name is Raymond Mullikin. 👋

I am a professional cartoonist and credentialed teacher from San Luis Obispo, California.

I teach classes in Cartooning, Comic Book Printing and Publishing, 2D Cartoon Animation, Claymation/Stop Motion, Toy...