Social Studies
Germany: Development of Dictatorship (1918-1945)
Step into a small group setting and embark on a profound 12-week exploration of Adolf Hitler's ascent to power. In this comprehensive course, learners will delve into the complex history surrounding Hitler's rise, from the aftermath of World War I through the turbulent Weimar Republic era, culminating in the establishment of Nazi Germany. Additionally, this class will equip students with the necessary essay skills required for the History IGCSE qualification, covering key policies and their significance during Hitler's regime. #academic
Meets 1x per week
Over 12 weeks
50 minutes per class
Don't see a time that works for you?
Class Experience
This immersive and insightful class that delves into the intricacies of the Weimar Republic, the rise of Hitler and the Nazis, and the realities of Nazi Germany and its occupied territories during World War II. This course offers an in-depth investigation, fostering lively discussions and rigorous analysis to gain a comprehensive understanding of this pivotal period in history.

Whether you seek a more thorough exploration of the development of dictatorship in Germany, a supplementary study...
This class is taught in English.
I hold a Bachelor's degree in Political Science with a concentration in Comparative Politics, which involved studying a wide range of political and historical subjects related to different civilizations across the world. Additionally, I have obtained a Master's degree in Education, specializing in Secondary Social Sciences, including history and political science. I am certified by the state of Alabama to teach social sciences to students in grades 7-12. With over four years of experience teaching world history and conducting extensive research in world history and politics for the past 20+ years, I bring a wealth of knowledge and expertise to the classroom.

Furthermore, I have gained valuable experience in preparing learners for various History IGCSE examinations, providing them with the necessary skills and knowledge to excel in their studies.
Unless otherwise indicated by parent/guardian, learners will answer exam style IGCSE questions weekly and the teacher will provide continuous feedback until the essay meets IGCSE qualifications.
To support the learning process, the following resources and tools are required:

Printer: A printer will be needed to print out any provided resources, worksheets, or materials distributed by the teacher. This will allow learners to have physical copies for reference or completion.

Google Docs (preferred) or the ability to upload written or typed answers: Learners are encouraged to use Google Docs for submitting their homework and analysis questions. This online platform provides a convenient and organized way for learners to compose and share their work. Alternatively, learners should have the ability to upload their written or typed answers to the designated platform or system provided by the teacher. This ensures that learners can receive feedback and guidance on their work.

By having access to a printer and utilizing digital platforms like Google Docs, learners can effectively engage with the provided resources, complete assignments, and receive feedback to enhance their learning experience.
Learners will not need to use any apps or websites beyond the standard Outschool tools.
Unless otherwise specified by a parent or guardian, learners will engage in weekly practice of answering exam-style IGCSE questions. These exercises will allow students to familiarize themselves with the format and requirements of IGCSE assessments. The teacher will provide ongoing feedback and guidance, assisting learners in refining their essays until they meet the desired standards for IGCSE qualification. This iterative feedback process aims to enhance students' essay-writing skills and ensure their readiness for the IGCSE examination.
50 minutes per week in class, and an estimated 1 - 2 hours per week outside of class.
Politically sensitive topics, such as war, weapons, anti-Semitic policies, and persecution, will be addressed in the course. These subjects will be presented in an age-appropriate manner, considering the context of the historical period and the state of the world during that time. Great care will be taken to provide appropriate context and ensure that the information is presented in a sensitive and educational manner, promoting understanding and critical thinking among learners.
Pearson Edexcel International GCSE (9-1) History: Development of Dictatorship: 1918-1945
The Rise and Fall of the Third Reich by William L. Shirer
Hitler's True Believers: How Ordinary People Became Nazis by Robert Gellately
Life in the Third Reich: Daily Life in Nazi Germany, 1933-1945 by Paul Roland
A History of the World by Andrew Marr

Teacher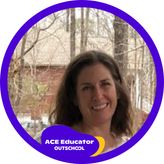 About Me
Hey y'all! I'm Janelle, your not-so-average History teacher. I believe in making learning hands-on and engaging for my middle school students. Why is hands-on learning important for middle schoolers, you ask? Well, the simple answer is that middle...