Science & Nature
Geology Semester - Volcanoes, Fossils, Dinosaurs, Gems & Minerals & Plate Tectonics - 15 Weeks Ongoing
All the Geology topics in the Earth Science Carriculum. Covering all the most interesting & exciting topics in detail. Sedimentary, igneous and metamorphic rocks, plate tectonics, Earth's formation, Pangea, the Greenhouse Effect & Gemstones
Meets 1x per week
Runs week after week
50 minutes per class
Cancel anytime
Class Experience
Welcome to the "Exciting Geology" weekly ongoing class, which focuses on some of the most dramatic physical forces on Earth, with the aim of making learning fun and exhilarating. I think making learning enjoyable and bringing science to life is the best way to get kids engaged and learning without realising it. Each class will cover a stand alone topic, that together make a full course and students can join or leave anytime. No previous experience necessary. Please note that children in the...
To discover and learn without realising it, because you are having fun! By the end of this course students will be know in depth details of the Geology part of the Earth Science carriculums.
I have a BSc in Geology and an MSc in Geophysics and have chosen the most interesting and exciting subjects to teach to get young minds fascinated by Earth Sciences.
After each class I post 5 or 6 short questions about the class. These are optional. I do not mark the answers but instead post model answers a few days later for the students to compare their work to.
None. Although I can provide an end of term mark if the student has been submitting answers to the questions each week.
50 minutes per week in class, and maybe some time outside of class.
Some classes talks about Global Warming and Climate Change causing more frequent natural disasters. It also talks about mass extinctions including the possibility of humans causing one now (including ourselves) and has some drawn images of animals dying to become fossils. It is delivered in a upbeat manner with positive solutions (eg: switching to renewable energy), but the more sensative students may find these topics distressing.
Earth Scinece - Global Edition (14th Edition: 2022) - Tarbuck and Lutgens - Published by Pearsons
Earth Science - Hardback Edition - Samuel  - Published by: Spaulding, Namowitz

https://geology.com/articles/what-is-earth-science.shtml
https://www.britannica.com/science/Earth-sciences
https://earth-science.org.uk/
Teacher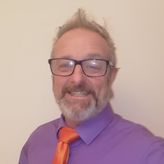 About Me
Hello there. At the moment I am teachinig one-off  & 4 Day classes during the summer, as well as a few ongoing Summer Semester classes. So please join any of my classes. Full Semester classes start again in the first 2 weeks of September.

I teach...