World Languages
For Chinese Beginners-Children's Drawing Class With Story (Bilingual Teaching)
This is for Chinese beginners. Combine children's drawing and Chinese knowledge. In a bilingual teaching environment, students can learn interesting children's drawing and hand-making, and improve their Chinese listening and speaking skills
  There are no upcoming classes.
Meets once
40 minute class
There are no open spots for this class.
You can request another time or scroll down to find more classes like this.
Class Experience
This is a course that combines children's drawing and Chinese knowledge. Let students learn Chinese knowledge points related to pictures while learning painting, and learn how to read pictures and tell stories.
这是结合儿童绘画和中文知识的课程。 让学生在学习绘画的同时学习与图画有关的中文知识点,并学习如何看图说故事。

I will use Chinese and English bilingual teaching. Tell students a theme story, and teach students to draw the key characters in the story, including people, animals or plants. While learning painting, I will teach students...
1、学习听。通过看图讲述主题故事,让学生更形象地了解故事中积极的含义。
1. Learn to listen. 
Tell the theme story by looking at the picture, let the students understand the positive meaning in the story more vividly.

2、学习画。通过一步一步学画步骤,可以让学生学会如何简单、快速、准确地画包括人物、动物或植物等的儿童画。
2. Learn to draw. 
By learning drawing steps step by step, students can learn how to draw children's drawings including characters, animals or plants easily, quickly and accurately.

3、学习写。让学生在学习画画的有趣的过程中学习中文,这比在传统的纯中文学习的环境中会更有效。
3. Learn to write. 
Let students learn Chinese in the fun process of learning to draw, which is more effective than in the traditional pure Chinese learning environment.

4、学习说。通过让学生根据所画的图片来讲故事,可以提高学生的中文表达能力。
4. Learn to speak. 
By allowing students to tell stories based on the pictures they draw, they can improve students' Chinese expression skills.
回家作业将包括写汉字,复习画画和练习讲故事。 另外,可能会根据课堂内容进行一些简单的手工练习。 作业时间不会超过1小时。 上课前老师将向学生提供一份作业清单。
The  homework will includes writing Chinese characters, reviewing paintings, and practicing storytelling. In addition, some simple manual exercises may be made according to the content of the class. The time for homework will not exceed 1 hour. The teacher will provide the student with a list of homework before the class.
Learners will not need to use any apps or websites beyond the standard Outschool tools.
40 minutes per week in class, and no time outside of class.
Teacher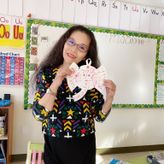 About Me
大家好!我的英文名字叫Jenny,但我的学生和他们的家长们都喜欢叫我江老师。我曾经是机械制图老师,目前是西雅图贝尔维由五所幼儿园课后班的中文老师,我擅长画画,也有非常丰富的幼儿早期教育经验,并获得了许多幼儿教育证书。
Hello everyone! My English name is Jenny, but my students and their parents like to call me Jiang Lao Shi. I used to be a mechanical...