English
FLEX - Learn to LOVE Literature - Part 2 - 3rd-5th Grade (English, Literature)
In this 12-week FLEXIBLE English Literature course, we will dive into four great books. This class was created to build vocabulary, reading fluency, and enjoyment.
142 total reviews for this teacher
New class
Flexible schedule
Over 12 weeks
No live meetings
There are no open spots for this class, but you can request another time or scroll down to find more classes like this.
Class Experience
Flexible, No LIVE classes, English, Literature.

There is no prerequisite requirement for this class.

All Parts are completely self-contained and can be taken in any order.

I have been a lover of books since I was 9 years old and had to have surgery.  My mother, who understood a few things about her child, read the first book in a series to me with all the voices and enthusiasm any book could want.  Then she read the first 2 chapters of the next book.  And then she stopped.  The larger...
 This class was created to build vocabulary, reading fluency, and enjoyment.
I have taught for over 30 years so far.  I started as a corporate trainer training, at the time, high-end IT classes.  I went on to homeschool my children through high school, an endeavor that took 16 years.  During those years I ran several Co-op classes for junior high and high school Language Arts, Public Speaking, and Drama.  I also created Scene and Heard Performing Arts, a live homeschool Drama Club for ages 5-18.  I am very familiar with upper elementary, middle school, high school, and adult learning.
There will be discussion questions each week to help focus your learner on what they are reading.  I also expect to do some light character studies and vocabulary discussions as we progress through the semester.  The largest aspect of the homework will entail the actual reading of the material.  There will be a small assignment to turn in at the end of each week.  
Your learner will need their own copy of the books below.  Please feel free to use the library or digital editions of the books.  I do not recommend audiobooks for this class simply because we are building reading fluency and seeing the words really helps with solidifying the words in the memory.  

I'm including a link to each of these books to make it easy to find them.  Sometimes, seeing the cover is helpful.  These are not affiliate links.

The Whipping Boy, by Sid Fleischman ( https://www.amazon.com/Whipping-Boy-Sid-Fleischman/dp/0060521228/ref=sr_1_3?dchild=1&keywords=the+whipping+boy&qid=1602029428&sr=8-3 )

The Mouse and the Motorcycle, by Beverly Cleary ( https://www.amazon.com/Mouse-Motorcycle-Beverly-Cleary/dp/0380709244/ref=sr_1_2?crid=1IV4HY38BZY9O&dchild=1&keywords=the+mouse+and+the+motorcycle+by+beverly+cleary&qid=1602029488&sprefix=the+mouse+and+the%2Caps%2C169&sr=8-2 )

Stuart Little, by E.B. White ( https://www.amazon.com/Stuart-Little-B-White/dp/0064400565/ref=asc_df_0064400565/?tag=hyprod-20&linkCode=df0&hvadid=265892495433&hvpos=&hvnetw=g&hvrand=12076052721777218774&hvpone=&hvptwo=&hvqmt=&hvdev=c&hvdvcmdl=&hvlocint=&hvlocphy=9026833&hvtargid=pla-473987985994&psc=1 )

Nurk-The Strange, Surprising Adventures of a (Somewhat) Brave Shrew, by Ursula Vernon - I'm linking to used books here because this book is a little harder to find.  Amazon does have a hard-cover if you'd like that, but there are still quite a few wonderful copies on the market.  ( https://www.thriftbooks.com/w/nurk-the-strange-surprising-adventures-of-a-somewhat-brave-shrew_ursula-vernon/610092/item/5867446/?mkwid=1Ds7bZht%7cdc&pcrid=70112861832&product=5867446&plc=&pgrid=21323637792&ptaid=aud-465071891222%3apla-342652001932&utm_source=google_shopping&utm_content=1Ds7bZht%7cdc%7cpcrid%7c70112861832%7cpkw%7c%7cpmt%7c%7cproduct%7c5867446%7cslid%7c%7cpgrid%7c21323637792%7cptaid%7caud-465071891222%3apla-342652001932%7c&gclid=CjwKCAjwq_D7BRADEiwAVMDdHjrXhaX3awTtebbGfev7FAYV5WBU4jSkD_MkPVTchtF_LTTPjXIAERoCgpIQAvD_BwE#idiq=5867446&edition=4769825 )
No live meetings, and an estimated 1 - 2 hours per week outside of class.
We will be using fillable PDFs (I'll upload an instruction video) Google Forms, and Google Docs to gather homework.  I upload all my FLEX Video classes to YouTube.  
See below in the Learner Supply list.
Teacher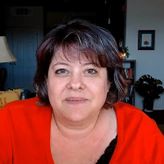 About Me
My name is Stacey Hamlin, and I love to teach.

I believe that we can learn anything and everything…with a few tools, and the ability to lay down our fears and try.  

As a kid, I moved a lot.  By the time I was 14 years old, I'd been to or...