Life Skills
(Flex) Green Thumbs and Healthy Plates: Gardening, Food Waste, and Healthy Food
Your tween will be introduced to the basics of gardening, learn how to reduce food waste, understand the importance of composting, and develop a deeper understanding of nutrition.
Flexible schedule
Over 4 weeks
No live meetings
There are no open spots for this class, but you can request another time or scroll down to find more classes like this.
Class Experience
Welcome to our Tween Gardening course! We are excited to teach your child about gardening, reducing food waste, composting, and nutrition. Lessons will be presented on Canva and recorded, with a link posted to the classroom each week for your child to review. Weekly quizzes will be given to track your child's progress, and handouts will be provided in Google drive with the link posted to the classroom.

In Week 1, we will introduce your child to gardening and discuss the benefits of growing...
Introducing tweens to the basics of gardening and the differences between growing fruits, vegetables, and herbs
Teaching tweens how to reduce food waste by making smart food choices, planning meals, and storing food properly.
Teaching tweens the importance of composting and how to create a composting bin.
Educating tweens about the importance of a healthy diet and how to make healthier food choices.

1. Gardening journal: Your child can keep a journal to document their gardening journey. They can record observations about their plants' growth, weather conditions, and any challenges they encounter.

2. Meal planning: We encourage your child to plan a healthy meal for their family using the concepts learned in class. They can create a grocery list and use food storage techniques to reduce food waste.

3. Composting project: Your child can start their composting bin at home and track the progress. They can document the materials they add and the changes they see in the compost.

4. Nutrition research: Encourage your child to do research on a healthy food option that they would like to try. They can present their findings to the class or family members.
Week 1:
- Gardening gloves
- Small shovel or trowel
- Seeds of your choice
- Soil
- Mulch
- Watering can or hose

Week 2:
- Notebook and pen/pencil
- Grocery list template (can be found online)
- Reusable grocery bags
- Food storage containers
- Freezer bags

Week 3:
- Composting bin or container
- Brown organic material (leaves, twigs, etc.)
- Green organic material (fruit peelings, vegetable scraps, etc.)
- Garden fork or pitchfork for turning compost

Week 4:
- Notebook and pen/pencil
- Healthy cookbook/magazine/website recommendations
- Measuring cups and spoons
- Cutting board and knives
- Blender or food processor (optional)

Note: Some items, such as gloves and reusable bags, can be reused throughout the course. We encourage you to use eco-friendly and sustainable options whenever possible.  
No live meetings, and an estimated 1 - 2 hours per week outside of class.
We recommend that you supervise your child during gardening and composting activities and that you help them with any necessary tasks, such as assembling the composting bin. Additionally, please make sure your child follows instructions carefully and takes appropriate safety precautions when handling gardening tools and materials.
Offered by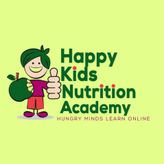 About Us
👦🏻👧🏻 Does your child have poor eating habits? 😫 Are you tired of fighting with your child about healthy eating? 🍎 Are you looking to help improve your child's health? 🤔 Are you confused with all the conflicting information on the internet about what...