Arts
Exploring Art
After discussing a book or work by an artist, we will create artwork inspired by the themes or techniques.
Class Experience
Each session we will read a short book or look at artwork by an artist, illustrator, architect, or designer. Then we will create an artwork inspired by the theme or illustrations. We will also introduce Elements and Principle of Art vocabulary and concepts Projects will vary from drawing to painting to collage to simple sculpture. Though similar to "Stories and the Art They Inspire", this class is for the next older age group. Projects are a step more detailed and complicated.

February 16:...
Students will learn:
-About a variety of artists and their artwork, from a variety of cultures and time periods.
-To use words and art terms to discuss artwork
-To create their own artwork inspired by the techniques and artwork of various artists
-A variety of art techniques 
-Tips for use and care of art materials
Supply Lists:

Notan:
Pencil and eraser
Sharp Scissors
Several sheets of different colored papers (be sure to have sets of light and dark colors)
Glue stick

Alebrije:
Large heavyweight paper for painting
Pencil and eraser
Oil pastels or crayons (If using oil pastels, be sure they are not the water soluble oil pastels that wash up easily with water, but also smudge and run with water.)
Watercolor paint
Water
paintbrushes


Past Projects:
Design a Shoe:
Drawing paper
Pencil and eraser
Colored pencils

Symmetric Name Insects:
Sheet of copy paper
Pencil and eraser
Sharpie
Crayons, markers, or colored pencils

Motivational Art:
Piece of white paper (large is fun but regular sized works well too)
Pencil and eraser
Crayons, markers, or colored pencils
Optional if you have them:
Geometric shape stencils (circle, oval, square, triangle, hexagon, octagon, stars, crescent, etc)

Winter Landscape with Northern Lights (Part 1 of 2):
1 Sheet of heavy weight paper for painting 
Blue tempera paint (blue watercolor paint can work)
Small cup with around 2 Tablespoons water (we will mix paint into the cup of water)
Paintbrush
Piece of plastic wrap or thin plastic of a shopping bag cut about 1-2" longer and wider than the paint paper
2 Sheets of black construction paper the same size as the above paint paper 
Chalk pastels
Damp rag to wipe hands and table

Complete your Winter Landscape with Northern Lights and add Polar animals (Part 2 of 2):
Blue painted paper from last week
Black paper with chalk Northern Lights from last week
Scraps of white paper
Pencil and eraser
Colored pencils (especially black, brown, and yellow or orange)
Scissors
White glue
Optional:
Chalk pastels and damp rag to wipe your hands


Land of Lines:
Large piece of white construction paper cut in half the long way (bring both halves, but don't tape them together yet)
Pencil and eraser
Colored pencils
Tape

Radial Symmetry Mandala:
Large heavyweight paper cut into a circle about the size of a large pizza (the not shiny side of poster board can work but something a little lighter weight and easier to fold is better)
Tempera paint (artist or craft acrylic paint can work, but is messier.) 
Cups, tray, or pallette for paint
Water container in which to wash brushes between colors
Paint brushes (it is best to have at least one medium brush and one super skinny brush)

Monochromatic Portraits:
Half sheet of drawing paper
Pencil and eraser
ONE color but all the shades and varieties you have of that color in crayons, markers, AND colored pencils
55 minutes per class, and maybe some time outside of class.
Teacher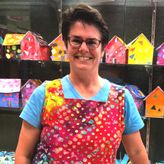 About Me
During art classes, we will explore a variety of art skills using a variety of mediums. We will also learn about artists and their artwork. As a curious life-long learner I weave science, social studies, math, and cultural connections into art...