World Languages
Easy Italian: Elementary Level A1 [Age 9-14], [2 X 40min/Week], First Steps (1)
In this 10-week course, the students will achieve an A1 level in the Italian language, being able to create sentences and speak in the present tense.
Meets 2x per week
Over 10 weeks
40 minutes per class
Class Experience
Ciao a tutti!
Thank you for being interested in my class.
This class can be for beginners or those who want to review some topics or haven't learned all of these topics before but know some.

***Please note that there is no need to have any prior knowledge of Italian to take this class***
***If you don't see a displayed time that works for you or see any upcoming classes posted, you are welcome to contact me. Based on my availability, please feel free to request one, and a section will...
This class is taught in English.
➵ I love teaching because it gives me a chance to be creative. I've taught kindergarten, middle, primary, and high school students worldwide on different language platforms. My youngest students are just three years old! I try to make them learn not just grammar and vocabulary but also other topics such as the importance of nature, climate change, history, music, etc.! I carefully plan personalised lessons for my students. I'm flexible and can adjust my teaching style to meet your needs.

➵I create fun presentations and worksheets. I also started the "Friendly classes" for my actual students. It is a zoom meeting call monthly, where we discuss a particular topic and work on it. 
The students will have full access to my private Quizlet classes to have fun and learn different words using the flashcards.

➵ I know learning a language might sound hard, but I guarantee you it is not. I can speak five languages and still count as they are my biggest passion! I hope to pass my knowledge to your kid and make them learn something new in each class.

Please feel more than free to message me if you have any questions.


My curriculum 
➯ Online ESL (English as a Second Language) teacher (ITALKI). 
I have been an online teacher for three years. I have taught students ages 3-18 years old. I have taught reading comprehension, writing, spelling, and primary and intermediate grammar in this position. I also helped Romanian and Italian kids with their first to sixth-grade English homework.

➯ Online Italian language teacher (ITALKI).
For three years, I have worked full-time as an Italian teacher. I teach for all levels of the CEFR (The Common European Framework of Reference for Languages). I focus on vocabulary, grammar, speaking, reading and listening. I have planned curriculum activities, tutored, and worked with students in 1-to-1 and large groups. The youngest is around three years old, and the oldest is over 60.

➯ Online Romanian language teacher (ITALKI)
I have worked as a part-time Romanian teacher for young and teenage students (8-16) for the past three years. I created individualised plans to reach each student's goal.

➯ Online Italian language teacher (VERBLING)
I worked for about two years on this platform. I have taught literature, maths, science and music in Italian, helping the kids with homework and exams. I helped Romanian kids learn Italian to adapt quickly to the new country and not feel marginalised.

➯  Teacher for 'Friendly Classes' Zoom meetings (PRIVATE ZOOM CLASSES)
Two years ago, I created the 'Friendly Classes' initiative where my students from all over the world meet and learn different topics. I divided the classes into ages 4-6 years old, 7-11 years old and 12-16 years old. The length varies between 35 and 60 minutes, based on the class and kids' interaction. I teach climate change, Chinese New Year, Christmas, Easter, Hanukkah, Halloween, National Days of different countries, Ramadan, etc. 

➯ Daycare assistant in a Bilingual Kindergarten (Terni, Italy)
Before the pandemic, I worked in a bilingual (English-Italian) kindergarten for a few months. I played and taught basic English knowledge to kids between one and four years old. I was responsible for some kids with autism, dyslexia and 2E (twice exceptional). 

➯ Nursery teacher (Onesti, Romania)
In 2021 I travelled around Europe and worked as a volunteer in various places with children. I found an incredible small city in Romania called Onesti, where I taught Romanian and Italian to kids between two and five years old. 

➯ Volunteer at the Ukrainian borders (Siret, Romania)
Between the 28th of February and the 20th of March, I volunteered at the borders between Romania and Ukraine. I took care of a group of 13 orphans that crossed the borders alone and introduced them to the new environment. I helped the parents learn practical phrases in English, Romanian or Italian to make them accommodate and feel safe. I still support them through weekly Zoom meetings, where they receive psychological help and language classes.
Homework will be posted in the classroom. Teacher shares links with assignments with interactive activities that students complete on any device and internet connection. Printable activities can be shared in the form of PDF and printed. Correction of the homework is made during the class.
PDF documents will be provided for each class.
The student can use them online or printed.
Please have essential materials with you: a pen, pencil, eraser, ruler, extra paper or a notebook and, if possible coloured pencils.
1 hour 20 minutes per week in class, and an estimated 2 - 4 hours per week outside of class.
What is Quizlet?
Quizlet is a free website providing learning tools for students, including flashcards, study and game modes. 

Do you need an account?
The parent can create an account for the kid or use the link I will share after the class.
The teacher will share the screen to do a matching game during the class on this platform.
The platform is add-free if the parent access from the link.
Teacher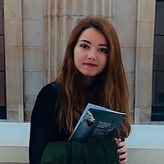 About Me
Hi, I'm Daiana!
→I was born in Romania and raised in Italy.
→I have been teaching online for more than 4000h to kids from 3 to 18 years old
→Before the pandemic, I was a kindergarten teacher at a bilingual centre for children with...