Arts
Draw Realistic Animals | Intermediate to Advanced Teens and Tweens
Learn techniques to draw and sketch realistic animals in this fun art class! After sketching, use graphite pencils or pen and ink to add detailed shading and fur textures. Ex: cat, dog, sea turtle, wolf, cheetah, bear, penguin, llama, panda, tiger, horse, fox. #creative
Intermediate, Advanced Level
Meets 1x per week
Runs week after week
55 minutes per class
Cancel anytime
Class Experience
🦁 Learn techniques to draw realistic animals quickly in this fun art class! Use graphite pencils or pen and ink to add detailed shading and fur textures. Animal choices are based on students' requests. Ex: cat, dog, sea turtle, wolf, cheetah, bear, penguin, llama, panda, tiger, horse, fox. 

👩‍🏫 A certified Megapixels Instructor will demonstrate and explain step-by-step as students follow along, creating their own magnificent artwork. Students can copy the instructor's picture or can add their...
This class is taught in English.
Students will learn realistic drawing. They will also learn how to create depth in their art to make it pop. They will learn how to select colors that look good together and how to add their own creative flair to their art. The end result will be a beautiful and realistic drawing of a different animal each week. 
Each instructor at Megapixels School of the Arts is a master of their craft and is certified to teach the Megapixels Method. This method of instruction trains students to be able to draw realistically while having the freedom to go wild with creativity and the mindsets to succeed.

We are on a mission to empower kids to become lifelong learners, who are confident in their creativity so they can overcome any obstacle, achieve their biggest dreams, and change the world.

We facilitate an inclusive learning environment. 

We encourage students to not get caught up in perfectionism but rather to enjoy the process, which further unleashes creativity.

About the Founder of Megapixels School of the Arts: 

🎨 Meg Navarro. Over the past decade, Meg has taught thousands of students to create dazzling, realistic art, to take impressive photos, and to write their first novels. In 2007, Meg founded Megapixels School of the Arts, which began as a local art school and expanded to offer online classes a few years back. Meg personally trains each teacher in the Megapixels Method, which she has tested and refined over the past decade. Meg studied art, photography, and writing while earning her BA, and is currently working on her Masters in Education. In her free time, she loves making human pyramids with her friends!

Reviews for Meg:
⭐⭐⭐⭐⭐ Meg is such a fabulous teacher! She is patient, enthusiastic, encouraging, and fun - both of my girls love taking classes with her!! - Lisa D.  

⭐⭐⭐⭐⭐ My daughter (11) loves this class and is always looking forward to the next one. Her art skills improve with each class. I'm so glad she's found a class that she enjoys. She also says Teacher Meg is very patient and good with the other students. I recommend this class. - Melissa B.

Meet our instructors!

🎨 Gemma is a professional artist who creates and sells artworks in resin, acrylic, watercolor and ink mediums. She was born in England but lived most of her life in the great state of Michigan. She's a movie buff and a huge fan of Star Wars. She is patient, encouraging and loves helping others! 

Reviews for Gemma: 
⭐⭐⭐⭐⭐ Hello! This is Sabrina(a student in this class), this class has been really fun for me so far and has helped me to improve my drawing skills quite a bit. Miss Gemma is always so nice and is always giving positive feedback(and if we need to change something on our drawings she always is very polite about it tells us how to fix it). Some of the drawings I have done were I little too easy and some were just a tad too hard but overall this class is just the right level for me(I'm eleven). I would definitely recommend this class to anyone who really likes animals and really likes art. Thanks for teaching this class! By the way, to show my improvement I put the first drawing I did in this class in May of 2021 and the drawing I did last Thursday(September of 2021).  

⭐⭐⭐⭐⭐ Ms.Gemma is great with the kids. She is very patient and she makes the class fun. My daughter loved her class. - P. Edwards


🎨 Kacie Iuvara is a trained writer and actor with BA degrees in English and Performing Arts from Ohio Wesleyan University, the American Conservatory Theater, and the London Academy of Music and Dramatic Art.  She is an active member of the Society for Children's Book Writers and Illustrators, and is currently in the process of publishing her first book, "A Trip to Elsewhere." She is also a total dork, especially when it comes to anime, WEBTOONs, and Greek gods. 

Reviews for Kacie: 
⭐⭐⭐⭐⭐ My son loves this class. The teacher is so awesome. - E. Cortez

⭐⭐⭐⭐⭐ My daughter loves the class. The teacher is very engaged with the kids and is doing a good job of channeling their enthusiasm for warrior cats while teaching them fundamental drawing techniques. - J. Lillien


🎨 Marissa kicked off her career in Art Education when she was earning her bachelor's of fine art in Animation at California State University of Fullerton. She has had the pleasure of instructing and generating art lessons for 5 years in-person and online and also has experience working with students with special needs in small groups and in 1:1 settings. Marissa has also completed an internship as an instructor for therapeutic arts and has volunteered with multiple children's arts events. Aside from creating her own art in her free time, Marissa also enjoys spending her days outdoors, cooking new recipes, and excessively spoiling her dog, Bailey.

Reviews for Marissa: 
⭐⭐⭐⭐⭐ This class is always very fun and exciting! I get to learn different technics while drawing with this amazing class! I think the best thing about this class is you can always share your breathtaking pictures and drawings! - Ji H.

⭐⭐⭐⭐⭐ My son (11 yo) enjoyed this class very much. The teacher handled his exuberance well, and he liked the format immensely. Thanks! - Alicia M.

⭐⭐⭐⭐⭐ We love this class! We take a lot of outschool classes and this is definitely at the very top. This class has really turned my son onto drawing. He joined reluctantly and now you cannot keep him away. The (He) loves the teacher, the students and of course drawing! - M. O'Brien


🎨 Mattie has a BA in Fine Arts with a concentration in drawing from Elizabethtown College in Lancaster Pennsylvania. Mattie fell in love with teaching art when she first started in 2020. She currently lives in Albuquerque, New Mexico. She loves to read, write, draw, sing, play with her dog, Freya, and enjoys a cup of Earl Grey tea in the morning.

⭐⭐⭐⭐⭐ Excellent teacher and class; impressed with what my kid produced, and the teacher was very nice and engaging. - Judy V.

⭐⭐⭐⭐⭐ Miss Mattie is amazing! She takes time prepping each week for her lesson with my daughter and despite the fact that we have just done a few lessons with her, she has already made amazing progress. - Marianne S.


🎨 Becca is a visual artist with a Bachelor of Fine Arts in drawing. She has experience teaching art as well as swimming. She enjoys drawing digitally as well as with graphite and ink.


🎨 Cheyenne is a professional visual artist who does art commissions with pencil drawings as her expertise. In June, she is set to finish her associates degree in Fine Arts with a focus on Painting and Drawing from Stratford Career Institute. She is passionate about encouraging others to dream big and make those dreams become a reality! She likes to encourage and hopes to help the next generation chase their dreams through their artistic talents.

⭐️⭐️⭐️⭐️⭐️ Cheyenne is an excellent teacher. She is very patient and works at a good pace for my daughter. She always checks in and ensures the students are on track and she is not leaving anyone behind. My daughter looks forward to the class every week. 
In this class, the instructor demonstrates how to draw a different animal each week, step-by-step. Creativity is encouraged, and students are allowed to either copy or to make their drawings different and unique if they want. Depending on how detailed the drawing is that week, students will sometimes finish shading their art on their own after class. When this happens, students are encouraged to share their completed art at the next week's class.
🎨 Supplies:

Students are encouraged to use supplies that they already own. At minimum, they will need paper and pencil. Here are some supplies that would be great to gather if you have it:

-Paper. Printer paper, sketching paper, cardstock, and Bristol board are all good options. 
-Pencil and eraser
-You can use anything you want to color or shade, but the instructor normally will demonstrate using graphite pencils or pens. Graphite pencils or regular pencils or pens such as micron pens are all great options. Some students even use their iPads combined with Procreate if they already know how to use Procreate.
Learners will not need to use any apps or websites beyond the standard Outschool tools.
There are no grades for this class, but I love to encourage students by pointing out what I love about their art. There are no mistakes in art! But at the same time, if there's part of their art that the student isn't happy with, I can offer suggestions on how to improve that as well. 
55 minutes per week in class, and maybe some time outside of class.
Offered by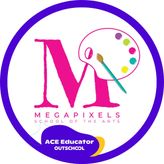 About Us
HEY THERE, WE'RE MEGAPIXELS SCHOOL OF THE ARTS

We go beyond teaching art.

Our mission is to equip children with mindsets that will help them succeed in all areas of life. 

Patience, persistence, peacefulness, character, confidence, creativity...