Arts
Beyond the Rainbow: LGBTQA+ Pride Makeup
In this one-time class, students will learn how to create LGBTQA+ pride flag makeup designs while discussing the many-layered meanings of each flag.
Meets once
55 minute class
There are no open spots for this class.
You can request another time or scroll down to find more classes like this.
Class Experience
Identity reaches deeper than the colors on a flag, but these colors allow those in a marginalized group to claim their identity with pride... to come together, to see each other, and to stand together when facing obstacles. But what do all those pride flag colors mean? 

This class is part of the Outschool Online Pride Festival - http://oopfestival.blogspot.com/

In this makeup class, the instructor will give a demonstration of simple layering eyeshadow techniques that can be used for any...
As a wellness and sexuality educator, Jessica Gray has completed training in, coordinates, and facilitates elementary (beginning at K-1), junior high, high school, and adult comprehensive sexuality education programs. She created and directed Rainbow Wizards as an in-person wellness day camp and afterschool program for LGBTQA+ students in 2017 and has now started the LGBTQA+ group Multiverse Travelers on Outschool. For several years Dr. Gray worked with high-risk youth who were dealing with teen pregnancy, substance abuse, and significant health issues, among other challenges at an alternative high school. Dr. Gray also taught wellness in public school at the middle school level. 
Students should have access to their own makeup because they will be doing their own while I do the demonstration. I tried to put together a comprehensive list, but we will work with whatever you have:

Eyeshadow in a variety of bright shades - 
Including but not limited to
Red, orange, yellow, green, blue, violet, black, white, brown, gray
Something like this has all the colors you could possibly need:
https://www.amazon.com/dp/B07PJB22KS/ref=sspa_dk_detail_5?psc=1&spLa=ZW5jcnlwdGVkUXVhbGlmaWVyPUExOTJPQUczNk9aN1RJJmVuY3J5cHRlZElkPUEwMDIyNjk1UjRSRjRQN1RVOENVJmVuY3J5cHRlZEFkSWQ9QTAzMTQ3ODkzRVlLWFNQMU83TEo3JndpZGdldE5hbWU9c3BfZGV0YWlsMiZhY3Rpb249Y2xpY2tSZWRpcmVjdCZkb05vdExvZ0NsaWNrPXRydWU=

Eyeshadow primer (Tattoo Junkee's eyeshadow primer is $6.99 and is awesome)

Shimmery colors and glitters give more to play with. I personally love Urban Decay for their rich pigment, but they are a bit more expensive, and you can get just as good an effect with really inexpensive products like Wet n Wild or Elf.  
 (More expensive example - UD Elements Eyeshadow Palette Full Size (Free Single Eyeshadow Included) https://www.amazon.com/dp/B07MLKNB5H/ref=cm_sw_r_cp_api_i_rOrxEbX267J2Z. 
Less expensive - 15 Colors Glitter Eyeshadow Palette Shimmer Ultra Pigmented Makeup Eye Shadow Powder Long Lasting Waterproof https://www.amazon.com/dp/B078K6GTPW/ref=cm_sw_r_cp_api_i_MQrxEbPZCAZD8)

Loose glitter - iridescent

Eyeliner - liquid black liner - Tattoo Junkee Creative Eyeliner Pens are fantastic (https://www.tattoojunkee.com/tattoo-junkee-creative-eyeliner-pens - $6.99). Eyeliner markers are great. I hate eyeliner pencils.

Brushes - at least one small eyeshadow brush about the size of a paintbrush, one powder or blush brush, and at least one very small, thin eyeliner brush 
plus at least a simple brush set:
https://www.amazon.com/EcoTools-Enhancing-Sustainable-Materials-Synthetic/dp/B00GNA9KKM/ref=sr_1_10?dchild=1&keywords=eyeshadow+brushes&qid=1592941029&s=beauty&sr=1-10(This link shows the different types: https://www.purewow.com/beauty/makeup-brush-guide). You can buy a whole brush set for $10-12 or you can buy them individually. 

Lips: Simple lip balm, like Burts Bees, chapstick, etc (brand does not matter), with no pigment. (Ex Burt's Bees 100% Natural Moisturizing Lip Balm, Ultra Conditioning with Kokum Butter, Shea Butter & Cocoa Butter - 1 Tube https://www.amazon.com/dp/B005PNAOPS/ref=cm_sw_r_cp_api_i_lMrxEbKTJHH9A)

Setting spray (can get a small bottle of Nyx matte spray for $3.49 at Target, though they have other kinds, and any kind is fine)

A stand mirror. 

Makeup wipes are also very helpful. (my favorites are Neutrogena Makeup Remover Night Calming Cleansing Wipes, $10 for a twin pack). If you don't have makeup wipes, you should have access to some sort of makeup remover and a paper towel or cotton-swabs so you can make corrections.
55 minutes per week in class, and maybe some time outside of class.
LGBTQA+ students need support from their parents first and foremost. If they are in a dangerous situation where they need mental health or physical care, I will contact the parent immediately. However, a lot of students just want to talk to friends, and having an adult they are not related to that they can go to for advice is helpful. I'm glad to be able to be in that mentor role for young teens.

I will teach this class using gender inclusive language, with the assumption that people of all genders (male, female, nonbinary) engage in relationships. We will always ask what pronouns a person uses and what name a person wants to be called.

This class will discuss diverse sexual identity/relationship dynamics: heterosexual, homosexual, bisexual, asexual, demisexual. All are considered natural/normal. 

This is not a "sex education" course, though it may touch on some very sensitive topics. This is also NOT group therapy. Students will be given guidelines at the start about what will and will not be able to stay "confidential." Anything shared in the group relating to self-harm or others' harming them will immediately be shared with their parents so they may make whatever decisions they deem appropriate.
Teacher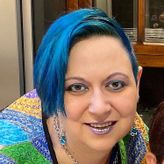 About Me
I am taking a short break. I will be returning to teaching on Outschool in December.

For over fifteen years, I have created and directed innovative programs that incorporate literature and pop culture into educational experiences through The...