World Languages
Beginner Spanish for Young Learners: (Part 1)
In this 12-week Spanish world language beginner-level course, learners will develop the basic skills to communicate in Spanish that include greetings, basic phrases, numbers from 0-100, days of the week, the alphabet, family members, etc.
Meets 1x per week
Over 12 weeks
30 minutes per class
Class Experience
𝐒𝐲𝐥𝐥𝐚𝐛𝐮𝐬
In this 9-week Spanish world language beginner-level course, learners will develop the basic skills to communicate in Spanish that include greetings, basic phrases, numbers from 0-100, days of the week, the alphabet, family members, daily routines, colours, parts of the house, transportation and a final project about different Spanish speaking countries through in-class exercises, games, quizlets, kahoots, and music offered by the Music and Language Learning Center by Kristine...
𝐁𝐫𝐢𝐚𝐧𝐚 𝐌𝐚𝐫𝐪𝐮𝐞𝐳
23 years old, was born in Alabama but raised in New Mexico with her Mexican parents. Her parents would always go back and forth to Mexico since they lived very close to the frontier. She was raised with English and Spanish as her native languages.
 
Since she was very young, she knew she wanted to be a teacher, she enjoys spending time with children, and she is known for being very patient with them, that's why she decided to go to college and major in Education. Since she began college, she started working as an ESL online teacher which she has been doing for 2 years. She has also been a volunteer for 5 years, teaching various subjects across the country of Mexico, during her free time.
 
She has a 7-year-old niece with ADHD, daughter of a single mom, a full-time worker, and a student. She helps her niece with online school and homework. She is glad she chose this career path where she can help others learn something new but especially those in need. 
 
She believes that her job as a teacher is to be a guide, learning from them is just as important as what they learn from her. She also believes each child has their own abilities and struggles, she can understand that, help them grow and blossom inside the classroom no matter what their learning skills are. The joy of seeing a kid being excited from something they learned, even if it was as simple as a single word or sentence, is incomparable.

EDUCATIONAL BACKGROUND:
BA in Pedagogy, University of Monterrey (2019-2023)
120-hour TEFL certificate, TEFL Fullcircle (2019)
Teaching and learning: The principles 
Teaching skills and managing the classroom
Teaching listening, speaking, reading, and writing skills
Teaching vocabulary, pronunciation, and grammar skills 

𝐎𝐫𝐟𝐢𝐥𝐢𝐚 𝐖𝐚𝐫𝐝
A Tri-Lingual Spanish Teacher at the Music and Language Learning Center.

She has over 22 years of experience in the education field, including Hispanic Linguistics, Spanish Teaching, Curriculum Development, and Course planning and facilitation; additionally, she is well-versed in administering DELE testing to students to identify what level of Spanish they need to be placed into. Before joining the Music and Language Learning Center, Orfilia taught at Nippon Hispanic Academy for 5 years while simultaneously teaching at the Langland language institute in Japan for 11 years, as a Spanish Language Professor.  She also worked at Kawasaki Motors as a Spanish Teacher and at Kanagawa International School teaching young children Spanish; additionally, she also taught online at Take Lessons as a Spanish teacher for 6 years. 

She has vast experience teaching the Spanish language that spans over 22 years while teaching a wide age group of students ranging from the ages 5 to 81 years of age.  Orfilia earned her Bachelor's degree from Atlantic International University in Honolulu, Hawaii. She is a certified Spanish Curriculum Developer by Cervantes Spanish Institute furthermore she is well versed in the administering of the DELE and CEFR testing and language level placement; additionally, she has a certification in Microsoft Programs as an Office Assistant and is Certified in CPR.   She was selected as "Professor of the Year" by the Language Institute and graduated toward the top of her class at Atlantic International University.  Orfilia strives to make her lessons custom-tailored to each student and truly enjoys watching her students excel. 
30 minutes per week in class, and an estimated 0 - 1 hours per week outside of class.
Offered by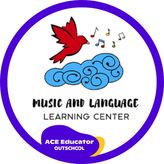 About Us
Hi there! My name is Kristine Dizon, PhD and I am the Founder of the 𝗠𝘂𝘀𝗶𝗰 & 𝗟𝗮𝗻𝗴𝘂𝗮𝗴𝗲 𝗟𝗲𝗮𝗿𝗻𝗶𝗻𝗴 𝗖𝗲𝗻𝘁𝗲𝗿 (MLLC). As the course director and curriculum writer, I have a passion for combining music and language through my travels and experiences as a...