English
An Immersive Guide to "Romeo and Juliet"
Shakespeare was not meant to be read. It was meant to be experienced. This 7-part class will bring Shakespeare's most popular play into your home in a fun and interactive way.
Meets 1x per week
Over 7 weeks
55 minutes per class
Class Experience
Instead of just reading the play "Romeo and Juliet," this class will actively delve into the world of the play through a combination of lectures, dramatic readings, virtual field trips, online quizzes and activities, and finally, a digital escape room to test the student's knowledge of the play and its ideas. Each class is ala carte, meaning that once you take one class, you choose whether to stop at one class or continue onwards. Each class will delve into a different theme, literary device,...
Topics covered:
-Students will learn the plot of Romeo and Juliet and the structure of Elizabethan tragedies
- Students will learn and be able to recognize Figurative language in both poetry and insults including metaphor, personification, Character foils, Dramatic and Situational Irony.
- Students will be able to understand the historical context of Shakespeare's England and 16th century Italy including the Plague, the Protestant reformation, and the reign of the Tudors, which all contributed to his writing of "Romeo and Juliet."
Again, I will not directly reference teen suicide and will not show any pictures or suicide notes, but I will refer to suicide only in the context the plot of the play. I have received trauma-informed practices training, and if the students become distressed or upset, I will be happy to talk to them in a breakout room and try to help them return to the classroom.
Although there is no official homework, there will be a handout that lists the characters of the play, vocabulary words, and historical details that the students can fill in as they follow along with the lecture. This is designed to keep them engaged, and to be a resource for later journeys with Shakespeare.

While it is not essential, I encourage students to read passages from the play aloud, the connect with and enjoy the language. If they do not wish to do so, I will read a few passages myself to get the idea of the play across, but I would prefer if the students read as well.
To make a DIY Elizabethan ruff, supply the following:
-20 to 30 coffee filters
- string or twine (enough to wrap around your neck)
- Glue, scissors
- hole punch (3 ring or single)
To make an Elizabethan roll, you simply need two pencils (preferably unsharpened) or two dowl rods, tape, and a blank piece of paper.
To do some stage combat, supply a pool noodle or some kind of sword or sticklike toy (real swords are not required)
I will test the students' understanding with the worksheets, the digital escape room, and occasional online quizzes. For each class, the students take, they will receive a digital badge to download!
55 minutes per week in class, and maybe some time outside of class.
While I will not directly address the topic of teenage suicide, it is part of the plot of "Romeo and Juliet" so I will have to mention that they kill themselves. In the final class, I will re-cap moments from the story in the format of a CSI-style digital escape room. There will be no gore or realistic bodies in the presentation, but suicide will be mentioned as it is part of the story.
We will cover the story of "Romeo and Juliet," by William Shakespeare. I will also show images and videos from the 1966 film (directed by Franco Zeffirelli), the 1996 Baz Luhrman production, and modern productions from the Globe Theater, as well as my own performances in 2007, 20010, and 2012.
Teacher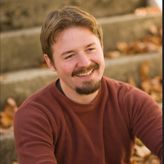 About Me
I specialize in Shakespeare and Astronomy, having worked in theater for over 10 years, and for two years as a professional astronomy assistant. I teach courses in Shakespeare Appreciation and Shakespearean acting, as well as basic astronomy for...