English
Accelerated SAT & ACT Reading Prep | Be Ready for Test Day in 4 Weeks
Do you need to learn all about the Reading exam before the next testing date? Join us for 12 meetings over 4 weeks to learn all you need to know.
  There are no upcoming classes.
Meets 3x per week
Over 4 weeks
50 minutes per class
There are no open spots for this class.
You can request another time or scroll down to find more classes like this.
Class Experience
Looking for a one-on-one or private small group class? We can help with that, too!
Please click the "Request a Private Class" link above and send the details of your request including date, time, and number of learners. For private one-on-one classes, our rate is $1 per minute per week. If you have a small group, please message us with the number of learners you have lines up, and we will let you know the weekly rate!
-----
Practice can make perfect when it comes to the Reading sections of...
Students will practice and refine their reading comprehension, vocabulary-in-context, interpretation, inferencing, etc. skills on their way to achieving a higher SAT or ACT score in the reading section.

- Read closely to determine what the text says explicitly and to make logical inferences from it; cite specific textual evidence when writing or speaking to support conclusions drawn from the text.
- Determine central ideas or themes of a text and analyze their development; summarize the key supporting details and ideas.
- Interpret words and phrases as they are used in a text, including determining technical, connotative, and figurative meanings, and analyze how specific word choices shape meaning or tone.
- Read and comprehend complex literary and informational texts independently and proficiently.
>>>ABOUT BECKY ZERR<<<

Teaching--especially in English, writing, and language arts--is a true passion of mine. I graduated Cum Laude from Kansas State University in 2010 with a Secondary Education degree in English and Journalism, and then went on to teach in the public schools before setting off on my own as an online teacher and tutor.

My philosophy of education is to make it as fun, personalized, and as interactive as possible for the kids. I always try to even out my direct instruction/lecture time with plenty of opportunities for students to practice these new skills, take polls, play review games, and collaborate with peers.

I am happily married to my husband Brad, and we have two beautiful daughters, Sophia and Elise. We currently reside in Kansas in a small town, and we love the small town life.

Oh, and Zerr is pronounced "Zarr," so it rhymes with "car." 


>>>ABOUT MONICA WINKLER<<<

Hi there! I'm Monica and I teach reading, vocabulary, and writing classes. I recently finished graduate school in linguistics. 

I grew up speaking English, Spanish, and Swiss German at home, so I've been surrounded by several languages from a young age. Whether I am studying the history of a word, or what language can tell us about its speakers, I am endlessly curious about language. I have experience teaching linguistics courses at the university level, as well as teaching writing, reading, and English as a second language online. I'm so excited to share my passion for language and to learn with and from my students!

My teaching philosophy is that every student comes into the classroom with knowledge. It's my job, as a teacher, to leverage what they already know to help them achieve their goals.
Outside of the classroom, you can find me at the beach, or out in nature. I love to spend my free time reading, writing, and with my friends and family. Oh, and playing with my cat, Biscuit!
I'm looking forward to seeing you in class! 



>>>ABOUT BRITTNEY SHAW<<<

Hi! My name is Brittney. I received my Associates Degree in Elementary Education and my Bachelors Degree in English. I love working with kids and have experience with all ages. 

I am a wife and mother of four, ages 9, 6, 4, and 1, and the oldest of eight. I have been both a nanny and babysitter as well. Through my past employment and own kids, have gained experience with children with speech delays, autism, and ADHD. I have also worked as a classroom volunteer and ESL instructor. 

I love reading and writing and am a total bookworm. I also love dogs and cooking. My kitchen and my reading chair are my happy places! 

My teaching philosophy is that every child is different and my job is to make sure to embrace those differences to make the education experience the best for all the children. I also want to make sure I do my best to foster a love of reading in my students because, "if you can read, you can do anything!"

Qualifications:
-Associates in Elementary Education
-Bachelors in English
-Former ESL instructor
-Experience with all ages


>>>ABOUT REBECCA WARTHEN<<<

Hi! My name is Rebecca and I'm from South Carolina in the USA. I've been teaching for over 9 years, both in the classroom and online. 

I graduated from the College of Charleston with a Bachelor's degree in Sociology and a minor in Psychology. This background helps me to relate to students from all walks of life. I earned my ESL teaching certification from Oxford Seminars in 2013.  

I have taught English in New York City, Nicaragua, and Thailand as a US Peace Corps teacher.  I've also taught students online from countries like China, Japan, and all over Central and South America. I speak conversational Thai and Spanish. 

In addition to teaching English, I also teach dance! I enjoy cooking, being active outdoors, and making crafts.

I look forward to meeting you soon!

Qualifications:
- BS College of Charleston
- 100 Hour TEFL/ TESL/ TESOL Certification - Oxford Seminars
- 9 years of experience
Optional full-passage practice tests will be available at the end of each class for students to practice and test their skills.
Assessment will happen within class as we check our responses and discuss why each answer was correct or incorrect in general. No students will be singled out. All responses will go privately to the teacher through direct Zoom chats to the instructor/host.
2 hours 30 minutes per week in class, and an estimated 0 - 1 hours per week outside of class.
External Resource: Lumio by SMART 

Lumio by SMART is an interactive lesson resource similar to Nearpod that engages learners through polls, games, sharing, as well as workspaces for individuals, groups, and the whole class! It's a great way to elevate the learning experience. 

To join class, students will:  
1.  Go to hellosmart.com.  
2. Students can connect to class by signing in with their Google or Microsoft accounts, or they can join as GUESTS with a lesson code and simply type in their names/nicknames. 
3. If students would like to access the lesson outside of class time, they can either access the student-paced lesson link by signing in with a Google or Microsoft account, or accessing the PDF resources in the Outschool classroom.
Offered by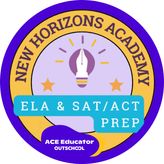 About Us
𝐀𝐛𝐨𝐮𝐭 𝐁𝐞𝐜𝐤𝐲 𝐙𝐞𝐫𝐫
Teaching--especially in English, writing, and language arts--is a true passion of mine. I graduated Cum Laude from Kansas State University in 2010 with a Secondary Education degree in English and Journalism, and then went on to...