English
9th Grade English Language Arts: Intro to Literature & Composition - Semester 1B
In this 8-week ELA class, learners will analyze short story fiction and memoirs/nonfiction (I Am Malala & A Long Way Gone), study grammar, write a short story, and write an essay utilizing Moving Beyond the Page (MBTP).
  There are no upcoming classes.
Meets 2x per week
Over 8 weeks
55 minutes per class
There are no open spots for this class.
You can request another time or scroll down to find more classes like this.
Class Experience
SPECIAL NOTE: I am not offering this class live this year, but you can take it in the flexible schedule format (asynchronous). Here is the link to the flex version of the class - https://outschool.com/classes/8th-grade-mbtp-english-language-arts-through-literature-flex-semester-a-mQPwJjDH

In this 8-week class, students will will analyze fiction, nonfiction, and write short stories and papers/essays on related topics. This class can be used as a core English/Literature/Language Arts/ELA...
I studied literature throughout my bachelor's program as part of the creative writing emphasis. I have been teaching middle and high school level students for several years how to analyze texts (movies and books) as well as writing essays. 
Published writer in nonfiction (articles and books) and fiction (short stories, novellas, and novels).
Writing young adult fantasy and space opera under the pen name Angelia Almos. 
Master of Fine Arts in Screenwriting
Bachelor of Arts in Applied Arts: Creative Writing
Certificates from Institute of Children's Literature
Certificates from Institute for Writers
Students will need to read and study the texts, do the weekly activity pages, do short written responses outside of class, and research and write papers/essays. Please be aware that this course has a heavy reading load that will be done outside of class. This course is considered to be an academically rigorous class.
Students will need a word processor to write paper assignments, a journal/notebook/google doc is recommended for journaling thoughts and extra/non-workbook assignments, a printer to print up the workbook pages or pdf editor to do them on their computer, and a cell phone with a camera/scanner to turn in workbook pages. 

Families will need to purchase the Moving Beyond the Page student activity pages to download. Students can NOT participate in the class without these activity pages. Direct links to purchase the student activity pages will be provided after enrollment. 
MBTP Workbook Pages Semester 1A & 1B - $24.95

The following texts/books will be used throughout the class. Families may purchase (print, ebook, or audio) or borrow from their local library. Prices listed below were found on Amazon. 

Semester 1A:
To Kill a Mockingbird by Harper Lee. $7.19.
To Kill a Mockingbird (1962) film. Rent/stream/borrow - $0-3.99. 
100 Best-Loved Poems (Dover Thrift Edition) by Philip Smith. $3.99. 
The Crossover by Kwame Alexander. $8.99.
The Only Grammar Book You'll Ever Need by Susan Thurman. $9.79.
The Only Grammar & Style Workbook You'll Ever Need by Susan Thurman. $8.19.

Semester 1B:
The Only Grammar Book You'll Ever Need by Susan Thurman. $9.79.
The Only Grammar & Style Workbook You'll Ever Need by Susan Thurman. $8.19.
I Am Malala (Young Reader's Edition) by Malala Yousafzai and Patricia McCormick. $7.31.
A Long Way Gone by Ishmael Beah. $7.84.
*links to the short stories will be provided

Some additional art supplies such as glue, markers/crayons/colored pencil, paper, etc. will be needed for certain assignments. 
In addition to the Outschool classroom, this class uses:
This class can be taken for a grade or no grade. Please let me know which you would prefer. For students who opt for "no grade," please complete all the reading for the in-class book discussions and participate in the in-class activities. 

Your Final Grade will be determined from your homework grades, project grades, and test grades. 

Projects and essays grading rubrics will be provided with the individual assignment. 

Assignments, papers, projects, and tests will have due dates and late assignments will receive a deduction (with the deduction increasing the longer it is late). Extra-credit assignments will be offered as well. Accommodations and extensions can be given when asked for before the due date. 

1 hour 50 minutes per week in class, and an estimated 4+ hours per week outside of class.
Google classroom will be used to assign, organize, and turn in homework and reading assignments. Students will need a gmail email address to join the classroom. 

Students will research some topics online, read articles on websites, and occasional watch an informational YouTube video to complete homework assignments. The following Moving Beyond the Page Resource List will be provided to learners to help them complete homework assignments and projects - https://www.movingbeyondthepage.com/online/content/resource-list.aspx

Students will read and discuss in a matter-of-fact way the following texts which tackle some sensitive topics. Some of the topics tackled will be racism, segregation, child slavery, rape, war, murder, suicide, and violence. The books tell stories that include these elements and the students will discuss these issues in a matter-of-fact way in context to when/where it happened or is depicted as happening. It is important for learners to know that these issues exist even if they don't have a personal connection to one or any of the topics. These books are taught to high school/secondary school aged children all over the world and are considered to be age appropriate with the knowledge of the sensitive issues that will be covered. 

Semester 1B
"The Tell-Tale Heart" by Edgar Allan Poe
"Harrison Bergeron" by Kurt Kurt Vonnegut, Jr. 
"The Lottery" by Shirley Jack 
I Am Malala by Malala Yousafzai and Patricia McCormick
A Long Way Gone by Ishmael Beah.

Semester 1A
To Kill a Mockingbird by Harper Lee
The Crossover by Kwame Alexander
This class uses the Moving Beyond the Page High School 1 (9th/10th US) Language Arts curriculum which the family will need to purchase as well as the memoirs and grammar books. We will be utilizing a google classroom to organize homework assignments. 
Teacher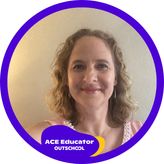 About Me
Pronoun: she/her/hers

"Storytelling is the most powerful way to put ideas into the world." - Robert McKee

My hope is to help nurture your love of stories as well as your individual voice while giving you the tools and skills you need to tell...