English
8th Grade MBTP English Language Arts Through Literature - Semester B
In this 16-week ELA class, learners will analyze three novels(The House of the Scorpion, Watership Down, & The Book Thief) and poems of American poets; write short stories, poems & essays; and grammar utilizing Moving Beyond the Page(MBTP).
Meets 2x per week
Over 16 weeks
55 minutes per class
Class Experience
In this 16-week class, students will do the second half of English Language Arts Through Literature where we will analyze novels, poetry, and nonfiction, and write papers/essays on related topics. This class can be used as a core English/Literature/Language Arts/ELA course for 8th or 9th grade (US standards). For non US-students, please contact me and I can send you the standards to see if it will suit your high school/secondary school year 8, 9, or 10 student's needs.  

Learners do NOT need...
I studied literature throughout my bachelor's program as part of the creative writing emphasis. I have been teaching middle and high school level students for several years how to analyze texts (movies and books) as well as writing essays. 
Published writer in nonfiction (articles and books) and fiction (short stories, novellas, and novels).
Writing young adult fantasy and space opera under the pen name Angelia Almos. 
Master of Fine Arts in Screenwriting
Bachelor of Arts in Applied Arts: Creative Writing
Certificates from Institute of Children's Literature
Certificates from Institute for Writers
Students will need to read and study the texts, do the weekly activity pages, do short written responses outside of class, and research and write papers/essays.
Students will need a word processor to write paper assignments, a journal/notebook/google doc is recommended for journaling thoughts and extra/non-workbook assignments, a printer to print up the workbook pages or pdf editor to do them on their computer, and a cell phone with a camera or scanner to turn in workbook pages. 

Families will need to purchase the Moving Beyond the Page student activity pages to download. Direct links to purchase the student activity pages will be provided after enrollment. 
MBTP Activity Pages Semester A - $19.96
MBTP Activity Pages Semester B - $19.96

The following texts/books will be used throughout the class. Families may purchase (print, ebook, or audio) or borrow from their local library. Prices listed below were found on Amazon. 

Semester B:
The House of the Scorpion by Nancy Farmer. ISBN 9780689852237. $8.31.
Watership Down by Richard Adams. ISBN 9780743277709. $13.60.
The Book Thief by Markus Zusak. ISBN 0375842209. $6.99.
101 Great American Poems by The American Poetry & Literacy Project. ISBN 0486401588. $2.99.

Semester A:
Abigail Adams: Witness to a Revolution by Natalie S. Bober
Animal Farm by George Orwell
Einstein Adds a Dimension by Joy Hakim
Elijah of Buxton by Christopher Paul Curtis

Some additional art supplies such as glue, markers/crayons/colored pencil, paper, etc. will be needed for certain assignments. 
In addition to the Outschool classroom, this class uses:
Your Final Grade will be determined from your homework grades, essay grades, project grades, and test grades. 

Projects and essays grading rubrics will be provided with the assignment. 

Assignments, papers, projects, and tests will have due dates and late assignments will receive a deduction. Accommodations and extensions can be given when asked for before the due date. 
1 hour 50 minutes per week in class, and an estimated 2 - 4 hours per week outside of class.
Students will get and turn in their homework assignments through a Google Classroom for this class. They can use their own or a guardian's gmail address to sign up for the Google Classroom. 

Google Suites: I will refer to the google suites when assigning homework, but students are welcome to use any office suite program(s) that they are comfortable and familiar with. Tests and exams will be conducted using Google Forms. 

Students will research some topics online, read articles on websites, and occasional watch an informational YouTube video to complete homework assignments. The following Moving Beyond the Page Resource List will be provided to learners to help them complete homework assignments and projects - https://www.movingbeyondthepage.com/online/content/resource-list.aspx

Students will read and discuss in a matter-of-fact way the following texts which tackle some sensitive topics. Some of the topics tackled will be war, antisemitism/racism, murder, death, and violence. The books tell stories that include these elements and the students will discuss these issues in a matter-of-fact way in context to when/where it happened or is depicted as happening. It is important for learners to know that these issues exist even if they don't have a personal connection to one or any of the topics. These books are taught to middle school/secondary school aged children all over the world and are considered to be age appropriate with the knowledge of the sensitive issues that will be covered. 
Special Note on The Book Thief: Slurs, negative depictions, and/or mistreatment of people that are harmful and wrong will be depicted in this story. Learners will discuss the inclusion of these items in a book that is historical fiction and whether they think it detracts from the story or is necessary to the story. The behaviors of the characters involved in those scenes will also be analyzed and examined. 

The House of the Scorpion by Nancy Farmer.
Watership Down by Richard Adams. 
The Book Thief by Markus Zusak. 
101 Great American Poems by The American Poetry & Literacy Project.
This class uses the Moving Beyond the Page Ages 12-14 (8th/9th US) Language Arts curriculum. 

Historical facts will be sourced from nonfiction texts and websites such as the Encyclopedia Britannica. 
Teacher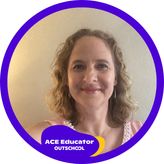 About Me
Pronoun: she/her/hers

"Storytelling is the most powerful way to put ideas into the world." - Robert McKee

My hope is to help nurture your love of stories as well as your individual voice while giving you the tools and skills you need to tell...