Science & Nature
7th Grade Middle School Life Science/Lab
This 20-week course will cover living things, cells, genetics, Earth changes, plants, animals, and the human body. This is what students in seventh grade are required to learn. This course is great for homeschooled students due to its flexibility.
Meets 1x per week
Over 20 weeks
50 minutes per class
Class Experience
Prerequisites: Excellent reader (6th-grade  level), ability to follow instructions, writing/spelling ability (6th-grade level), and ability to work independently to complete assignments on time.

This 20-week course will cover living things, cells, genetics, Earth changes, plants, animals, and the human body. This is what students in seventh grade should be learning at this level.
During a class session we will be reviewing homework, and lectures, discussing new concepts, watch a short...
I want the students to be excited to learn about life from the microscopic to the macroscopic perspective on the Earth.
I have thirty-five years of teaching experience at the middle and high school levels. I have a Bachelor's degree in Biology and a minor in Art. Plus, I am a lifetime Texas-certified, a secondary teacher who still continues to learn online. 
In recent years, I've taken several online courses to stay abreast of current Science developments or discoveries. 
Vital Signs: Understanding What the Body Is Telling Us from the University of Pennsylvania
Drugs, drug use, drug policy, and health from the University of Geneva
Emerging Trends & Technologies in the Virtual K-12 Classroom from the University of California, Irvine
AMNH course The Dynamic Earth: A Course for Educators
Further background information can be found on my LinkedIn:
http://linkedin.com/in/patricia-valdez-14559ab3
Students will need an 2 to 3 hours devoted per week to homework. There will be reading which means it varies  from person to person as to how long they will take to read the material. Also handouts for students to complete will be available and submit to the teacher through the outschool email.
All homework is reviewed in class therefore it is important all homework be submitted prior to class via the Outschool student email, not the classroom. This keeps all students work private from everyone.
Materials: Note that this is a list of items we will use in future labs. We will not need them all on the first day.
Colored pencils
metric ruler
Scissors
Tape
Different sheets of colored paper
Magazines that have animal or plant photos
Assorted pipe cleaners
Straws
Pop cycle sticks
Assorted pom-poms of various sizes
Clear plastic cups or clear glass jars
food coloring
tray
Playdoh (assorted colors) or you can make your own if allergic to it. 
toothpicks
fine steel wool
fire starter (Bic lighter with a long end)
long metal tongs
2 fresh eggs
2 slices of bread
peanut butter (if allergic feel free to use plain butter)
Jelly of any flavor
strawberries (fresh or frozen)
dishwashing liquid (Dawn pure essentials)
sea salt
Ziplock bags (quart size)
small sieve 
measuring spoons
measuring cups
A few small shells, rocks, or fossils (optional)
Variety of leaves of any kind
variety of seeds for planting
Box of cereal
*Students do not need their own microscope. We will use online images or the instructor will show the students specimens with a computer microscope. I will have labs for the students to do either in class or at home. This is to fulfill their lab requirements for this course.
Students will be assessed with periodic practice online quizzes and students can record their results privately. Their grade is not solely on these results. Students grades are based on a point system. Each assignment turned in is logged into my grade book for accountability. The class reviews the homework orally during class time. If they have found an error, they may correct it as we go along. 
Class discussions, submitted assignments and oral assessments are what I base the student's grade on. 
Project and presentation will be peer assessed. I have an online rubric that students fill in and is privately submitted automatically. Presentations are required to receive a completed grade. 
50 minutes per week in class, and an estimated 1 - 2 hours per week outside of class.
The textbook is in pdf format meaning no login to a third party is needed. I do use YouTube videos via screen share. 
I may show students some preserved specimens. If your child is sensitive to this. This may not be the class for them.
Please note that if any of the supplies may cause an allergic reaction feel free to substitute with something suitable for your student.
CPO Life Science Text in pdf format doesn't require logging into a third-party website.
YouTube will used in the classroom for lectures and homework through screen share. 
Teacher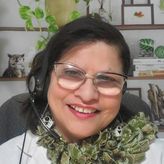 About Me
Hello, My name is Patricia Valdez. I love teaching! 

I am a wife. I have four sons (who were homeschooled all the way thru to high school) and seven grandchildren. I am bilingual. I speak both English and Spanish.
I enjoy gardening, upcycling and...