Math
7th Grade Math |1x week| Seventh Grade Math Review (w/ worksheets) ONGOING
A great class to learn key seventh grade math concepts. Each week we cover a 7th grade pre-algebra math concept like fractions, integers, percents, equations, etc! Worksheets with plenty of practice problems & solutions provided. #academic
Meets 1x per week
Runs week after week
45 minutes per class
Cancel anytime
Class Experience
I want to help you to feel confident in yourself and your math skills!

🌀 CONTENT: Each class we cover one of the major math skills from 7th grade (pre-algebra), work on some practice problems, squeeze in a practice game and try to build a growth mindset.  A great class to supplement a full curriculum seventh grade math course.  If you are looking for a full curriculum 7th grade course for 🍁FALL🍁 scroll down to the 🍁.

📌 REQUIRED SKILLS: Students should have successfully completed 5 & 6th...
🎯 The overall goals are that students develop a growth mindset about their math abilities and master 6th grade content at the same time!

Students will be able to …
Perform all Integer Operations
Solve Real World Problems with Rational Numbers
Identify Proportional Relationships & Constants of Proportionality in Multiple Representations
Write & Solve Problems with Percents
Evaluate Expressions with Rational Numbers
Write, Simplify & Evaluate Expressions
Write, Solve & Graph Multi Step Equations
Write, Solve & Graph Inequalities
Find the Probability of an Event or Compound Event
Find the Surface Area and Volume of 3D Figures
Find the Circumference and Area of a Circle
Identify Angle Pairs & Find Angle Measures

Credentialed Middle and High School Math Teacher with 10 years teaching experience in grades 6 through 10 math and a Master's in Teaching.  

I started my career teaching middle school math and then moved up to high school.  I love teaching middle school after having taught high school because I have a very clear idea of where they are headed and exactly what they need to succeed in their first years of high school math.
On days we do not meet for class I would like them to work on the practice problems or to teach someone at home what they learned that week to support the learning process.  Just like learning a language they need to practice a little every day to become fluent!

Optional assignments will be provided for each topic.  I will include answer keys so students have immediate feedback on how well they understand the concepts. 
Pen, paper and calculator.  PDF's of the lesson notes will be provided for learners to print for class.
45 minutes per week in class, and an estimated 0 - 1 hours per week outside of class.
We will use Blooket as a practice game.  Students will NOT need to log in or provide personal information.  They will NOT need an account.  I provide a link in class for them to access the live game so only students in the class will have access. They can use their computer and do not need a separate device.
Teacher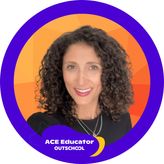 About Me
I have been teaching math at the middle and high school level for the past 10 years.  In that time I have taught all types of learners and courses from 6th grade through Integrated Math 2 (Algebra and Geometry). 

As a classroom math teacher I see...